Tribe Happenings: Indians make some minor coaching changes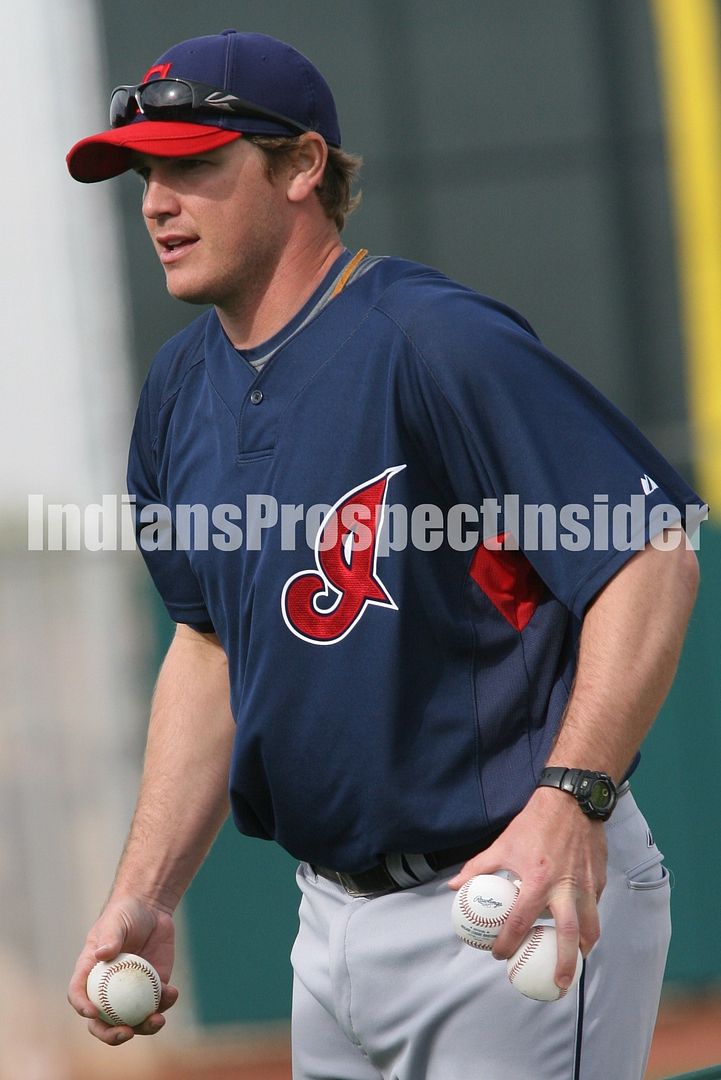 Wallace is the new man in charge at
Mahoning Valley. (Photo: Ken Carr)
Some news, notes, and thoughts from my Tribe notebook…
Indians announce 2011 coaches
Earlier this week the Cleveland Indians finalized their entire Player Development staff as they announced the people that will fill all the coaching and coordinator roles throughout their farm system.
On the manager front there were a few changes as half the managers stayed at the affiliate they managed in 2010.
Mike Sarbaugh
will return to Triple-A Columbus,
Aaron Holbert
returns to High-A Kinston, and
Ted Kubiak
is back at Low-A Lake County.
There were changes to who will lead their other three affiliates at Double-A Akron, short-season Single-A Mahoning Valley, and rookie level Arizona next year.
Chris Tremie
has moved up to Akron to replace the departed Joel Skinner who took a job with the Oakland Athletics to be a bench coach on their big league staff.
Dave Wallace
will make his managerial debut at Mahoning Valley replacing the popular
Travis Fryman
who has moved on into a more involved role in the organization (more on that in a minute). Finally,
Anthony Medrano
will lead the rookie level Arizona team and is replacing Tremie who moved up to Akron.
On the coordinator front the Indians made two notable changes as former Mahoning Valley pitching coach
Ken Rowe
will be a pitching advisor to the organization. Wallace will be doing double duty as the organizations catching coordinator as well as managing at Mahoning Valley, a role Tremie had last year when he managed at Arizona. Last, Fryman moves on after three seasons as the manager at Mahoning Valley and will now be the organization's fielding coordinator.
The Fryman move is interesting as there was some thought he would the manager vacancy in Akron this year, but the Indians believe he will be better utilized as their fielding coordinator where he can bounce around all season between Goodyear and Cleveland as well as of the other affiliates in between to assist in the development of the club's young infielders.
"With the leadership and organizational skills that Travis has demonstrated, we are extremely confident he's the best person to ensure our infield prospects are given the best resources to realize their potential," Indians Farm Director
Ross Atkins
explained. "Additionally, this promotion will make Travis more involved in our leadership group."
It looks more and more like Fryman is becoming more involved in the organization, and a big league coaching job or front office job may be in the cards for him in the near future.
There was also some reshuffling of the decks with the pitching coaches at each level.
Ruben Niebla
has replaced the departed Charlie Nagy at Columbus,
Tony Arnold
moved up from Kinston to Akron,
Mickey Callaway
moved up from Lake County to Kinston, and
Jeff Harris
has moved up from Arizona to Lake County.
The only significant change was Greg Hibbard moving down from Akron to Mahoning Valley where he will replace Rowe as the pitching coach. To some this would appear to be a demotion, but quite often the Indians like to realign their pitching coaches so they move up in the system with their pitchers year to year.
"Greg is an excellent pitching coach with an exceptional passion for his job," Atkins said. "We have always valued Greg's ability to lead pitchers towards efficient and affective deliveries. Given that, we are excited about his ability to make an impact in extended spring training with our rehab pitchers and in Mahoning Valley introducing amateur pitchers to the professional game. [With] Ken Rowe transitioning into an advisory role from the Mahoning Valley pitching coach post, we ideally like to have an experienced pitching coach at that level."
Indians lose two in Rule 5
Major League Baseball conducted their annual Rule 5 Draft this past Thursday to close out the Winter Meetings in Orlando, Florida. Of no surprise the Indians did not select anyone in the draft, but they did lose two players from their minor league system.
Infielder
Josh Rodriguez
went number one overall to the Pittsburgh Pirates and right after him right-handed reliever
Jose Flores
was taken second overall by the Seattle Mariners. In 2010 Rodriguez hit a combined .297 (113-for-380) with 60 runs scored, 30 doubles, a triple, 13 homers and 57 RBI in 107 games between Double-A Akron and Triple-A Columbus. Flores went 1-1 with 6 saves and a 2.14 ERA in 28 appearances out of the bullpen for the Low-A Lake County Captains.
Rodriguez and Flores must remain on the Pirates and Mariners Major League rosters the entire 2011 season. If not, they must be offered back to the Indians unless a trade is worked out where the Indians give the full rights to the player. Rodriguez will likely not be returned, but Flores was a complete surprise and very likely will be returned unless an aforementioned trade is worked out.
For more information on the Rule 5 Draft and the players the Indians lost, check out the detailed recap I did on my site at IndiansProspectInsider.com on Friday.
Third base targets
It is looking more and more like the Indians are going to sign a veteran to either be added to the third base competition or be their utility infielder next year. Two names fans can cross off their lists are Joe Crede and
Eric Chavez
as the Indians have no interest in signing either player, not even to minor league deals. Both are coming off of very serious back injuries, and while both are looking to make a comeback the Indians have no interest in either player.
With
Jayson Nix
,
Jared Goedert
,
Cord Phelps
, and
Luis Valbuena
all likely to duke it out this spring in a heated competition at third base, the Indians instead will probably sign a utility player. One name the Indians have interest in is
Nick Punto
. He is a good defender and has some versatility to play anywhere in the infield, though to sign him they may need to promise him a shot at the everyday third base gig.
Wanted: Shortstops
With Josh Rodriguez being picked up in the Rule 5 Draft the Indians lost their expected starting shortstop at Triple-A Columbus next year. A month back they also lost shortstop
Carlos Rivero
on waivers to the Philadelphia Phillies. While they did not lose anything of great Major League value in Rodriguez and Rivero their shortstop depth in the upper levels of their farm system has taken a serious hit this offseason.
At the moment the only shortstop options in the organization at Double-A Akron and higher next year are
Asdrubal Cabrera
,
Jason Donald
, and
Juan Diaz
. Cabrera is obviously the starting shortstop in Cleveland, and Diaz will be the starting shortstop at Akron. Donald will likely be the opening day starter at second base in Cleveland, but will be the backup shortstop to Cabrera on the big league roster. This leaves a huge void at Columbus where they have no one to play shortstop, much less be the back up.
If the Indians do go out and sign a utility player like Nick Punto or someone of his ilk, we may see infielder Luis Valbuena start the season as the regular shortstop in Columbus. It is also possible that if Cord Phelps were to beat out Donald at second base that Donald could open the season in Columbus as the shortstop there.
The Indians may also sign a player or two to minor league deals in the coming weeks to fill the void at Columbus, which is something they have already started doing. Earlier this week they re-signed minor league free agent middle infielder
Cristo Arnal
, who will likely open the season in Columbus where he will be the backup shortstop and fill a utility role on the team.
Columbus catching duo
The Indians signed free agent catcher
Paul Phillips
this week to a minor league contract with an invite to major league spring training. Last year he appeared in 12 games for the Colorado Rockies and hit .217 (5-for-23) with one RBI and 4 runs scored. He spent the rest of the 2010 campaign in Triple-A Colorado Springs batting .238 (29-for-122) with 8 doubles, a triple and 10 RBI in 34 games.
With the signing of Phillips it looks like the Indians have nailed down their catching tandem at Triple-A Columbus as Phillips will likely split time with
Luke Carlin
who was resigned a week ago. Neither player is a prospect or of any significant worth, but both come highly regarded as leaders and do a very good job of handling a pitching staff. With so many young arms expected to pass through Columbus in 2011, having two veteran catchers there will be a big benefit to the pitching staff.
No more Bryan
It has yet to be reported until now that the Indians put an end to the
Wally Bryan
saga by releasing him earlier this year.
For those who don't recall, Bryan once went by another name, Jose Ozoria, and was signed to a lucrative half million dollar bonus by the Indians back in July of 2008. Less than a year later the Indians found out his real name and that he was three years older (19) than the age he signed at (16), which was a huge hit to his prospect status. The discovery came about as part of a crackdown by Major League Baseball during the 2009 season where the league investigated some Latin players who falsified their documents and found that Bryan was an offender.
After discovering the falsified documents, Bryan's career pretty much nosedived as the U.S. Consulate would never again approve a visa for him to play stateside. The league suspended him and the Indians kept him around initially, but they wiped their hands clean of him once and for all when they released him earlier in the season.
Parting shots
There were some reports coming out of the Winter Meetings in Orlando, Florida this past week that the Seattle Mariners had inquired into the availability of Indians' infielder Luis Valbuena. According to a source close to the situation those rumors are false as at least up until now there has not been any dialogue between the Indians and Mariners regarding a deal involving Valbuena. … Third baseman Jayson Nix was hit by a pitch and removed from his winter league game in Puerto Rico on Wednesday and has not played since. …
Ezequiel Carrera
and
Jerad Head
were also hit by pitches on Thursday night and have not played since. … Former Indians first baseman
Ryan Garko
has signed a deal overseas to play for Korea.
User Comments
No comments currently. Be the first to comment!