Tribe Happenings: Johnson could help struggling offense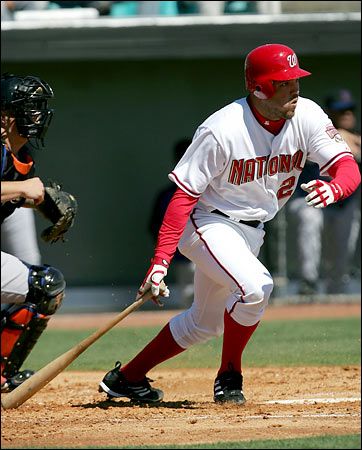 The Indians need help with the offense. Could
Nick Johnson provide some help? (Photo: AP)
Some news, notes, and thoughts from my Indians notebook…
Johnson activated in Akron
The Indians on Friday activated first baseman Nick Johnson from extended spring training in Arizona and assigned him to Double-A Akron. It is his first stop in his rehab program to prove his surgically repaired left wrist is healed and that he can help the Indians at the big league level in Cleveland this season.
Johnson, 32, is a very good defensive first baseman who is also an on-base machine (.401 career on-base percentage). He walks almost as much as he strikes out and has some power. Even though he is a left-handed hitter his professional approach and ability to consistency put the bat on the ball could be a nice addition to the Indians lineup later in the year.
The question with Johnson is where he would play if he makes it back to the big leagues with the Indians. Johnson is not expected to be ready to play until much later this month, at which time designated hitter Travis Hafner may be ready to come off the disabled list. Also, if first baseman Matt LaPorta is healthy he will continue to get the bulk of time at first base. With Hafner and LaPorta in Cleveland there is no spot for Johnson. Right now he is mostly just insurance for Hafner and LaPorta, and probably more of an option for the team next year.
Of course, injuries have a way of settling these dilemmas, so there is certainly a chance Johnson could get to Cleveland this year. It is just that the chances are remote at this time, and it appears he may be more of a realistic option for next season.
The Indians signed him to a $100,000 minor league contract this spring with a 2012 club option for $2.75 million. As part of the agreement he can opt out of his contract and request a release if he is not placed on the Indians 40-man roster by July 1st. Also, for his 2012 club option to remain valid he must be called up and activated in Cleveland sometime before the end of the season.
With the July 1st roster deadline about three and a half weeks away it should give the Indians plenty of time to evaluate his health and play in Akron and Triple-A Columbus and determine if he should be added to the 40-man roster. If in fact he is added to the 40-man roster it is almost a certainty he will be called up to Cleveland at some point later in the season, even if just as a September callup.
Hafner still sidelined
It has been a little over two weeks since Indians designated hitter Travis Hafner strained an oblique and was put on the disabled list. At the time he was expected to be out up to four weeks, but it does not appear he will be back anytime soon. He just recently started baseball activities again where he is doing dry swings and will be hitting off of a tee, and he is not expected to go on a rehab assignment in the minors until the middle-end of this month.
With the Indians knee deep in inter-league play out in National League cities for nine games from June 24th to July 3rd, it seems very possible that Hafner may not be activated from the 15-day disabled list until the team returns home on July 4th to play the Yankees. With Hafner unable to play first base it would appear unlikely that the team would activate him just before or during their stretch of games in National League parks since he will not be able to play anyway and be limited to at most one plate appearance a game as a pinch hitter.
With Hafner out the Indians will continue to hit outfielder Grady Sizemore in the middle of the order, and outfielders Travis Buck and Shelley Duncan will continue to share designated hitter duties. This is also a perfect time to give a player like infielder Cord Phelps a call up to maybe add a spark to the offense where he could mix in some at designated hitter, second base (Orlando Cabrera could DH), and even third base on limited occasion, but as of now the Indians do not be close to making such a move with Phelps.
There is no doubt that the loss of Hafner's bat in the lineup is a big blow to the offense and a big reason for some of the struggles of late, but with him likely out for most of if not all of June the Indians are going to need some other players in the lineup to step up while they await his return.
Indians early arrival
A lot of people did not expect the Cleveland Indians to be very good this season, so their play this season has certainly caught a lot of people off guard. There are still over 100 games left in the season so they could still fade at any point, but the common feeling was that they would be a 90+ loss team this year and that their time may come next year.
Welcome to next year.
With the Indians playing better than anticipated maybe a year earlier than scheduled, the team is showing their inconsistencies and warts with the pitching staff and lineup the past month. Through the inconsistent play and injuries they have suffered the past month they somehow have managed to tread water and have not really lost any ground in the AL Central. A lot of this is directly the result of manager Manny Acta and his positive influence to the team and him often making the right in-game decisions.
With June underway and the team in first place by several games, opportunity has certainly come a year early. With that the Indians have to act on that opportunity and do what they can to win now as there are no guarantees for next year. The division is more than winnable and anything can happen in the playoffs, so even if they are on the scene a year early they still have to do anything they can to try and win now. That means making some bold moves internally and maybe some external moves by exploring things on the trade front.
Harping on Mirabelli
Indians Scouting Director John Mirabelli often gets put through the meat grinder because of some bad drafts from 2000-2006. During that time the Indians produced little talent from the draft to supplement a good young core of players acquired in many veteran for prospect trades during the same time period. Whether it was a bout of bad luck or a string of bad injuries, the bottom line is the Indians struggles with the draft for most of the '00s are why the Indians had to press the reset button in 2009 and start anew.
That having been said, the role of the scouting director involves much more than just the draft. So while Mirabelli may have had several swing and misses with the draft, he hit a lot of doubles and home runs with the advance scouting involving trades for veterans for prospects. General Manager Mark Shapiro often gets credit for deals like Casey Blake for Carlos Santana, Ben Broussard for Shin-Soo Choo, Eduardo Perez for Asdrubal Cabrera, and Bartolo Colon for Brandon Phillips, Cliff Lee and Grady Sizemore. While he does deserve credit for facilitating and ultimately making the call on those deals, they do not get done without consulting the eyes of the organization which is the scouting department.
This is one of the big things commonly glossed over when people crucify the work Mirabelli did in the draft. The success the Indians have had in veteran for prospect trades is directly attributed to Mirabelli and his staff as they are the ones providing the Intel to the general manager since he cannot see almost any of the prospects play. So while Mirabelli should definitely fall on the sword for the sub par drafts in the past, he should also enjoy the high praise for some outstanding work at finding talent within other organizations that may have been undervalued.
Changes to WBC
A lot of you out there reading this may not be fans of the World Baseball Classic (WBC), but I am a big fan of it. So when it was announced earlier in the week that a new Qualifying Round and 12 countries would be added to the tournament, it was good news to me and helps add another layer of competiveness to what was a really exciting tournament when last played in 2009.
The changes will result in the 2013 field expanding from 16 to 28 teams where only 12 teams get automatic bids to the WBC while the other 16 teams have to play a Qualifying Round to earn the other four spots. The teams selected for the qualifying rounds are the four teams who did not win a game in the 2009 WBC (Canada, Chinese Taipei, Panama, and South Africa) along with the 12 new entries from Brazil, Colombia, Czech Republic, France, Germany, Great Britain, Israel, New Zealand, Nicaragua, Philippines, Spain, and Thailand.
The Qualifying Round will take place next fall and the four qualifiers will join Australia, China, Cuba, the Dominican Republic, Italy, Japan, Korea, Mexico, Kingdom of the Netherlands, Puerto Rico, the United States and Venezuela to round out the 16 team field that will play in the spring of 2013 at still yet to be determined sites.
Parting shots
The Indians received some good news on Friday as three games have been picked up to be televised on national television. FOX will now be airing the June 25th game at San Francisco (4:00 P.M. EST) and July 2nd game at Cincinnati (4:00 P.M. EST), and ESPN will be airing the June 26th game in San Francisco (8:00 P.M. EST). SportsTime Ohio will not be airing these games. … Indians shortstop Asdrubal Cabrera is currently second among shortstops in fan voting for the All Star game. … The MLB Draft kicks up on Monday with a three day marathon of 50 rounds of picks resulting in over 1500 players being chosen. For up to the minute picks, analysis, and information on things as they happen, be sure to lock yourself in here at the IPI all throughout the draft.
Follow Tony and the Indians Prospect Insider on Twitter @TonyIPI. Also, his latest book the 2011 Cleveland Indians Top 100 Prospects & More is available for purchase for $20.95 to customers in the US (shipping and handling extra).
User Comments
No comments currently. Be the first to comment!