Tribe Happenings: LaPorta should be playing winter ball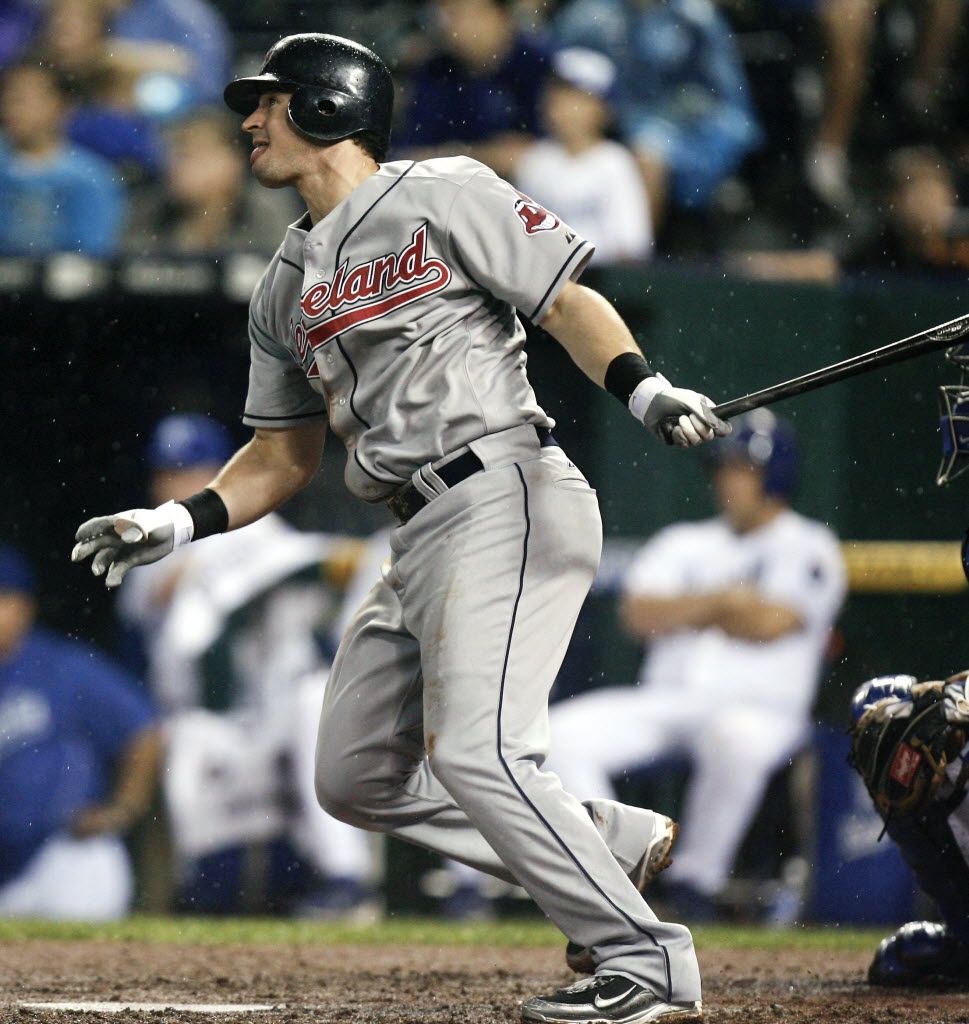 Some winter ball action would have only
helped LaPorta and his bat (Photo: AP).
Some news, notes, and thoughts from my Indians notebook…

Winter no show

The Indians have several players currently participating in winter ball this offseason in places all around the globe in Australia, Panama, Venezuela, Puerto Rico, Colombia, and the Dominican Republic. While some Latin stars play a few weeks for their home country, most of the players participating in winter ball are those in the minor leagues on the cusp of the big leagues, those in the big leagues with a year or two experience that have struggled and need to figure some things out, and those who have had injuries and need to make up at bats or innings pitched.

So why in the world is Indians' first baseman Matt LaPorta not playing winter ball this offseason?

The Indians have a big question mark at first base at the moment, and with how inconsistent LaPorta has been in his three years in the big leagues he would probably be best served to go play winter ball and just play some games to work on things and maybe build some confidence going into spring training. In his three year career he has a .238 average, 30 homers, 115 RBI, and .701 OPS in 269 games.

Right now LaPorta is all but certain to open the 2012 season at Triple-A Columbus unless he wows in spring training and the Indians do not pick up a first baseman this offseason. Even so, the Indians may still opt to go with a Carlos Santana-Shelley Duncan combination at first base so LaPorta can go to Columbus to get him on track and build his confidence and consistency.

So how about getting a head start on all that by playing this offseason in winter ball?

I really think LaPorta is making a mistake by not playing anywhere this offseason. The Indians likely encouraged him to play, but ultimately the decision to play winter ball is 100% on the player as a team cannot force a player to do it. Had LaPorta played somewhere this offseason it may have helped serve as a catalyst to get him right again and give him an opportunity to see a ton of breaking balls (something he needs a lot of work on) for four to six weeks.

Two other players who really should be playing winter ball are second baseman Cord Phelps and catcher Lou Marson. Phelps needs more work defensively at second base, more consistency at the plate, and maybe even needs to work on playing some left field to add some versatility to his game. Marson still needs a lot of work with his bat, and it wouldn't hurt to learn how to hit left-handed pitching better since that is when he will most often be in the lineup.

On the flip side, outfielder Ezequiel Carrera is playing winter ball in Venezuela. In 38 games he is hitting .265 with 2 homers, 13 RBI and .749 OPS, and his six triples lead the league and his 10 stolen bases rank second. While his numbers are quite ordinary he is gaining a ton of much needed game experience as he has accrued 178 plate appearances and will probably end up with over 200 plate appearances this winter. That's valuable playing time and a player taking advantage of his offseason to maybe perform better next year.

Running out of alternatives

The Indians' search for a right-handed bat to fill a need at first base continues to be a challenge this offseason.

Free agents Michael Cuddyer (3 years, $31.5 million) and Josh Willingham (3 years, $21 million) were taken off the free agent market this week which leaves very little in the way of reasonable upgrades for the offense available in free agency. The Indians did not have much interest in Cuddyer, but there was some interest in Willingham; however, as previously noted the Indians were not interested in going more than two years and even had he been willing to sign for two years the Indians would have had to make a trade to clear some salary in order to add him to the roster.

The only everyday right-handed bat upgrade available to the Indians in free agency appears to be first baseman Derrek Lee. His contract length of one year fits the Indians, but he could get $5-7 million which is not in the Indians budget at this time. Outfielder Andruw Jones also remains a possibility.

Free agency was never really much of an option for the Indians to acquire a significant bat this offseason, so the trade market continues to be the best possibility. But the trade market for any impact quality right-handed bats has been slow this offseason as really none have been traded, so it is hard to second-guess the Indians sitting pat since the activity around the league has been almost non-existent.

Since Albert Pujols did not end up in Miami, first baseman Gabby Sanchez is no longer expected to be available in a trade. The Padres pickup of first base prospect Yonder Alonso yesterday may put first baseman Anthony Rizzo on the market, but the Indians do not have the upper level starting pitching or Major League pitching that would match up in a trade. One trade option with continues to be a possibility for the Indians is Astros outfielder/first baseman Carlos Lee, but for a deal to take place the Astros will have to eat much more than half of his $18.5 million 2012 salary.

With each passing day the likelihood increases that the Indians may stand pat and wait until during the season to fill their bat need(s). Whether or not they do this and whether or not it is the right or wrong thing remains to be seen, but when looking at the internal options at their disposal for first base they are very limited.

The way things stand right now the Indians have Shelley Duncan, Matt LaPorta, Thomas Neal, and Jared Goedert along with newcomers Jose Lopez and Aaron Cunningham (more on them in a minute) as options to fill their right-handed bat needs in the lineup. That's not a very good list of options at the moment to rely on for impact production at a corner infield position.

Look for the Indians to continue to bring in right-handed bats on minor league deals to have some options to sift through this spring in the hopes of finding a diamond in the rough. It still remains a possibility that one of Casey Blake or Mark DeRosa may still be brought in on a minor league deal.

Goodbye, Adam

With some sadness I am sorry to report that long time Indians' right-handed pitching prospect Adam Miller has agreed to sign a minor league contract with the New York Yankees. He was a first round pick of the Indians all the way back in the 2003 Draft and only outfielder Grady Sizemore, designated hitter Travis Hafner, right-handed pitcher Fausto Carmona, and left-handed pitcher Rafael Perez had a longer tenure in the Indians' organization.

Miller, 27, leaves the Indians after nine seasons in the organization, though much of the last five seasons were limited because of chronic issues with the middle finger on his pitching hand. He had all the talent to be a sure-fire frontline starting pitcher in the big leagues and was about to get that opportunity in 2007, but a nasty and rare career threatening middle finger ailment cropped up that resulted in lots of surgeries and down time that saw him miss all of 2009 and 2010 before returning last season.

Miller was a free agent and it was his choice whether he stayed with the Indians or went elsewhere. The Indians were open to him returning, but with all the bullpen arms the Indians have stocked from Cleveland to Double-A Akron there really was no spot for them to guarantee him a place on a roster or consideration for a big league opportunity. He knows of the depth the Indians have firsthand because he lived through it last season as he was forced to pitch all season in High-A Kinston and Double-A Akron because there was no spot open for him to pitch in Triple-A Columbus.

This is why minor league free agency is available as it allows players who have been around a long time an opportunity to seek out another possibility elsewhere rather than be blocked and stuck in a system where they really have no future. There is no reason for him to be loyal to the Indians for not releasing him years ago when his career looked to be finished. At this point he needs to maximize his opportunity to make it to the big leagues because time is running out as there is no telling when his surgically repaired finger will give out one final time.

Another thing to keep in mind is Miller is still a complete unknown with his health. His fastball gets into the low 90s but it is not close to the fastball it used to be, and his slider is no longer the dominating plus pitch it was prior to his finger injury. He struggled with the consistency of his slider all last season and tried new grips and lots of suggestions by coaches to no avail. Without the slider he is simply not a Major League pitching option.

It would have been great to see Miller beat the odds and make it to the big leagues in an Indians uniform. It would have made a great story, and probably had Disney knocking on the door to get the rights to make a movie out of it. But at this point the odds are still extremely long he ever makes it.

I'm going to miss Miller very much as he came into the organization right when I started covering the Indians and their farm system, so I have been closely following his whole career. I wish him nothing but the best of luck going forward. I know I speak for many when I say that I will continue to watch his career and hope he gets that long awaited dream of pitching in the big leagues, even for just a day.

Internationally speaking

The Indians continue to search every corner of the globe for talent to add to their minor league system or to fill a need at the big league level.

In late November they had outfielder Yoenis Cespedes workout for them at their facility in the Dominican Republic. While they are very interested in him, his price tag is unfortunately much too high as the signing demands for him have gone into the stratosphere which has pushed him out of the Indians budget.

The fall developmental league in the Dominican Republic recently completed last month, and while out there several scouts and club executives already got busy preparing for the International Signing Period which opens up July 2nd. The scouting and workouts for that signing period started cranking up on November 1st and will continue to be hot and heavy the next several months in advance of the signing period.

This month the Indians have been taking a look at the talent participating in a big Pacific Rim tournament out in Taiwan. Clubs feel that this is one of the best years in the last decade or so for talent in Taiwan, so lots of high profile players are being looked at by the Indians and other teams. There is a possibility that the Indians will come away from Taiwan with a signing or two, though any such signing will probably be at the minor league level. The Indians have signed about five players out of Taiwan in the past four or five years and have a good reputation with agents there.

Minor moves

The Indians officially signed outfielder Felix Pie and infielder Jose Lopez to minor league contracts on Friday. Pie is a former top prospect with the Chicago Cubs who is still young (26) but has been a disappointment so far in his big league career. Last year in 85 games with the Orioles he hit .220 with no homers, 7 RBI, and .545 OPS. Lopez hit .216 with 8 homers, 21 RBI and .617 OPS in 82 combined games with the Rockies and Marlins last year. Two years ago he hit 25 homers and had 96 RBI with the Mariners.

Pie can make $700,000 if he makes the team and the deal also includes another $300,000 he can make in incentives. Lopez will make $900,000 if he makes the team.

The Indians also announced a trade on Friday as they sent Double-A right-handed reliever Cory Burns to the San Diego Padres for outfielder Aaron Cunningham. Cunningham is a right-handed hitter who is on the 40-man roster and out of options, so it looks like he has the inside shot for the fourth outfielder role in Cleveland. He hit .329 with 9 homers, 63 RBI and .930 OPS in 87 games at Triple-A Tucson last year, and in the big leagues with the Padres hit .178 with 3 homers, 9 RBI and .624 OPS in 52 games.

Burns was a mid-level relief pitching prospect with potential as a middle innings big league reliever. He has been one of the top save men in the minors the last two years and this season his 35 saves at Double-A Akron were tied for second most in all of Minor League Baseball.

Seven up

Of no surprise the Indians tendered contract to all seven of their arbitration eligible players before the midnight deadline this past Monday. The seven players up for arbitration are shortstop Asdrubal Cabrera, outfielder Shin-Shoo Choo, third baseman Jack Hannahan, right-handed starter Justin Masterson, right-handed reliever Chris Perez, left-handed reliever Rafael Perez, and right-handed reliever Joe Smith.

The combined salaries for all seven players will result in the Indians' payroll increasing by $10-12 million just by their raises alone. Here are the salaries for each player with their 2011 salaries and 2012 projections in parentheses: Cabrera ($2.25M, $5.0M), Choo ($3.98M, $4.5M), Hannahan ($500K, $1.2M), Masterson ($468K, $3.7M), Chris Perez ($2.25M, $4.0M), Rafael Perez ($1.33M, $1.9M), and Smith ($870K, $1.5M).

Had they not tendered a player a contract they would have become a free agent. All seven of the players are under contract control through at least the end of the 2013 season.

Parting shots

To make room on the 40-man roster for the addition of Aaron Cunningham, the Indians designated right-handed reliever Josh Judy for assignment. If he clears waivers he will be outrighted to Triple-A Columbus and will still be property of the Indians in 2012. … Earlier this week the Cleveland BBWAA named shortstop Asdrubal Cabrera the Bob Feller Man of the Year and closer Chris Perez the Frank Gibbons-Steve Olin Good Guy Award. … Radio voice Tom Hamilton signed a multi-year extension on Friday, and Jim Rosenhaus will join him in the radio booth full time this season as he replaces the retired Mike Hegan. The Indians also plan to have several three-man radio booth setups this season with former alumni taking part in select broadcasts. … Former Indians prospect Chuck Lofgren was resigned to a minor league deal with the Giants this offseason and is making the switch from the mound to first base or outfield this winter.

Follow Tony and the Indians Prospect Insider on Twitter @TonyIPI. Also, his latest book the 2011 Cleveland Indians Top 100 Prospects & More is available for purchase for $20.95 to customers in the US (shipping and handling extra).
Follow Tony and the Indians Baseball Insider on Twitter @TonyIBI. Also, his new book the 2014 Cleveland Indians Baseball Insider which profiles the Indians' Top 100 Prospects and more is available for sale.
User Comments
No comments currently. Be the first to comment!