Tribe Happenings: Lee would be a good fit for the Indians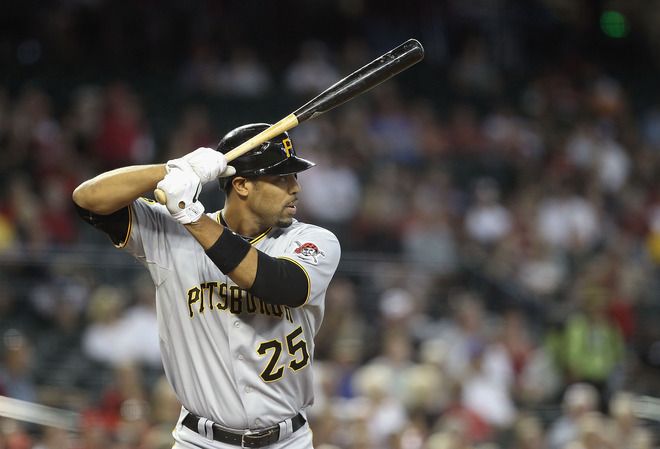 Lee could be an Eddie Murray-like pickup
for a young Tribe lineup. (Photo: AP)
Some news, notes, and thoughts from my Indians notebook…
Indians should sign Derrek Lee
A lot of attention has been paid to the hole the Indians have in center field now that Grady Sizemore's club option for 2012 has been declined and he is a free agent. It appears remote that the Indians will be able to bring him back as the talk around the league is that it appears he may get a one year deal close to the $9 million for 2012 that the Indians declined.
While the Indians continue to sift through the suitable alternatives via free agency or trade to fill their need in the outfield, another position which is just as important to fill is first base.
Last year the duo of Matt LaPorta (97 games) and Carlos Santana (66 games) played most of the games at first base for the Indians. LaPorta suffered through another disappointing season hitting just .247 with 11 homers, 53 RBI, and .711 OPS in 107 total games played. He also made several defensive miscues at first base which cost the Indians a few games. Santana eventually took over the majority of the first base duties near the tail end of the season when LaPorta was optioned out to Triple-A Columbus in August.
Santana played much more first base than originally expected going into the season, in part because of LaPorta's struggles at the plate and because of Santana's own struggles defensively behind the plate. Even with playing first base for the first time and having some unexpected defensive issues his performance at the plate was solid as he hit .239 with 27 homers, 79 RBI and .808 OPS in 155 games.
Santana's .239 batting average was not very good, but he walked 97 times and got on base at a .351 clip and had 64 extra base hits which is very good at the catching position. The Indians are still committed to him as their everyday catcher because he is most valuable to the team as an elite offensive catcher. He is also a much better defender than he showed this past season as he has a very good arm but just got a little lazy with his receiving behind the plate.
With LaPorta relegated to a bench role or in Triple-A Columbus to start next season and Santana entrenched as the everyday catcher the Indians need to find an everyday first base option for at least next season. Santana will still play some first base to keep his bat in the lineup, but the Indians need a player who can be counted on both defensively and offensively and has a proven track record.
One such player is free agent Derek Lee.
The Indians have yet to be tied to Lee in the offseason rumor mill, but he is exactly the kind of player they target in free agency. A player who is in the twilight of their career who still has some value and can be had on a low risk one year deal. Last year in 113 combined games with the Baltimore Orioles and Pittsburgh Pirates he hit .267 with 19 homers, 59 RBI, and .771 OPS.
Yes, Lee is now 36 years old and his career is in decline and he is no longer the perennial MVP candidate he was three years ago. But the improvement to the Indians lineup would be seen not so much in the actual numbers that he would produce, but with his power, right-handed bat that helps balance such a left-handed heavy lineup. He is also an accomplished defender at first base having won three Gold Glove awards, so he would be a huge upgrade defensively for the Indians. Infield defense is something of huge importance to the team with their groundball heavy pitching staff.
There are certainly other free agent options out there at first base like Albert Pujols, Prince Fielder, Michael Cuddyer, Carlos Pena, and even maybe Casey Kotchman. But Pujols and Fielder are way out of the Indians' price range, Cuddyer looks destined for Philadelphia, and Kotchman and Pena are left-handed bats so may not be good fits. Without considering a trade, at the moment Lee looks like the best fit for the Indians.
Just like the Indians acquired right-handed pitcher Derek Lowe last week on an inexpensive one year deal for $5 million to stabilize and add a veteran presence to the starting rotation, a pickup of Lee may do the same thing for the lineup and defense.
Sabathia, Lee contracts
A little over a week ago left-handed pitcher C.C. Sabathia signed a contract extension with the New York Yankees instead of choosing free agency by opting out of his contract. His new deal adds an extra year and $30 million to his existing contract with the Yankees and will pay him a total of $122 million over the next five seasons, plus he has a vesting option for $30 million in 2017 that will kick in if he basically does not go on the disabled list for a left shoulder injury.
Sabathia originally signed a seven-year, $161 million deal with the Yankees three years ago, so if the option in 2017 vests he has a chance to make $216 million over nine seasons with the Yankees. That's some big coin.
Last year around this time left-handed pitcher Cliff Lee signed a five-year, $120 million contract with the Philadelphia Phillies. The deal also included a club option for a sixth season in 2016 for $27.5 million with a $12.5 million buyout. If the option is picked up he will make $135 million over six seasons with the Phillies.
It is hard to believe that back at the beginning of the 2008 season both Lee and Sabathia were a part of the Indians starting rotation. They eventually traded Sabathia to the Brewers in July of 2008 and then Lee to the Phillies in July of 2009. When you look at the Indians decision to trade both players it is hard not to agree that they made the right choice.
The return in the trades for Lee and Sabathia are very questionable as the players the Indians received have had varying levels of success but none of them have played to what was expected of them when they were acquired. But whether or not you agree or disagree with the talent the Indians obtained in those deals there is no question that they made the right move in trying to be proactive in acquiring talent for them rather than losing them in free agency and getting a couple of draft picks as compensation.
The Indians or clubs like them simply do not have the resources to pay any player well over $20 million a year for five or more years. Once again it is another example of the rich getting richer and the poor getting poorer as it is just not fair that more financially strapped teams like the Indians cannot afford to keep their stars – much less even attempt to try and keep them – whereas the big money teams like the Yankees, Red Sox, Dodgers and so on can afford to sign them.
Déjà vu
Popular Indians designated hitter Jim Thome signed a one-year, $1.25 million deal with the Philadelphia Phillies last weekend, thereby ending his short-lived reunion with the Indians. This is now the second time that he has left the Indians for the Phillies, though this time the parting was much more amicable than his initial departure in November of 2002 when he signed a 6-year, $85 million deal with the Phillies and left the Indians and their fans feeling betrayed.
Going into the offseason the 41-year old Thome was unsure if he would play another season. This past season seemed like a fitting way to end his career as he joined the 600 home run club and got to finish the season in Cleveland. But he still wants one last shot at that elusive World Series ring, which is why he signed with the Phillies to be a left-handed power bat off the bench.
How much interest Thome or the Indians had in carrying over their relationship for next year is unknown, but with a healthy Travis Hafner on the team there was just no fit for him to return to the Indians in 2012. Also, with the Indians having such a left-handed heavy starting lineup they need right-handed bats on the bench, so bringing him back as a bench player with no defensive versatility would not have made much sense.
Thome's return this year was good PR for him and the Indians as it helped heal some of those wounds left by his exit nine years ago. It also gave the Indians an opportunity to commemorate him at the end of the season and announce they will be building a statue of him. He no doubt is one of the all time Indians' greats, though had her never left he possibly would have been known as the greatest Indian of all time.
Hot commodity
Indians fans have loved Sandy Alomar Jr. for a long time. First as a catcher during his 11-year stay in Cleveland as a player from 1990 through 2000, and now as a coach since rejoining the organization as part of manager Manny Acta's staff two years ago. The Indians recently promoted him to bench coach, which essentially puts him as the second in command to only Acta.
Alomar may not be sticking around for long as he has a chance to become the field general for a few different teams. Already this offseason the Chicago White Sox had interest in him as their manager before they settled on Robin Ventura, but now the Chicago Cubs and Boston Red Sox are interested in him as a candidate to fill their manager openings as both clubs interviewed him this week. Last year the Toronto Blue Jays interviewed him for their managerial opening before settling on John Farrell for the job.
Some of the interest may be driven from Alomar being a minority candidate as all teams are required to interview at least one minority candidate before filling a manager vacancy. But the interest is real. With the Blue Jays, White Sox, Cubs and Red Sox all interested in him over the past year, it is clear that he is a popular up and coming coach that a lot of teams believe will be a manager someday. Maybe even this offseason.
International affairs
Soon-to-be free agent outfielder Yoennis Cespedes defected from Cuba over the summer and is currently working out for teams in the Dominican Republic. The hype machine went on overload this week as he became the buzz of the internet and social media world earlier this week when a 20-minute showcase video of him popped up on You Tube and went viral. The video showed all of his attributes – especially his power - and why some people consider him a rare five tool player.
The opinions vary on what Cespedes may ultimately be when he reaches the big leagues, but he is expected to land a record breaking international contract when he ultimately signs with a Major League team this offseason. Aroldis Chapman and his 105 MPH fastball got him a record six-year, $30.5 million deal two years ago, but Cespedes may end up topping that this offseason.
As for the Indians interest in Cespedes? They are mum on exactly how strong their interest is, but they like every other team are present for his workouts and are interested in signing him. The difference is how much a club is willing to pay to sign him, which is why the Indians and so many other teams are not expected to be in the final running for him.
There was also a report last weekend that the Indians signed 17 year old Venezuelan catcher Hector Lunar, though this is not official or a done deal. Terms have been agreed to, but he still has to pass through age and identity checks which can void a deal if something does not check out like it should. Several deals in the past have fallen through when these background checks came up with red flags.
Parting shots
The Indians resigned catcher Michael Hernandez to a minor league contract with an invite to big league camp this spring. He is a 33-year old minor league veteran with 14 years of experience and will likely be the backup catcher at either Triple-A Columbus or Double-A Akron. … Indians free agent outfielder Travis Buck signed a minor league contract with the Houston Astros this week and will be a spring training invite to big league camp. … Former Indians minor league manager and player Torey Lovullo is a first base coach with the Toronto Blue Jays, but on Friday the Red Sox interviewed him for their manager opening.
Follow Tony and the Indians Prospect Insider on Twitter @TonyIPI. Also, his latest book the 2011 Cleveland Indians Top 100 Prospects & More is available for purchase for $20.95 to customers in the US (shipping and handling extra).
User Comments
No comments currently. Be the first to comment!