Tribe Happenings: Long term deals not likely (yet) for signees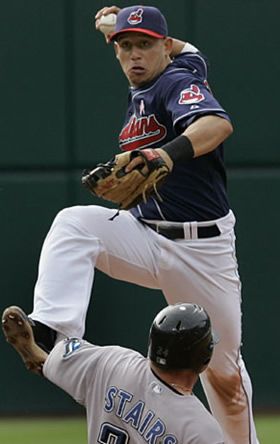 Cabrera may be the first player to sign a
long term deal (Photo: AP)
Some news, notes, and thoughts from my Tribe notebook….
Signed, sealed, and delivered
The Indians completed negotiations this week with the final four arbitration eligible players on their roster.
Back in December they inked right-handed relievers
Jensen Lewis
and
Joe Smith
to one year deals just hours before the filing deadline date, and then this week they agreed to one year deals with shortstop
Asdrubal Cabrera
, right-handed closer
Chris Perez
, left-handed reliever
Rafael Perez
, and outfielder
Shin-Soo Choo
.
For the 2011 season Cabrera will be paid $2.025 million, Chris Perez $2.25 million, Rafael Perez $1.33 million, and Choo gets $3.975 million. For the two deals reached back in December, Lewis will earn $650,000 and Smith $870,000 this season.
The signings this past week came just hours before the arbitration deadline where if a deal was not reached, the club and player would go arbitration. With the signings of all of the Indians' arbitration eligible players they avoid going to arbitration for the 20th straight year. The last time they went to arbitration was in 1991 for Greg Swindell and Jerry Browne. With the players under contract, the Indians payroll now sits at around $46.5 million.
Why one year deals?
The signing of all the players to one year deals does not mean long term contract extensions are out of play.
Also, the fact they signed one year deals does not mean that all of these players are free agents at the end of the season as they are all under the Indians control for several more years. The Indians control the rights of Cabrera, Choo, Rafael Perez, and Smith through the 2013 season, and control the rights of Chris Perez and Lewis through the 2014 season.
Going year to year with arbitration eligible players can be beneficial for the team and the players. Teams are able to control long term payroll and not worry about being tied down to a bad long term deal given to a player who struggles after agreeing to the deal. The one year deals also allow the player to hit free agency sooner.
All of that comes at a risk as a player is banking on health and production the next three years instead of taking the financial security of a long term deal, and the team is risking a player continuing to be very productive and becoming very expensive in arbitration and losing him earlier to free agency than they may have had they signed him to a long term deal.
Long term discussions
As the Indians have done in the past with signing the likes of
Albert Belle
,
Charles Nagy
,
Kenny Lofton
and others in the 90s, and then recently
Victor Martinez
,
C.C. Sabathia
,
Travis Hafner
and others, there are some players they will look to sign to long term deals to carry them through their arbitration years and the first one or two years of free agency.
This typically requires give and take by the club and the player, as the player gives up potential future earnings for the security of a guaranteed long term contract while the team gets to buy the first year or two of free agency by taking the risk of a long term guaranteed deal and potentially paying them more through their arbitration years.
At the moment the Indians are not close to a long term deal with any of the players that were arbitration eligible this year. They will continue to go year to year with Lewis, Smith and Rafael Perez due to the volatility of performance that comes from big league relievers.
Due to the presence of mega agent
Scott Boras
and his high demands along with an inflated outfield market the Indians almost definitely will continue to go year to year with Choo. Do not expect any long term deal to be announced this spring, though things on that front could possibly change later in the season.
The way things stand currently, Cabrera and Chris Perez look to be the most likely fits for a long term deal. Perez will be hard since as a closer his asking price will be high, and as a reliever the Indians may wait at least a half season before becoming more serious in negotiations.
If anyone is signed to a long term deal this spring, Cabrera looks to be the best shot, and that is decent at best. He and the Indians have mutual interest in getting a long term deal done, so there is some momentum there for a potential deal sometime this year, maybe as early as spring training.
Arbitration 101
For those unfamiliar with the arbitration process, you may be wondering what all of this is about and why these players only receive one year deals. The arbitration process for free agents (players with six or more service time) is a little different, but I will explain the process below for players that are arbitration eligible and have less than six years of service time.
Service time is accrued by each day a player is on an active 25-man Major League roster or Major League disabled list (both 15-day and 60-day). Once a player accrues 172 days of service it is considered one year of service time, and then the next count to 172 begins to achieve another year of service time. As these days and years add up a club has control of what they pay them if they are under three years of service time, which usually is at the Major League minimum of $400,000 or slightly above that. For example, as a player with less than three years of service time Choo made $461,000 in 2010.
Once a player has earned at least three full years of service time they become arbitration eligible. What this means is they now have the opportunity to be paid a fair contract and have some leverage to earn a lot more money depending on their performance and the market. Players have three arbitration years until they become eligible for free agency once they accrue six full seasons of service time (unless they are bound by a long term contract).
The arbitration process calls for the Major League team to offer the player arbitration by the December 12th filing date. If the club does not sign the player or offer them arbitration before the filing date, they become a free agent.
For those players that a club offers arbitration to, the club and the player's representation continue to negotiate a contract. In January the player and the club each submit a salary figure to the league for arbitration, and if neither party can agree to a contract for the upcoming season by January 18th, the case goes before a three-person panel of professional arbitrators in February.
At the hearing, all parties are required to attend and each has one hour to argue its case and 30 minutes for rebuttal. The panel considers the player's performance and leadership, the team's record and attendance, and also the comparable salaries of other players with similar service time. The arbitrators then determine what the player will be paid for the upcoming season.
Grover back in the fold
Earlier in the week
Mike Hargrove
agreed to join the Indians organization this year in a special advisor role. His role will be a versatile one that exposes him to all parts of the organization where he will assist manager Manny Acta's coaching staff in spring training, join SportsTime Ohio in the booth for several TV broadcasts, and serve as a resource for the many business, community and charitable endeavors of the Indians.
"I am very excited about the opportunity to once again be a Cleveland Indian and am very much looking forward to helping any way that I can," Hargrove said in a statement this week. "Even when I was away and managing other teams I always had an interest in what was happening with the Indians. All I can really say is that it is good to be home."
Known as the "Human Rain Delay", Hargrove has spent 22 years in the Indians organization as a player, coach and manager. He hit .292 in 888 games over seven years with the Indians from 1979-1985, and in 12 big league seasons had an incredible 965 walks to just 550 strikeouts in 6693 plate appearances.
As manager of the Indians from 1991-1999, Hargrove went 721-591 including two American League titles and five American League Central Division crowns. He ranks second all-time in club history in managerial wins behind Lou Boudreau (728), third in managerial winning percentage (.550) and is the only Indians manager to guide the Indians to two American League pennants. He was inducted into the Cleveland Indians Hall of Fame in 2008.
With the passing of the legendary
Bob Feller
a few weeks back, one can say the title of Mr. Indian has been passed onto Hargrove as he has always been a fan favorite and actively been a part of the organization in some way for over 30 years.
Shuey named to Kinston hall
Former Indians reliever
Paul Shuey
(1994-2002) was inducted into the Kinston Professional Baseball Hall of Fame this week. He will be formally inducted at Kinston's annual Hot Stove Banquet on March 10th. Kinston is the advanced Single-A affiliate of the Cleveland Indians.
Shuey went to school at Raleigh Millbrook High School (NC), is a former All-American at the University of North Carolina, and after being drafted and signed by the Indians in the first round of the 1992 Draft he played at Kinston in 1993 and 1994. He made 15 appearances for Kinston in 1993 going 1-0 with a 4.84 ERA, and made 13 appearances in 1994 at Kinston going 1-0 with a 3.75 ERA with a team high eight saves before making his Major League debut with the Indians that same year.
Parting Shots
Former Indians catcher
Wyatt Toregas
has signed a minor league contract with an invite to big league spring training with the Pittsburgh Pirates. In seven seasons in the Indians' minor league system he hit .262 with 52 homers, 284 RBI, and .736 OPS in 536 games. He made his Major League debut at the end of the 2009 season with the Indians where in 19 games he went 9-for-51 (.176) at the plate. … The Low-A Lake County Captains unveiled their 2010 Midwest League championship rings this week. To see them, go to CaptainsBaseball.com. … Finally, the new 2011 Indians prospect guide I am completing is still targeted to go to press at the end of this month or beginning of February. I will continue to post details on its availability here.
User Comments
No comments currently. Be the first to comment!