Tribe Happenings: New year, but Indians face same issues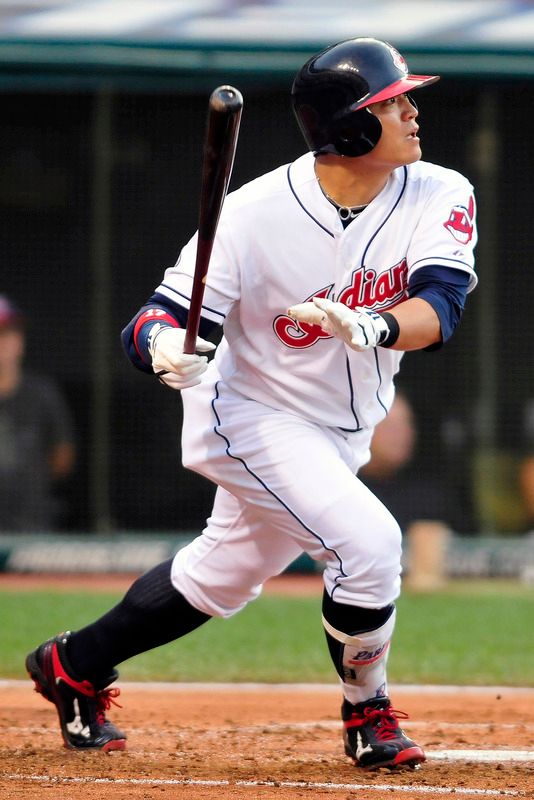 Some news, notes, and thoughts from my Indians notebook…

The "developmental" label

About this time last year amid contract extension talks between the Indians and his client Shin-Soo Choo, super-agent Scott Boras made what was perceived as a slight when he called the Indians a "developmental team". His belief was that a team in a rebuilding stage was less of a lure to attract new players to play or to keep players from leaving. This was his roundabout way of saying a long term extension for Choo with the Indians was extremely iffy.

Even though the comment may have been of the backhanded variety, what Boras said about the Indians was exactly right. Whether he implied it or not, the Indians and other small to mid-market teams like them are in a way farm systems for the bigger market teams where the smaller markets feed the good players to the big markets once those players reach or near free agency.

The Indians' front office often gets slammed for some poor decisions they make, and rightfully so, though I think considering the climate they work in they have had done a solid job. The unfortunate reality is in the last few years they have had to make the tough decision to trade their best players because of a ridiculous financial climate where there is no way a team like the Indians can go toe-to-toe with the big boys in free agency to try and retain their players. They learned this lesson the hard way in the past with the likes of Albert Belle, Manny Ramirez and Jim Thome.

Because of the way the game works today teams like the Indians will continue to be a developmental team for the bigger market teams. Boras was spot on about that. The Indians will have the true stars for five to seven years before they either leave via free agency or are traded before they become free agents. I hate to say it, but that is likely what will happen down the road with any of the current players such as Carlos Santana, Jason Kipnis, Asdrubal Cabrera, Justin Masterson, and so on.

This flies in the face of what I wrote in a column recently of how I think the Indians need to dig deep and find a way to retain their players. I still stand by that belief in that it is the only way to improve attendance because it would help restore faith in a fan base that distrusts the organization immensely. But having said that, I also understand that the Indians are limited in what they can do until this broken system gets fixed somewhere down the line.

Choo is a prime example of how things can change at a moment's notice and how suddenly a player fits in well with a "developmental team". Last offseason Boras and Choo had all the bargaining power coming off two straight very good seasons where he hit .300 or higher, had 20 or more homers, 86 or more RBI, and over 20 stolen bases. But fast forward a year later and now the Indians have the bargaining power after Choo struggled through a forgettable 2011 campaign where he was limited to just 85 games because of a hand injury, hit just .259 with 8 homers, 36 RBI and .733 OPS, and got in trouble off the field with a DUI.

As funny as it may sound, but Choo's subpar season actually helps the Indians' chances of retaining him long term. It is still a long shot, but now that some warts have been exposed Choo may no longer merit a big long term deal. He still has time the next two seasons to repair and improve his market value to get that mega contract two offseasons from now, but at the moment his drop in value helps the Indians. As a perennial All Star or one of the top players at his position he would be unsignable, but as just a good player with some question marks he suddenly becomes more retainable for the Indians.

Welcome to the new world of Major League Baseball. A world where for the small to mid-market teams they have to hope a player is good but not THAT good in order to keep them.

Not a PR move

There are a lot of skeptics out there that believe the Indians contract offer to outfielder Carlos Beltran was just a token offer in order to look like they are doing something this offseason. That they never intended to sign him and that they got into the contract discussions as nothing more than a public relations move.

First off, the Indians are not about doing things from a spending standpoint as a public relations move. They are an organization that operates in secrecy where they do not make the moves they are working on behind the scenes known to the public. They do not share much of what they are doing with anyone.

Anytime you see the Indians tied to a rumor on a free agent it is almost always coming from the agent, and if it is a rumor about a trade it is very likely coming from the agent again or the other team they are talking to in the trade. Now, they will respond accordingly when asked about a leaked rumor, though usually in a very vague manner or just deny it.

The Beltran interest was not leaked by the Indians as that was the agent doing it in order to create a market for his client. It is Free Agency 101 where the agents use the rumor mill to create interest in their client and thus get them more money. Had the agent not leaked it we probably would have never known the Indians ever made any attempt to sign Beltran. This is the case for several other free agents the Indians have already talked to this offseason that have already signed with other teams or are still free agents.

There are lots of past and present long term offers the Indians have made to players – some very good players from what I have heard - which have yet to see the light of day and probably never will. If the team wanted to use contract offers as a form of public relations, then why not leak any of those?

So with that, the idea that the Beltran negotiations were merely a public relations stunt by the Indians is a bit farfetched. The offers to Josh Willingham and Beltran were legitimate offers to try and bring them to Cleveland on a deal they thought was fair and fit right into the current blueprint of the team. Nothing else. There was no false interest where they had no intention to sign either of them and simply just wanted to get their name in the papers.

Setting the record straight

A lot of people call Indians owner Larry Dolan cheap and wish he would sell the team. His tenure as owner has certainly been a rocky one with lots of fan favorites being lost in free agency or getting traded, and the team has underperformed on the field.

But the cheap comment is something that I think is taken a bit too far. Dolan owns the top five payrolls in franchise history, and going a bit further owns 10 of the top 13 payrolls in franchise history. During former owner Dick Jacobs' tenure as owner the team eclipsed the $60 million payroll threshold just once, while under Dolan they have been at $60 million or higher seven times.

Dolan is spending more than Jacobs ever did and doing so with less revenue as he does not have the annual playoff revenue stream to pull from, major corporate backing, no Browns, and most importantly a sold out ballpark every day. It is just a different game today than it was 10-15 years ago. The Indians made $40-50 million in payroll go a lot farther in the 90s because the economic landscape of the game had yet to make a seismic shift.

I'll dig a little deeper into the free agency aspect and contracts the Indians have had under the regimes of Dolan and Jacobs with a feature piece shortly after the New Year, but in a nutshell, from a spending aspect the Indians have really not been any different now than they were 10-15 years ago. What has changed is everything around the Indians with the local economy and then the rapidly growing financial disparity in the game between the big market teams and everyone else.

Right-handed options

The offseason has now pushed into January and there is less than eight weeks until pitchers and catchers report for spring training. With time running out on the offseason the Indians still have a glaring need for right-handed bats.

They are expected to address that need before the start of the season with a trade or free agent pickup, but at the moment their internal options at first base or as a right-handed bat off the bench are thin with just Shelley Duncan, Matt LaPorta, Jose Lopez, Aaron Cunningham, Thomas Neal and Jared Goedert.

The way things stand right now the Indians would probably have to go with a Duncan and Carlos Santana platoon at first base if the season started today. That may not be a bad thing, but it is not the preferred way to go about it for next season as Santana is still more valuable to the team behind the plate and Duncan is more valuable as a right-handed bat off the bench and not used regularly.

Cunningham is a new player the Indians acquired in a trade a few weeks ago, but his role appears limited as a fourth outfielder. Lopez probably will not make the team unless an injury crops up in spring training, and even so he is not an option to play every day.

LaPorta could still factor into things if injuries occur, but right now the best thing for him is to probably have him spend the first two or three months of the season at Triple-A Columbus to get him on track. Goedert and Neal will also likely start the year in Columbus, though of all the right-handed hitting options listed Neal is probably the only one who could someday be an everyday option.

The Indians are very limited with their internal alternatives to fill not only their right-handed bat need but their first base void as well. All of the alternatives are role players at the moment and they need to find someone they can plug in as a stop gap for at least the 2012 season.

I still say someone like Derrek Lee would be an ideal fit at first base because of the contract he could be signed to and the value he brings in leadership, his defense, and a bat that is in decline but still productive.

Winter ball update

Things are winding down in winter ball as the regular season in Venezuela wrapped up on Friday night. The only regular season action remaining is out in Puerto Rico, Colombia, and Australia, while the Dominican Republic and Venezuela are now into their postseasons.

Fausto Carmona struggled in his second offseason outing out in the Dominican Republic on Wednesday. He pitched four innings and allowed two runs on five hits, two walks and had two wild pitches. He worked around the seven baserunners and wild pitches by limiting the damage to two runs, but it was a typical Carmona outing. So far this offseason his performance in just two games has been strikingly similar to his inconsistent 2011 season.

Asdrubal Cabrera's offseason is done after his team was eliminated from the playoffs. He finished up his time in Venezuela hitting .246 with two homers, 10 RBI and .771 OPS in 17 games. He left the game on Thursday in the 4th inning and did not play in his team's season finale on Friday, so he apparently suffered some kind of injury, though from what I have heard he is okay.

First base prospect Jesus Aguilar's offseason is also finished. He had a very nice offseason showing where in 38 combined games between the Arizona Fall League and Venezuela he hit .305 with six homers, 23 RBI, .944 OPS. The power is no doubt there, but what really shined for him this offseason was his improved plate discipline where he drew walks at a much higher rate yet his power numbers at the plate were not affected.

Some other performances of note in winter ball this offseason: Ezequiel Carrera (.270, 2 HR, 13 RBI), Jose Lopez (.310, 5 HR, 24 RBI), Felix Pie (.273, 4 HR, 21 RBI).

Follow Tony and the Indians Prospect Insider on Twitter @TonyIPI. Also, his latest book the 2011 Cleveland Indians Top 100 Prospects & More is available for purchase for $20.95 to customers in the US (shipping and handling extra).
Follow Tony and the Indians Baseball Insider on Twitter @TonyIBI. Also, his new book the 2014 Cleveland Indians Baseball Insider which profiles the Indians' Top 100 Prospects and more is available for sale.
User Comments
No comments currently. Be the first to comment!