Tribe Happenings: Offseason checklist shifts to first base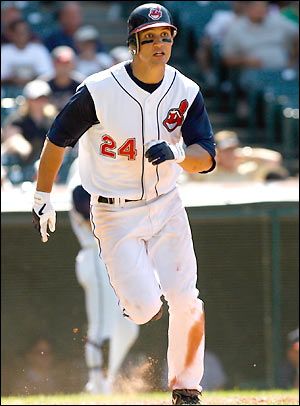 The Indians risk on Sizemore in 2012 is
more than just money (Photo: AP).
Some news, notes, and thoughts from my Indians notebook…
Sizemore returns for one year
The Indians officially welcomed back popular centerfielder Grady Sizemore on Wednesday by signing him to a one year deal for $5 million. The deal also includes up to an additional $4 million in incentives he can make based on the number of plate appearances he makes in 2012.
The Indians likely explored the free agent and trade options available to fill their center field need and it looks like they were either underwhelmed by the options available or they were too costly to obtain. This led them back to Sizemore as if he can stay healthy he could be just as much of an impact player as any available in free agency or the trade market.
Many people are excited to see Sizemore return as he has been a fan favorite for quite some time, but some people – including myself – wonder if the Indians may have just been better off to part ways this offseason and look for another outfield option.
The Indians are taking a big risk by re-signing Sizemore. By bringing him back even in light of his recent injury history they are essentially hoping he will be healthy next season.
No team understands Sizemore's medical situation better than the Indians, but it is still a large gamble to sign a player that has been limited to 210 games played over the last three seasons because of numerous injuries and surgeries. When a player keeps getting injured like he has for three straight seasons it looks less like bad luck but more a sign that the player is in decline.
With a finite budget of around $60-70 million the $5 million base amount the Indians will pay Sizemore is a good chunk of the budget that probably could have been better spent in another manner. There is no doubt that he has proven in the past that he can be an impact performer, something he demonstrated early in the season last year until he got hurt. But again, his health is a huge question mark as he has now had three consecutive injury riddled seasons, and the chances are more likely he will continue to struggle with injuries in 2012 than he will not.
In a way Sizemore embodies everything that is wrong with the Indians' lineup as he strikes out a lot and has durability issues. The strikeouts and health issues are big reasons why the Indians lineup struggled so much with its consistency and went through long cold spells last year, and if they struggle in 2012 it will likely be the reason once again.
By bringing back Sizemore it does give the Indians another year to assess the center field trade market and flush out internal options before going into next offseason having almost no choice but to fill that need. At the moment several solid to good center field options will be free agents next offseason with the likes of B.J. Upton, Michael Bourn, Shane Victorino, and Melky Cabrera. There should also be a few center fielders available in the trade market as well.
Sizemore is certainly capable of bouncing back this season with a big year. If he does it will help the Indians chances immensely in their chase for the AL Central crown and a postseason run. All we can do is wait and see.
Hopefully the Indians have a trick up their sleeve and sign or trade for a veteran right-handed hitting outfielder. Such a player is needed to complement their all left-handed hitting outfield and it would also be nice if that player had the capability to play every day in order to take some of the workload off of Sizemore as well as left fielder Michael Brantley and right-fielder Shin-Soo Choo.
No matter what happens this upcoming season it will likely be Sizemore's last as an Indian.
If Sizemore goes out next season and plays well and stays healthy he will have re-established his market value and will get a handsome contract in free agency. This would probably push his price tag to an amount well beyond the Indians' comfort zone and they would simply have to say goodbye and watch as he signs elsewhere.
If Sizemore has an injury riddled season and/or struggles at the plate, chances are the Indians will have no choice but to cut ties with him as he can no longer be counted on. So whether he struggles or excels he is probably gone for good after this coming season.
First base options
With Sizemore in tow it leaves but one position in the lineup that is not "set" going into spring training. The Indians will surely look at opportunities to upgrade other positions on the roster, but barring something shocking happening this offseason in a trade, the rest of the lineup is set except for first base.
The Indians have a few internal options for first base with Matt LaPorta and Carlos Santana, but those are more for depth (LaPorta) and versatility (Santana). They really need an everyday option and a new player from outside the organization to come in and help spark the lineup. While they will not limit their search to a right-handed bat it is imperative they pick one up in order to help balance out their left-handed heavy lineup with a right-handed power bat that can be a run producer.
Of course when you talk free agents and the Cleveland Indians in the same sentence it often leads to a lot of disappointment. Very rarely have they ever gone outside of their comfort zone to sign a free agent to a deal of three or more years, but they have done so in their recent past under the Dolan ownership with the likes of left-handed pitcher Chuck Finley, right-handed pitcher Paul Byrd, and outfielder Ellis Burks. All three players received three year deals for at least $7 million a year, and another player right-handed closer Kerry Wood was signed three years ago to a two year $20.5 million deal.
So it is possible that since the stakes have been raised because they are in a window of contention that the Indians will be more willing to go outside of their comfort zone and sign someone to a lucrative multi-year deal.
Over the past few weeks I have suggested the Indians sign first baseman Derrek Lee and outfielder Andruw Jones – two veterans who could help the Indians. With the signing of Sizemore it changes my view on both players as neither is an impact bat and more of a complementary kind of bat. A player like Jones could still fit in well with the outfield mix, but the Indians need to look at better options than Lee at first base.
Albert Pujols and Prince Fielder are the top two free agent options available at first base and both will cost way more than what the Indians can afford. But when you skim past their names there are some solid options available in free agency which could help the Indians fill their right-handed middle of the order bat need at first base. Three of the best fits may be free agents Aramis Ramirez, Michael Cuddyer, and Josh Willingham.
Ramirez is a third baseman and reportedly still wants to play there, but if the Indians could convince him to sign and play first base for them he would be exactly what the doctor ordered for the lineup. He is 33-years old and had a good season for the Cubs last year hitting .306 with 26 homers, 93 RBI and .871 OPS in 149 games. The feeling in the industry is he could be signed for three years and for $12-15 million per season. He would be costly for the Indians and a big reach because he probably will not agree to move to first base, but he is still a player they should make every effort to sign.
Cuddyer would be a fine addition as he can also play the outfield and some second base if needed, so his versatility could also provide some protection in the outfield if Sizemore or any other outfielder were to get hurt and miss extended time. He will be 33-years old before next season starts and this past season hit .284 with 20 homers, 70 RBI and .805 in 139 games for the Twins. Because of his versatility there will be some interest by bigger market clubs which will probably drive his price up, and the feeling in the industry is he could be signed for three years and $10-12 million a year.
Willingham may be the best fit of the three as he will probably come cheaper than Cuddyer and Ramirez and the Indians have some real interest in him as he was someone they tried to acquire this past July and August in a trade. He has some good power from the right side and has some versatility to play other positions, but the big red flag for him is his injury history. He will be 33-years old before the start of next season and with the Athletics last year hit .246 with 29 homers, 98 RBI, and .810 OPS in 136 games. He may be able to be signed for a Kerry Wood-like deal of two years and $9-10 million a season.
There are other first base options like Carlos Pena, Casey Kotchman and the aforementioned Lee, but Pena and Kotchman both hit left-handed and appear to be poor fits for the lineup and Lee is no longer an impact bat.
The Indians will look through every nook and cranny in the trade market this offseason, but if the answer cannot be found via a trade then they are going to have to step outside of their comfort zone and sign one of the more marquee free agents this offseason in order to make an impact to their lineup.
Sudden impact
The Indians and the fans are hopeful to pick up an "impact" right-handed bat this offseason, but the definition on what an "impact" bat is can vary. This is why no matter what the Indians do this offseason to add a bat or two to improve the lineup there is bound to be a segment of fans that are left disappointed.
For once there is some optimism that the Indians will finally make a noticeable splash this offseason. That they won't just be bargain bin shopping. That GM Chris Antonetti has the guts and the creativity to pull off another deal to get another good player here like he did over the summer with right-handed pitcher Ubaldo Jimenez.
With the Jimenez deal Antonetti showed he was willing to gamble and take the risk to acquire a higher profile player. No one is expecting Pujols or Fielder, but the fans want someone who is a significant upgrade at first base, and Antonetti's short history with deals brings some cautious optimism that he will gamble much more than his ultraconservative predecessor Mark Shapiro.
If the Indians end up filling their offseason needs in the lineup by resigning Sizemore and picking up a couple of has-beens it will be met with a lot of criticism, so the hope of many is that there is still more to come. The hope is that the Indians will continue their aggressive approach with procuring players and that they make a splash or two this offseason of "impact" quality.
More teams seeing wild
This week Major League Baseball announced a new Collective Bargaining Agreement (CBA) that will maintain labor peace for another five years between the league and its players. The new CBA changed several things, some for the good like the free agent compensation system and some player salary adjustments, and some for the bad with changes to both the draft and international market which could end up a disaster.
But the best change of all may be the addition of one wildcard team in each league. The new wildcard setup will now have two wildcard teams in each league play a one game playoff and the winner of that game will go on to face one of the three division winners in a normal best-of-five series in the Divisional Round.
This is great for the Indians and every other team in the league as everyone now has an extra shot to make the playoffs in any given season. It also puts much more emphasis on winning the division in order to avoid that a one and done scenario as a wildcard team.
It is but one playoff game, but if anyone witnessed the insanity on the final night of this past season with so many teams needing to win or go home, we will now be ensured to get that every year. We basically get to kick every postseason off with a Game Seven every year. You can't get much more exciting than that, and with the changes the Indians and their fans have a greater chance to join in on the fun.
Valbuena traded
On Saturday the Indians completed a trade to send infielder Luis Valbuena to the Toronto Blue Jays in exchange for cash considerations. Valbuena had been designated for assignment on November 18th when they cleared his spot on the roster in order to add some minor league players that were up for roster protection.
Valbuena is still young and may have something to offer to a big league team at the Major League level, so maybe a fresh start in Toronto will be just what he needs to get his career going again. I have been a staunch supporter of him over the years as I believe he still has the potential to be a suitable second baseman on a second division team and has some value as a bench player at the big league level. I would have certainly rather kept him around than roster infielder Juan Diaz, but the Indians apparently felt it was time to move on and go in a different direction with their infield depth going forward.
Parting shots
On Friday the Indians announced two changes to their uniforms for next season as they made subtle changes to their traditional home white jersey and their alternate road navy jersey. The changes can be viewed at Indians.com. … Indians' minor league free agent outfielder Jerad Head is not expected to return to the Indians in 2012 and may not play for any Major League organization next year. I have heard he may end up playing next season overseas. … Minor league free agent right-handed reliever Jason Rice - whom the Indians picked up off waivers in September from the Oakland Athletics - was signed to a minor league contract on Tuesday by the Atlanta Braves.
Follow Tony and the Indians Prospect Insider on Twitter @TonyIPI. Also, his latest book the 2011 Cleveland Indians Top 100 Prospects & More is available for purchase for $20.95 to customers in the US (shipping and handling extra).
User Comments
No comments currently. Be the first to comment!