Tribe Happenings: Prince signing makes things more difficult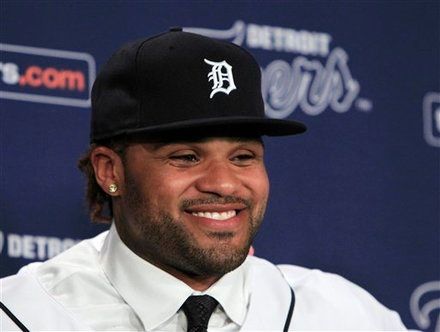 Some news, notes, and thoughts from my Indians notebook…

Prince of Tides

It has been an offseason of shocking signings. First the Miami Marlins went crazy in early December spending a lot of money on three players, and then the Los Angeles Angels came out of nowhere to land the top free agent prize first baseman Albert Pujols.

On Tuesday things got even crazier as it was announced that the Detroit Tigers signed free agent slugging first baseman Prince Fielder. The news came out of nowhere as up to the signing the Tigers were never really linked to him as a serious suitor, but after the announcement it sent an enormous shockwave throughout the Indians offices and to fans across the country.

There is no doubt when a team can add one of the premier power hitters in the game that it is going to be a significant addition. With Fielder and his power bat in tow it makes for a very formidable one-two punch in the middle of the Tigers' order with him and Miguel Cabrera, arguably the best in the league and shades of the David Ortiz-Manny Ramirez combo that was a nightmare for opposing pitchers just a few seasons ago.

While a lot of people are already crowning the Tigers as AL Central champions for 2012, the one caveat is that things do not always play out as they look on paper. Baseball is very unpredictable, which is why teams still have to play the games as there is never a guarantee with how any player will perform in a given season and more importantly how healthy a team will be all season.

At this time last year people were already buying World Series tickets for the Red Sox after they acquired Adrian Gonzalez and signed Carl Crawford to mega deals. The White Sox looked a lot stronger after they inked Adam Dunn to a big deal. But both of those teams missed the playoffs and were big disappointments last season, mostly because things just did not click for them.

Look how many times the Indians seemingly added the missing piece in the 90s? After coming up short in 1995, they went out and added Jack McDowell and Julio Franco and came up even shorter in the playoffs in 1996. Every offseason they added a significant piece, be it Roberto Alomar in the 1998 offseason or Chuck Finley in the 1999 offseason, but it was never enough and they even missed the playoffs in 2000.

Look at the Tigers just four years ago when they made the big splash of the offseason when coming off an 88-74 season in 2007 they acquired both Dontrelle Willis and Miguel Cabrera from the Marlins, but followed that up with a 74-88 record in 2008 and finished in last place in the AL Central. Look at the White Sox after they won the World Series in 2005 when they acquired Jim Thome, and then flat out missed the playoffs in 2006 and finished in third place in the division.

At the time all of those moves were made people thought those teams would be better. That's the beauty of baseball and why what looks good on paper does not always translate to success on the field. Offseason moves to add players via free agency and trades definitely help, but injuries and performance are still the number one factor that determines success over the course of a season.

The Tigers are certainly the favorite to win the AL Central, but the Indians are still a contender. Instead of fearing the Prince, let's see what happens over the course of 162-games. As Indians' right-handed reliever Vinnie Pestano would say, "If you are scared, get a dog."

Carmona gets restricted

Last Friday right-handed pitcher Fausto Carmona - whose real name is Roberto Hernandez Heredia - was arrested and released on bail for using a false identity and is currently being investigated by United States and Dominican Republic authorities. On Thursday the Indians placed him on the restricted list, which takes him off the 25-man and 40-man roster and he is not paid. He will be eligible for reinstatement when he reports to the team.

The Indians are not making any further comment on the matter until Carmona's status and availability to the club are determined. At the moment no one knows when that will be, but the team and fans should prepare for him to be out for a significant amount of time. A good barometer as to how long he may be out is the Leo Nunez situation in Miami, as he was also caught using a false identity back in September and that situation has yet to even come close to being resolved.

In the meantime, all the Indians can really do is wait to find out what happens with Carmona and in the meantime just put him on the restricted list in order to clear a roster spot and some salary. Some people have suggested that the Indians should just cut him loose after he deceived the team, but this is a delicate situation where their rush to cut him would be viewed in a bad light by others around the league. On top of that I am not even sure they can void his contract if they wanted to until the investigation is complete.

At this point in free agency there is not much to spend his salary on anyway, so it is not yet a critical decision on what to do with his contract. It may become more of a necessity in June or July if he is still not available to pitch and the Indians can use his salary to pick up a player or two in a mid-summer trade.

The Indians picked up Carmona's $7 million option for 2012 back in November. If he does not return until after the start of the regular season, then he will earn a pro-rated portion of his contract depending on how many days are left in the season when he is activated from the restricted list. For simplicity sake, say he does not return until around June 1st and misses the first two months of the six month season, he would then only receive about two-thirds of the $7 million salary ($4.7M).

Thank goodness for the AL Central?

The Texas Rangers and Los Angeles Angels really beefed up their already good rosters this offseason, and look like the two kings of the AL West. The New York Yankees have improved their pitching staff immensely this offseason, and of course the Boston Red Sox and Tampa Bay Rays will be very good once again.

Meanwhile the AL Central continues to plod along with little fanfare this offseason…..well, that is, until the Tigers made the Prince Fielder signing this week.

Outside of the Fielder deal, while teams in the other divisions have improved, the teams in the AL Central this offseason have done very little to make themselves much better. The Royals and Twins have made a few nice signings, but nothing big or that will put them over the top. Like the Indians, the biggest boost to them will be health and the development of their internal players. The White Sox are in sell mode and are retooling and are not considered to be a major factor in the division this season.

Even with the Tigers continuing to add big pieces in the past year, the Indians should thank their lucky stars they are not in the AL East or AL West as they would almost have no chance every year unless they hit on a bunch of young very good players at one time like the Rays. Beating the "buyers" over a 162 game season is a tough task, but the Indians have never had to really worry about that too much in the AL Central.

The Tigers' recent activity will make things more difficult, and maybe they see an opportunity to get a leg up on the lowest payroll division in baseball. But even with the Tigers' spending a lot of money of late, it still beats having to beat out two big spending behemoths in each of the other divisions. So not matter what any team in the American league does, it all boils down to the Indians only needing to worry about beating the Tigers, White Sox, Twins and Royals for the division crown.

Yes, eventually you will have to beat the "buyers" in a five or seven game postseason series if the Indians make the playoffs, but as many people know anything can happen in a short series. So until some other teams in the division join the Tigers and start going crazy with big time trades and free agent signings, be thankful the Indians are in the AL Central. I would argue the single best thing former owner Dick Jacobs ever did for the Indians franchise was getting them out of the AL East when the league was realigned after 1993.

Wheeler signed

On Thursday the Indians signed free agent right-handed reliever Dan Wheeler to a minor league contract with an invite to Major League spring training.

Wheeler, 34, debuted in the Major Leagues in 1999 and since then has made 577 appearances with the Rays, Mets, Astros, and Red Sox and compiled 3.88 ERA in his career with 43 saves. His 466 appearances since 2005 are ranked fourth in Major League Baseball, and in his career he has struck out 7.9 batters per nine innings and walked 2.7 batters per nine innings. Last season with the Red Sox he posted a 4.38 ERA in 47 appearances (49.1 IP, 47 H, 39K)

Wheeler joins non-roster invitees Jeremy Accardo and Chris Ray as the favorites to win the last spot in the Indians bullpen. Lefty Nick Hagadone is another minor league option that should also get strong consideration for the final spot in the bullpen. In any case, this is a much better approach to filling the last spot in the bullpen with an inexpensive player that is not rostered and can be effective and also not guaranteed money. The Indians made a mistake giving right-handed pitcher Chad Durbin a guaranteed contract and roster spot last year, and it appears they have learned from that.

Given Wheeler's success in the past and over the last several seasons he is probably the early favorite going into camp to win that last spot in the bullpen. That said, he had forearm soreness in September and had to be shut down, so it remains to be seen if he is completely recovered from that and if it affects him going forward.

Spending when the time is right

"We will spend when the time is right."

That's the infamous quote Indians owner Larry Dolan made back in the summer of 2002 when the team was being deconstructed and being rebuilt over a three year plan. It is a quote that is never going to go away. It is also a quote that has been very misunderstood over the years as everyone took it to mean something different at the time. There is no doubt that he probably wishes he never made that comment, especially in light of how much the game has changed since he made it.

That comment was made almost nine years ago, and like everything as time passes, we tend to exaggerate the real story. Back when he made that comment he was not saying that they would go out and spend a lot of money in free agency when the time was right. It was simply a comment made in response to a team which was blown up and payroll had been bottomed out to $35 million and that when they were contenders again they would bring payroll back up to previous levels.

Those previous levels were $65-80 million, which is what they have done for several years since then. In the five of the last six years they have had four payrolls north of $60 million and two of those season (and maybe this year) north of $70 million. Unfortunately for Dolan and the Indians, when he made that comment he probably never envisioned the payroll disparity that was about to come and that getting back to $70-80M payroll levels would not be enough.

Parting shots

On Thursday the Indians signed right-handed pitcher Jose De La Torre and infielder Ryan Rohlinger to a straight minor league deals. They will report to minor league camp in March and did not receive an invite to Major League camp this spring. … De La Torre is a 26 year old pitcher that in 168 career appearances (265.2 innings) in the minors owns a career 17-19 record with a 2.84 ERA. … Rohlinger is a 28 year old infielder that is a career .268 hitter in the minors (2306 at bats). … Also on Thursday the Indians unveiled their broadcasting schedule for the 2012 season. SportsTime Ohio will air 151 games this season, 20 of which will be simulcast on WKYC Channel 3. Also, FOX will nationally televise four games on April 28th (Angels), June 2nd (Twins), June 9th (Cardinals), and September 15th (Tigers).

Follow Tony and the Indians Prospect Insider on Twitter @TonyIPI. Also, his latest book the 2011 Cleveland Indians Top 100 Prospects & More is available for purchase for $20.95 to customers in the US (shipping and handling extra).
Follow Tony and the Indians Baseball Insider on Twitter @TonyIBI. Also, his new book the 2014 Cleveland Indians Baseball Insider which profiles the Indians' Top 100 Prospects and more is available for sale.
User Comments
No comments currently. Be the first to comment!