Tribe Happenings: Putnam could impact next year's bullpen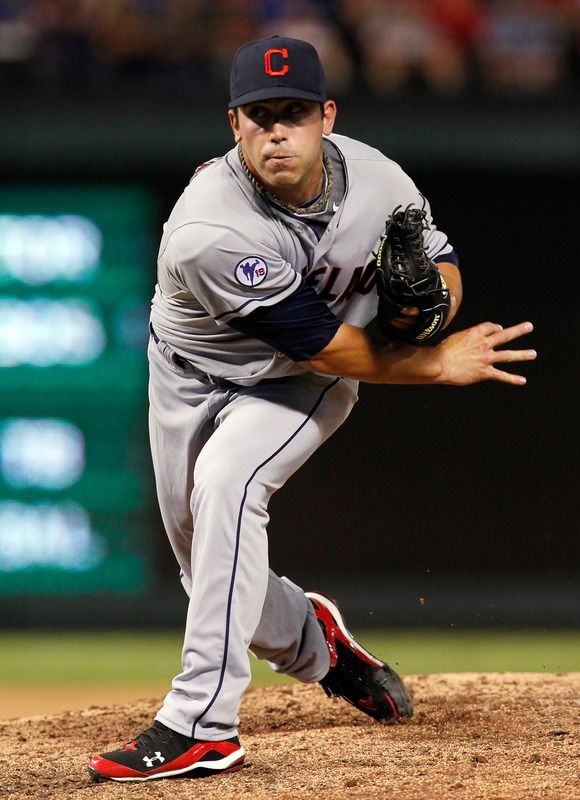 Putnam has the goods to be an impact
reliever in the big leagues (Photo: AP)
Some news, notes, and thoughts from my Indians notebook…
Putnam's future is now
Welcome to the big leagues Zach Putnam.
Putnam, 24, was called up to the Indians a little less than two weeks ago and made his big league debut in Texas against the Rangers on September 13th. In that debut he allowed two runs on three hits and a home run, and in six appearances so far is 1-1 with a 6.35 ERA.
Since Putnam's debut in Texas he has settled down some and as he pitches in more games and gets more comfortable his performance is expected to improve significantly. Prior to the callup he pitched all season at Triple-A Columbus where in 44 appearances out of the bullpen he went 6-3 with 9 saves and a 3.65 ERA (69.0 IP, 61 H, 23 BB, 68 K).
Putnam was the most consistent reliever this year for the Indians in Columbus. He throws a fastball that sits 92-93 MPH and has touched 96 MPH, and complements it with a splitter, slider and changeup. He is a strong, physical pitcher with an advanced feel for pitching and really thrives on pitching in high leverage situations out of the bullpen. He has put away stuff, but with the sinking action of his fastball can get hitters to consistently pound the ball into the ground and does a good job limiting home runs.
Putnam's fastball-splitter combination is about as good as it gets, but it has been the improvement of his slider this season that has really vaulted his stock as a Major League bullpen prospect. Back in June he and Columbus pitching coach Ruben Niebla tweaked the grip and mentality behind his slider and it just suddenly took off showing a lot of improvement and it has been better than ever. With the improvement of the slider he now has three pitches that are considered Major League ready.
Putnam had a minor setback with his shoulder in mid-June which resulted in his workload being reduced and him missing a little time. Upon returning his velocity was down a MPH or two and his arm slot dropped a little which caused his ball to flatten out some in the zone and as a result his performance suffered some until mid-July. Since then his arm slot has been corrected, he is getting on top of the ball better, and he feels great and back to normal.
Putnam is one of the Indians' top relief pitching prospects - if not the best – in their system. He performed as expected this year and would have been called up to Cleveland sooner if it were not for some good fortune with health and performance in the Cleveland bullpen all season.
Putnam is expected to be a fixture in the big league bullpen for the next several years, and will go into spring training next season as a strong candidate to make the opening day bullpen. He could be another Indians' reliever to make a big jump next season similar to what right-hander Vinnie Pestano did this season.
Fifth starter battle
The battle for the Indians' fifth starter's job next year is already taking place this September.
At the moment the first four pitchers in the starting rotation next year are expected to be right-handers Justin Masterson, Ubaldo Jimenez, Fausto Carmona, and Josh Tomlin. Assuming no significant moves are made this offseason the fifth starter's job will be up for grabs next spring and the top four candidates to fill it will be right-handers Jeanmar Gomez, Zach McAllister, and Mitch Talbot and lefty David Huff.
At this point the two frontrunners for the job to start next season are Gomez and Huff, and right now both could not be pitching any differently. Gomez has been on a roll since being called up to the Indians on August 30th where in five starts since his recall he is 5-0 with a 1.80 ERA (30.0 IP, 29 H, 8 BB, 15 K). Meanwhile Huff has struggled in his last five starts going 0-4 with a 6.20 ERA (24.2 IP, 34 H, 7 BB, 17 K).
Their body of work with the Indians this season has been limited but has been solid as Huff is 2-6 with a 4.09 ERA in 11 appearances while Gomez is 5-2 with a 3.52 ERA in ten appearances. Both have proven to be good starting pitch depth options, but going forward the Indians need one of them to step up and flat out take the open rotation spot, sort of how Tomlin did so this spring. A good September finish is a good way to start that campaign and should give that pitcher a leg up in the competition this spring.
Record setters
Shortstop Asdrubal Cabrera hit his 25th home run on Thursday night and is the new single season club record holder for home runs by an Indians shortstop. Jhonny Peralta previously held the record with 24 homers in 2005. His home run total is the most ever by a Venezuelan born shortstop in Major League Baseball history.
Cabrera hit just three homers last year, and according to Elias his 22 home run increase from last year to this year is the 2nd largest increase in club history. First baseman Eddie Morgan is first on that list with a 24 home run increase from one year to the next when he hit two homers in 1929 and then 26 homers in 1930.
Cabrera, 25, has established new career-highs this season in home runs (25), RBI (92), runs (86), hits (163), at bats (596), games played (149), and strikeouts (116). He is also tied for his career high with 17 stolen bases. He no doubt has had a breakout season with the production numbers hitting .273 with 25 homers, 92 RBI and .796 OPS in 149 games.
Catcher Carlos Santana is now the club's single season record holder for home runs by a switch-hitter. His 27 homers surpassed the 25 home runs that former Indians' catcher Victor Martinez hit in 2007. His 34 extra base hits since the All Star break are tied for the fourth most in the American League. In 152 games he is hitting .240 with 27 homers, 79 RBI and a .811 OPS.
Columbus reigns over Triple-A
On Tuesday night Triple-A Columbus won the Triple-A National Championship defeating Omaha from out of the Pacific Coast league 8-3. It is the second straight year that Columbus has taken home the championship and the title as the best team in all the minors.
Columbus went 88-56 during the regular season and breezed to the best record in the International League and the third best record in all the minors. They did all this in spite of 184 transactions made to the roster and 23 players leaving the roster at some point to play in Cleveland.
Even with some of the top players being pulled from the Columbus roster and moving on to Cleveland the team still managed to continue its winning ways. This is a testament to the job manager Mike Sarbaugh and his staff does every year, and also how much depth the Indians have in the upper levels. Even with the lack of really any high profile prospects on the roster at the end of the season, Columbus still had a group of good players that together played as a team. The staff and players are all winners. Congratulations!
Goodbye to Hegan
Last night the Indians gave a fitting tribute to long-time broadcaster and Major League player Mike Hegan. This season marks his 50th and final season in professional baseball as he is transitioning from his full time commentating duties as an analyst in the radio booth. He will remain in the organization by joining the Indians Alumni Ambassador program serving as a resource for Indians broadcasting, community and business initiatives.
Hegan is the son of former Indians great Jim Hegan, and grew up in Cleveland and starred at St. Ignatius High School in both football and baseball. He played 16 years professionally from 1962 to 1977, 12 of those seasons in the big leagues. He was an American League All Star in 1969 and won a World Series with Oakland in 1972.
After Hegan's playing career ended in 1977 he moved right into the Milwaukee Brewers TV booth as an analyst for 11 seasons. In 1989 he came back to Cleveland as an analyst for Indians' TV broadcasts on WUAB and later split his duties between TV and radio before moving to the radio booth permanently in 2007.
Hegan was inducted into the Cleveland Sports Hall of Fame this past Thursday at Executive Caterer's at Landerhaven. He was also recently nominated along with Herb Score for the 2012 Ford C. Frick award for excellence in Major League Baseball broadcasting.
Parting shots
The Indians celebrated the career of Jim Thome on Friday night with a pregame celebration and the announcement that they will be building a statue of him behind the center field wall in Heritage Park. … Columbus manager Mike Sarbaugh has joined the big league staff for the rest of the season. Once their minor league season has ended the Triple-A manager typically joins the Major League team in September. … As expected, the Indians called right-handed pitcher Mitch Talbot back up and he made a spot start yesterday against the Twins. He likely will remain on the roster this offseason. … Designated hitter Travis Hafner notched his 1000th career hit on Thursday night with a seventh inning double. ... Outfielder Trevor Crowe is done for the season after suffering a left shoulder strain in the first game of the doubleheader yesterday. It is not the same injury he had earlier this year as he had his other shoulder surgically repaired this spring.
Follow Tony and the Indians Prospect Insider on Twitter @TonyIPI. Also, his latest book the 2011 Cleveland Indians Top 100 Prospects & More is available for purchase for $20.95 to customers in the US (shipping and handling extra). Use discount code 2Z6F362B to receive 40% off the book through the site store!
User Comments
No comments currently. Be the first to comment!