Tribe Happenings: Selig Talking Playoff Expansion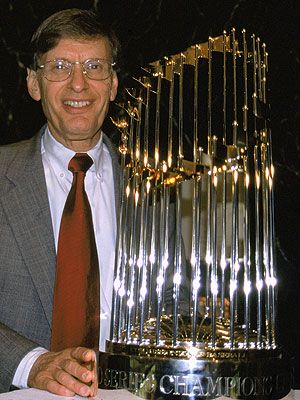 Baseball Commissioner Bud Selig hopes to
add more teams to the postseason mix. (AP)
Some news and notes from my Tribe notebook…
Playoff Expansion?
There has been some talk out of the commissioner's office lately about expanding the playoff format for Major League Baseball.
What kind of expansion there may be, if any, remains to be seen, but where there is smoke there is fire. When such talk is coming straight from the mouth of Commissioner Bud Selig, you can bet this is but the first salvo in what will be a strong push the next several months to add more teams to the excitement of October baseball.
So why even consider such a change?
Presently, Major League Baseball is the toughest sport to make the playoffs as only eight of 30 teams make it (26.7%) where the odds are a little better in the NFL where 12 of 32 teams get in (37.5%), and a lot better in the NBA and NHL where 16 of 30 teams (53.3%) make it.
From the sounds of it, the likely expansion idea seems to be centered around adding two wildcard teams in each league resulting in a total of 12 teams that make the postseason in Major League Baseball. This would align them up with the NFL format, one which is very successful with four rounds of playoffs with a wild card round, divisional round, league championship round, and then the Super Bowl.
So how would they implement such a change?
The likely scenario would be a short opening round series - likely a three-game series – that would occur in the American and National League. Each league would have two opening round series' pitting the three wildcard teams and worst division winner against each other with the two best division winners getting a bye. Also, the following round (Division Series) would be changed from a best-of-five to a best-of-seven series format.
Many fans believe the season is already long enough, and with this change it sounds like the season would go on into November, right?
Not really. In case anyone missed it, Selig made a sly move earlier this year announcing that starting next year the season will now start a week earlier and end a week earlier, so now the regular season will finish on a Wednesday each year rather than on Sunday. That means the season will end on September 28th next year instead of October 2nd.
This move perfectly helps set up the potential for a three game playoff series from Friday-Sunday when the regular season would normally have ended. Once the second round Divisional Series starts on Monday or Tuesday, it would be exactly in line with how the postseason schedule has always been up through this year.
As for a change to a best-of-seven Division Series format, the potential for two additional games should not affect much considering all the off days given between the Division Series, League Championship Series and World Series. It would just mean the potential for two less off days that will now have baseball on TV in prime time, which of course means more revenue for the league and TV networks.
So will it happen?
The Major League Baseball Players Union (MLBPA) is supposedly leaning in support of it, and if a few minor details can be worked out between them and the ownership group it appears that playoff expansion may be coming very soon, maybe even as soon as next year.
Bottom line...why the heck not?
All of this would provide an opportunity for two additional teams to make the playoffs in each league, and also reward the top teams with a bye. It means more money for all parties involved, and most importantly would give hope to fans of a lot of teams with two extra shots at achieving postseason dreams. No matter how bleak your outlook on the Indians' future, you can't scoff at two additional chances to make the postseason where anything can happen.
The Drought Continues
Now that the World Series is over, cross off another team from the list that had a 40+ year World Series championship drought. Entering the 2010 season, the Giants had the third longest World Series championship drought only to the Chicago Cubs (1908) and, yes, the Indians (1948).
Since 1979 a surprising 22 of 30 organizations have won a World Series in 31 tries (no World Series in 1994 because of the strike). Of the eight who have not won, six of them are expansion teams from 1961 or later. To pour salt even deeper into the wound, in the last seven years three teams with the five biggest droughts saw theirs come to an end with the Red Sox (1918, 2004), White Sox (1917, 2005), and now the Giants (1954, 2010) winning the World Series.
If you add in that the Cleveland Browns have never been to a Super Bowl since its first season in 1966 and the Cleveland Cavaliers have never won an NBA championship and have just one NBA Finals appearance (2007) on their resume, well, you can see why Cleveland fans are very impatient these days.
More Housecleaning
The Indians made a flurry of moves this week to clear space on the 40-man roster in preparation of the November 19th roster deadline. All teams have to have their 40-man rosters set with any players they want to add from the minor leagues by November 19th as any eligible player left unprotected may be picked up in the Rule 5 Draft in December.
With that in mind, the Indians removed catcher
Luke Carlin
, infielder
Drew Sutton
, outfielder
Chad Huffman,
infielder
Wes Hodges
, and infielder
Andy Marte
by outrighting them to Triple-A Columbus.
They also tried to outright shortstop
Carlos Rivero
, but he was picked up by the Philadelphia Phillies off waivers. To outright a player from the 40-man to the minors the player first has to clear waivers, and Rivero almost slipped through as the Phillies were the last team in the waiver order. Hodges and Huffman are still property of the Indians, but Sutton, Carlin, and Marte are free agents. In fact, along with right-handed pitcher
Anthony Reyes
they are the Indians' only free agents.
After the moves the Indians' roster now stands at 35 players, so they have room to add five players. Most, if not all, of those spots will be filled with players from the minor leagues who are up for roster protection.
Landis On The Mend
For those diehards out there who are fans of the Cleveland Indians' minor league system, some may wonder whatever happened to right-handed relief pitcher
Kyle Landis
.
Landis, 24, was selected by the Indians out of the University of Pittsburgh in the 18th round of the 2007 Draft. Up until this season he had compiled a pretty nice minor league resume with a 2.63 ERA in 117 relief appearances, and in 167.2 innings had allowed 142 hits, 57 walks, and had 195 strikeouts.
But as the 2010 season came and went, while he was never released, Landis was nowhere to be found.
As it turns out, Landis was sidelined all year with a back injury and a serious nerve issue in his right arm. He was experiencing pain in his bicep which would often result in numbness throughout the rest of his arm. After a lot of tests, Indians doctors found out he had a rare nerve problem in his arm where the numbness occurred only when he threw because of a stretched nerve. He had to be shutdown from throwing and undergo therapy in order to have the problem go away, which in the end cost him his 2010 season.
After spending the entire season rehabbing his back and going through therapy for his nerve problem, Landis is reportedly healthy again – maybe even stronger - and will go to spring training eyeing a spot in the Double-A Akron bullpen.
Bryson Not Eligible
Right-handed minor league pitcher Rob Bryson is not eligible for the Rule 5 Draft this year, so he will not be up for roster consideration this offseason. Under the new rules from the recent Collective Bargaining Agreement (CBA) in the 2006 offseason, players who were drafted under the age of 19 have five years before they are up for roster protection, while players drafted 19 years of age or older have four years.
Bryson, 22, was drafted out of high school at 18-years old in the 2006 Draft and like the rest of his high school signees from that draft year would be up for roster protection this year; however, he was a draft and follow signing (signed May 2007) and as a result he is grandfathered under the old CBA guidelines for roster protection that expired after the 2006 season.
In a nutshell, going by the old rules, since his contract started in 2007 his roster clock starts that year which means he only has four of the five years needed to become eligible for the Rule 5 Draft. This same exception also applies to Indians minor league right-handed reliever
Travis Turek
who was a draft and follow signing in May 2007 after being taken in the 48th round of the 2006 Draft.
This exception will go away after this offseason since 2006 was the last year of the draft and follow process after the new CBA adopted in the 2006 offseason abolished it. There are no other remaining exceptions to the roster protection process.
Parting Shots
Infielder
Jared Goedert
has left his winter league team in Venezuela and is now back in the states. He was only scheduled to be out there for about three weeks, but had his stay shortened by a few days because of a minor elbow injury. In 14 games he hit .333 with 0 HR, 4 RBI and a .918 OPS. … Outfielder
Nick Weglarz
has joined his Caracas team in Venezuela and should be in the lineup soon. … Indians minor league affiliate Low-A Lake County unveiled a new logo earlier this week which incorporates a nautical theme and the organization's ties to Lake County. … High-A Kinston will also be announcing a new logo, uniforms and ball caps this week on Tuesday November 9th at Grainger Stadium.
Follow Tony and the Indians Prospect Insider on Twitter @TonyIPI. His latest book the 2010 Cleveland Indians Top 100 Prospects & More is also available for purchase on his site for a special year end closeout sale of $10.00 (including shipping and handling).
User Comments
No comments currently. Be the first to comment!