Tribe Happenings: Sizemore is coming back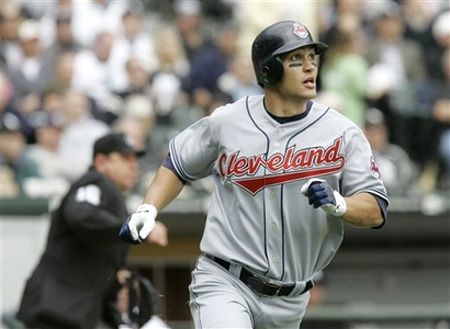 Sizemore and the Indians are re-united for
at least one more season (Photo: AP).
Some news, notes, and thoughts from my Indians notebook...
The return of Grady
Wow, how quickly things can change.
Just less than three weeks ago on October 31st the Indians chose to decline outfielder Grady Sizemore's $9 million club option and the chances of him returning were remote. While he and the Indians would still keep in contact in the offseason, the general feeling was that it was a long shot for him to return to the Indians. Many thought that there would be more than enough potential suitors to give him a one year deal close to the $9 million option the Indians declined.
All that changed late Friday night as reports swirled like a tornado that discussions between the Indians and Sizemore's agent Joe Urbon had reached the very serious stage. So much so that an official announcement could come anytime in the next 48 hours that he is coming back to the Indians.
Talk about a complete reversal of direction for both Sizemore and the Indians.
Sizemore and his agent did their due diligence in trying to find a team interested in signing him for a deal close to the $9 million he would have received with the Indians this year. Over the past few weeks there have been several reports of teams being "interested" in Sizemore, but most of that was agent driven as Urbon tried to build a false market by generating interest for his client. Sure, teams were interested in his client, but in the end what Urbon probably quickly found out is that those teams - like the Indians - were only going to give him a low base contract next year with lots of incentives.
With the prospects of a sizable one year deal off the table, Sizemore and Urbon probably thought the best situation was to return to the familiarity of Cleveland where the team fully understands his medical situation and him as a player. Cleveland may also have been his best opportunity to play every day. By returning to Cleveland it offers him the best chance to stay healthy and rebuild his market value for a run in free agency next year.
As for the Indians, they may have planned all along that Sizemore would return, though they likely also had a few fallback plans in mind in the event he did get the deal he wanted elsewhere. They stuck to their guns on their contract proposal to him for 2012 and gambled that he would not get the deal he wanted from another team in free agency, and in the end the poker move appears to have paid off.
While official contract details are still unknown at this time, it looks like Sizemore will be signed to a low base contract for a few million that will include a lot of incentives to make the $9 million (or more) he would have received with the original club option.
The Indians are still gambling with Sizemore's health next year as there is no assurance that he will not break down for a fourth consecutive season. But by bringing him back into the fold it is a sign that they believe he has a very good chance to be healthy next year and if so could once again be an impact player for the lineup. All of that comes with limited risk on a one year deal expected for a low guaranteed amount of money.
All that having been said, the timing of this move is interesting. We are only three weeks into the offseason, yet a deal has been reached. Urbon never really gave his client a chance to build his market, which can grow as the offseason progresses, especially during the Winter Meetings in December. Either the Indians' offer was much better than what other interested teams were offering, or the Indians have some moves up their sleeve they want to move onto and they needed a decision on Sizemore now.
More outfield moves coming?
With Sizemore expected to be resigned it looks like – assuming health – the starting outfield will once again be Sizemore, Michael Brantley and Shin-Soo Choo.
If all three players are healthy that is a good starting outfield for next year. But the problem is the Indians have some big durability concerns with Sizemore and both Brantley and Choo had significant injuries last year that landed them on the disabled list as well. It would be hard to expect that all three will be healthy all season and that the Indians can run each of them out there for over 150 games next year.
Ezequiel Carrera is a solid depth option, but he should not be the first option to replace any of Sizemore, Brantley or Choo as an everyday player if one is out for a considerable amount of time. So with that in mind the Indians need to look outside of the organization for a bat that best fits into their big league outfield mix.
What the Indians may do is bring in a veteran right-handed bat for the outfield to not only complement all three, but also provide some insurance in case one of them is injured. One name to consider is Andruw Jones.
Jones, 34, is no longer the star he once used to be, but as a part time player he is still productive. In 77 games with the New York Yankees last year he hit .247 with 13 homers, 33 RBI and .851 OPS. He would provide some power the team wants off the bench from the right side of the plate and would be another center field option at their disposal to back up Sizemore and Brantley. His best value to the team would be his ability to hit against left-handed pitching as he hit .286 with a .924 OPS in 126 at bats last year and hit .256 with a .931 OPS in 2010.
Jones is just one player they may consider as there are surely other part-time players they may look at to help their need for a right-handed hitting outfielder. Another possibility could be Ryan Ludwick, a player they feverishly tried to acquire a few months ago just before the July 31st trade deadline. Another possibility – albeit a long one – could be to go after Josh Willingham. He will not come cheap in free agency, but he can play first base and the outfield and could allow some flexibility for the Indians to play him in the outfield and then Carlos Santana at first base against lefties.
Is that it?
A few fans have already thrown their hands up in the air in response to resigning Sizemore and asked if this is all the Indians will do this offseason.
The Indians surely are not done with their offseason plans, but the Sizemore decision does kind of narrow down the focus where it appears all that is left to do is maybe add that complementary right-handed outfield bat noted above and figuring out what to do at first base.
I share the same sentiments as a lot of people where I will be underwhelmed if the Indians end up just resigning Sizemore and picking up a Derrek Lee type in free agency or a Gabby Sanchez in a trade to improve the lineup. By bringing back Sizemore the only real change next year looks like it will come at first base, and assuming that first base pickup is not a high profile All Star type of player they are going to have a lot of the same strikeout, durability and consistency concerns with the lineup next year as they did this past season.
The hope here is that the sudden out of nowhere resigning of Sizemore is because the Indians are up to something else. Antonetti has publicly stated that their focus will not be entirely on upgrading first base or the outfield and that other positions could be in play, so maybe he has something else up his sleeve and there is more to all of this.
That is why it is best to wait until January or February to truly judge their offseason as a lot can still happen, especially with the Winter Meetings coming up in two weeks in Dallas. There is going to be a lot of activity at those meetings, and the Indians could be a team involved in lots of trade and free agent discussions.
Rumor mill
The Indians have not been tied to very many players so far this offseason, but there have been reports that they have contacted free agent outfielder Jason Kubel. The Indians almost picked him up in August as they claimed him off trade assignment waivers from the Twins but were unable to work out a trade to complete the deal.
Apparently, Kubel's contract demands were too steep, which may be a reason why the Indians and Sizemore came back together so quickly. With Sizemore back in tow, the Indians probably have almost no further interest in signing Kubel.
Another report surfaced this week that the Indians and Houston Astros have talked about a potential deal where Astros first baseman Brett Wallace would be sent to Cleveland. While he is young and has potential, picking up Wallace would be sort of puzzling as he would not help stabilize their first base situation.
For one thing he hits left-handed. He is also a strikeout machine who does not walk a lot, and in a lot of ways is the left-handed version of Matt LaPorta. Both Wallace and LaPorta are one time high profile prospects who have had disappointing starts to their big league careers. Stick a pin in this one as something may still come of it, but I do not see it happening.
New skipper
The Indians announced this week that former Florida Marlins manager Edwin Rodriguez will be the Indians' manager at their High-A Carolina Mudcats affiliate this coming season. Former High-A Kinston manager Aaron Holbert left the organization after the season to join the Atlanta Braves and manage their Double-A Mississippi affiliate.
Rodriguez, 51, managed the Marlins for two seasons from 2010 to 2011 and went 78-85 (.479), and was the first Puerto Rican-born manager in Major League Baseball history. He also coached and managed in the Marlins' Player Development System from 2005-2010 and played three seasons in the Major Leagues with the New York Yankees and San Diego Padres from 1982 to 1985.
This is an interesting pickup as Rodriguez brings with him a wealth of experience as a former player and manager in the minors and big leagues. As to why he would take a job to be a minor league manager is unknown at this time, but a lot of former big league coaches like to get back to their roots in the minors and take a year to re-establish themselves in an organization for a potential big league coaching opportunity the following year. We saw that with Tom Wiedenbauer who joined the Indians last year as their Minor League Field Coordinator and was just added to manager Manny Acta's big league staff this offseason.
For those that do not know, the Indians High-A affiliate next season is moving about 90 miles northeast from Kinston, North Carolina to Zebulon, North Carolina. The former Double-A Carolina Mudcats team was sold and is moving to Sarasota, FL in 2013. Kinston then sold their team to the Mudcats and they will become a High-A team and the new location of the Indians' High-A affiliate. Kinston is without a team and unlikely to have baseball in 2012 unless they add an independent ball team.
Parting shots
Manager Manny Acta finished fourth in the AL Manager of the Year voting receiving three second place votes and seven third place votes. He finished just ahead of Yankees manager Joe Girardi who was fifth. … The Indians have lost two minor league coaches to other teams recently as outfield and baserunning coordinator Gary Thurman left to join Marlins manager Ozzie Guillen's staff and Triple-A Columbus hitting coach Lee May Jr. left to be the Mariner's minor league hitting coordinator.
Follow Tony and the Indians Prospect Insider on Twitter @TonyIPI. Also, his latest book the 2011 Cleveland Indians Top 100 Prospects & More is available for purchase for $20.95 to customers in the US (shipping and handling extra).
User Comments
No comments currently. Be the first to comment!