Tribe Happenings: Tomlin's health an early spring question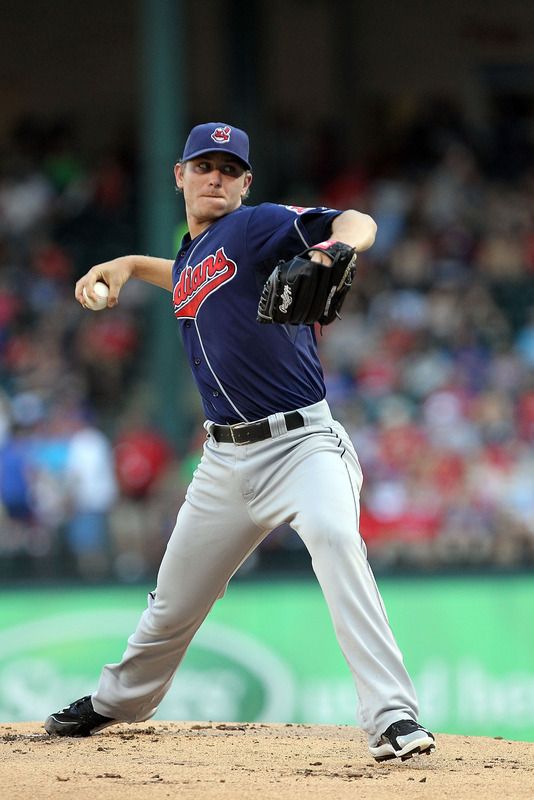 How healthy is Josh Tomlin? We will find
out soon enough. (Photo: AP)
Some news, notes and thoughts from my Indians notebook…

Should there be concerns with Tomlin's health?

Pitchers and catchers report in a little over five weeks, and one pitcher that a lot of people are eager to see at the outset of camp is right-hander Josh Tomlin.

Tomlin, 27, had a good first full season last year for the Indians as he made 26 starts and went 12-7 with a 4.25 ERA, but had his season cut short when he was placed on the disabled list on August 26th with a right elbow sprain. The placement on the disabled list came just two days after his August 24th start when he only went 4.2 innings (11 hits, 6 earned runs, 1 walk, 6 strikeouts), which snapped his record tying 37 straight starts going at least five innings to begin his Major League career.

Even without pitching all of September, Tomlin's 12 wins tied him with right-hander Justin Masterson for the most on the staff in 2011. His 1.08 WHIP ranked seventh in the American League and was the lowest by an Indian since Gaylord Perry's 1.02 in 1974 when he won the CY Young award. Another impressive stat was that not one stolen base was attempted off of him all season. It was the first time in Major League Baseball since 1969 that a pitcher who qualified for the ERA title went a whole season without a stolen base attempt off him.

While it is alarming that Tomlin did not return the rest of the season, the Indians have maintained that had the season been a little longer he would have come back. He was in line for one of the starts in a doubleheader the last week of the season, but they opted not to use him for just one start before the end of the season and instead chose to keep him shut down until this spring.

But one has to wonder if Tomlin was pitching hurt the last few months of the season. He got off to a great start in April and May where in ten starts he went 6-2 with a 2.74 ERA and had nine quality starts, but from June until the end of his season he made 16 starts and went 6-5 with a 5.24 ERA and had just eight quality starts.

Maybe the league had simply just made the adjustment to Tomlin, or maybe the elbow issue had been lingering for some time. He approached the Indians about some discomfort in his elbow after that last start on August 24th, but who is to say it had not been bothering him for several starts prior to that but did not bring it to anyone's attention? Considering his poor performance and decreased velocity over his last several starts this is very possible.

In a lot of ways Tomlin is like former Indians hurler Paul Byrd where he just wins and gets results without good stuff because of his intelligence and ability to compete. He is an important piece to the Indians' rotation because of his ability to rack up quality starts, shut down a running game, limit walks, and compete, so if he has any lingering elbow issues this spring it would be a big blow to the team.

Tomlin has avoided injuries since being selected by the Indians in the 19th round of the 2006 Draft, but his elbow has been of concern in the past. In 2006 a sprained UCL sidelined him for six weeks and hurt his draft stock, which is why he slid to the 19th round that year.

There is a five year gap between the two elbow sprains and they are probably not related, but until Tomlin gets to spring training and starts throwing bullpens and in games the Indians should not be too comfortable about his status for the 2012 season. It is definitely one of the things to keep an eye out and watch in the early going this spring.

Lefty, righty…who cares?

There has been a lot of handwringing over what kind of hitter the Indians should acquire in free agency or a trade to fill their first base need. The most common rationalization is that the Indians have to find a right-handed bat to fill the first base vacancy because they are so left-handed heavy with six left-handed hitters and two switch hitters expected to be a part of the regular lineup next season.

But at this point does it really matter if the Indians pick up a left-handed or right-handed bat for first base? Is there really that much difference with having seven left-handed bats in the lineup instead of six left-handed bats? Is one right-handed bat going to change that much, especially when you consider the right-handed bat will be more of the complementary variety?

The Indians are already in a pinch from a matchup standpoint late in games where opposing managers can load up on left-handers against them, so the addition of a right-handed bat is not going to change things. What they should be focusing on is adding the best possible fit at first base regardless of what side of the plate that player hits from. This is why while Derrek Lee may be a good fit for the team because he is right-handed with pop and plays good defense, a better option may be Carlos Pena who is left-handed but has more pop, plays better defense, and arguably has more impact potential.

The Indians' left-handed heavy lineup is something they are going to have to sink or swim with this season. At this point the best way to protect themselves from a heavy dose of left-handed pitching late in games is to build a strong bench loaded with right-handed hitters. With right-handed hitters like Shelley Duncan, Jason Donald, and Aaron Cunningham expected to be on the bench next season, they have three solid options to use depending on the situation and what left-handed hitter is up at the plate.

Indians add bullpen depth

The Indians made another low key signing this week as they signed right-handed relief pitcher Robinson Tejeda on Tuesday to a minor league contract with an invite to spring training.

Tejeda, 29, has seven years of experience pitching in the Major Leagues and had spent the last four seasons in the Kansas City Royals organization. He owns a career Major League record of 23-27 with a 4.42 ERA in 186 games, and in 442.0 innings has allowed 397 hits, 246 walks, and has 371 strikeouts. He split the 2011 season between Kansas City and Triple-A Omaha. In nine relief outings with the Royals he posted a 6.14 ERA before finishing the season at Omaha where he posted a 3.80 ERA.

Tejeda is a low risk signing for the Indians with the potential to be more if he is healthy. He was a solid relief pitcher up until last season when he experienced right shoulder inflammation and was on the disabled list for five weeks in April and May. The shoulder issue resulted in a significant loss in velocity where his fastball dropped from an average of 94 MPH to an average of 90 MPH. Bullpens are volatile from year to year, and the Indians may have a solid middle relief option if he is on the upswing with his health.

The signing of Tejeda also helps fill some needed bullpen depth in the organization after the Indians lost right-handed reliever Josh Judy on waivers to the Cincinnati Reds and traded minor league right-handed reliever Cory Burns to the San Diego Padres late last month.

Contract talks

Discussions with arbitration eligible players about 2012 contracts or even multi-year deals should begin to heat up this week for all seven of the Indians' arbitration eligible players: shortstop Asdrubal Cabrera, outfielder Shin-Soo Choo, third baseman Jack Hannahan, right-handed starting pitcher Justin Masterson, right-handed closer Chris Perez, left-handed reliever Rafael Perez, and right-handed reliever Joe Smith.

Here are the key dates with the arbitration process:

January 5-15: Salary arbitration filing.
January 18: Exchange of salary arbitration figures.
February 1-21: Salary arbitration hearings, St. Petersburg, Fla.

The Indians have not had a player go to arbitration since Greg Swindell and Jerry Browne in 1991, and it is expected that they will keep that streak intact this offseason. This past week Cabrera's agent was saying that he and the Indians will begin contract discussions this coming week, and this is probably the same for the rest of the Indians eligible for arbitration. Expect announcements on contracts for all seven arbitration eligible players by the end of the month.

Winter ball update

The regular seasons for all of the major winter ball leagues are now over and the playoffs are now in progress. Most of the Indians participating in winter ball are finished and have gone home for the rest of the offseason, but a few are still playing.

Right-handed starter Fausto Carmona is having a solid showing in the Dominican Republic this offseason. In three combined starts in the regular season and playoffs with his Aguilas team he is 0-1 with a 3.29 ERA, and in 13.2 innings has allowed 12 hits, 3 walks and has 9 strikeouts. In his last outing on Tuesday night he was saddled with the loss but pitched really well going 5.2 innings and allowed two earned runs on five hits, one walk and had four strikeouts.

Infielder Jose Lopez got the new year off with a bang in Venezuela when he hit a two-run homer on Monday night, but on Tuesday he was removed from the game in the 4th inning after running from first to third on a hit. He has not been in the lineup since, which is notable since he has played almost every game for his team this offseason. It is not yet known if he was injured while running the bases, and if so, how serious.

Training moves

The Indians promoted Jeff Desjardins to the lead Assistant Athletic Trainer position and added Triple-A Columbus trainer Michael Salazar to the staff as an Assistant Athletic Trainer. The moves were precipitated by the departure of Rick Jameyson who is now the Head Athletic Trainer of the Boston Red Sox. Additionally, James Quinlan has been promoted to Athletic Trainer at Triple-A Columbus after spending four seasons as the organization's Rehab Coordinator in Goodyear, Arizona.

Currently there are five Head Athletic Trainers in Major League Baseball who previously served on the Indians Major League or Triple-A Athletic Training staffs since 2005: Jameyson (Red Sox), Nick Kenney (Royals), Nick Paparesta (Athletics), Todd Tomczyk (Pirates), and Lee Kuntz (Nationals).

Parting shots

The Indians have re-signed infielder Argenis Reyes to a minor league contract. He is expected to be a reserve infielder for the Triple-A Columbus team. … Former Indians minor league right-handed pitcher Jeff Stevens has signed a minor league contract with the New York Mets. He is the player the Indians acquired from the Cincinnati Reds in exchange for Brandon Phillips back in April of 2006, and then later traded to the Chicago Cubs on New Year's Eve in 2008 as part of a three player package for infielder Mark DeRosa. … Former Indians' minor leaguer and 2000 Draft 1st round pick third baseman Corey Smith has signed a minor league contract with the Chicago White Sox.

Follow Tony and the Indians Prospect Insider on Twitter @TonyIPI. Also, his latest book the 2011 Cleveland Indians Top 100 Prospects & More is available for purchase for $20.95 to customers in the US (shipping and handling extra).
Follow Tony and the Indians Baseball Insider on Twitter @TonyIBI. Also, his new book the 2014 Cleveland Indians Baseball Insider which profiles the Indians' Top 100 Prospects and more is available for sale.
User Comments
No comments currently. Be the first to comment!