Tribe Happenings: Wood Trade Was All About The Cash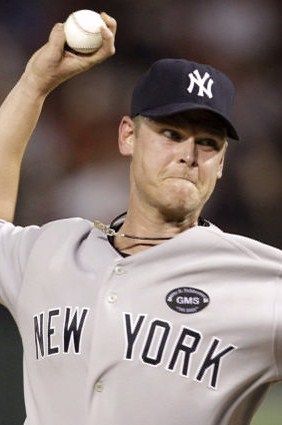 Photo Credit: AP
Some news and notes from my Indians notebook…
Wood Deal Now Complete
On July 31st the Indians sent right-handed reliever
Kerry Wood
to the New York Yankees for cash or a player to be named later. On Thursday the deal was finalized with the Indians receiving two minor leaguers in right-handed pitcher
Andrew Shive
and infielder
Matt Cusick
. The Indians also received a little over $3 million in cash from the Yankees in the deal.
The whole purpose of the deal when it was consummated back on July 31st was to dump Wood's salary, some of which was reallocated to help sign some of their 2010 Draft picks (more on that in a minute). The Indians had very little interest in Wood from other teams up until the July 31st deadline even though they were dangling him for very little compensation other than cash. The two nibbles of interest they received were from the Yankees and Boston Red Sox, but ultimately the Red Sox passed on a deal as they did not want to include as much cash as the Yankees ended up agreeing to in their deal.
As for the players received in the deal? Well, while getting something is better than nothing, the two players they received are no doubt very fringy prospects. Cusick is a tough out as he rarely strikes out and he consistently puts the ball in play; however, he lacks any real speed, pop, or defensive ability. If he is even still in the organization at the end of spring training next year he will likely just be a bench player at Double-A Akron or Triple-A Columbus. Shive turns 25 years old in a few weeks, has pitched no higher than Low-A, and is coming off of Tommy John surgery, so he is about as big a long shot as there can be.
Bottom line, the Indians in the end were able to get a very large chunk of Wood's pro-rated $10.5 million salary picked up by the Yankees, so they accomplished the only real goal of the trade. The fact they got both cash and two players in this deal should say more about how low of value the two players had to the Yankees. The trade also allowed the Indians to create a roster spot in order to get some looks at some other young bullpen arms the rest of the season, and of course allowed right-handed closer Chris Perez to stay in his role without the distraction of Wood still being around.
Indians Named Best Class of 2010
The days are as dark as they have ever been these days for the Indians, but if you want some shining beacon of light to turn to for any hope you can look at their three most recent drafts from 2008-2010 as a sign that things are moving in the right direction.
This week the publication "Baseball America" tabbed the Indians 2010 draft class as the best in all of baseball. The Indians broke all kinds of team records this year with money spent on the draft as they shelled out a total of $9.4 million in signing bonuses. They signed four players to signing bonuses of $1 million or more and in total signed 15 players to bonuses of $100,000 or more.
The highlights of the draft include left-handed pitcher
Drew Pomeranz
(1st round) and outfielder
LeVon Washington
(2nd round), both of whom are projected to be impact talent down the road. In addition to them there are lots of other very interesting players with high ceilings such as shortstop
Tony Wolters
(3rd round), right-handed pitcher
Kyle Blair
(4th round), catcher
Alex Lavisky
(8th round), and many others.
The draft has been the Achilles heel of the Indians for a long time, and is largely the reason why they have been forced to tear down and rebuild the big league team two times because of that lack of talent in house in the late 1990s and mid 2000s. Some of this was due to just bad selections, but a lot of it was the result of some very bad luck with injuries to so many high round picks over the years.
But when you add the two good drafts in 2008 and 2009 to what initially looks like a great draft this year, you can start to see that the Indians may finally be building something from within through the draft rather than through the veteran for prospect deals they have relied on for almost a decade. There is still a long way to go of course as a lot of these players will wash out over time in the minors, but hopefully this crop of players from the recent drafts can remain healthy, continue to develop, and start supplementing this team at the big league level soon.
What About Me?
Two of the highest priorities for the Indians this offseason are to find a veteran right-handed bat and a veteran starting pitcher. While they are likely to kick the tires on some veteran starting pitchers like
Kevin Millwood
,
Brandon Webb
, and
Jake Westbrook
, there may be an internal option they consider if they find the free agent market too pricey. That being right-handed pitcher
Anthony Reyes
.
Reyes, 29, did not pitch this season for the Indians as he was recovering from Tommy John surgery. He tried to come back and pitch with the Indians a couple of times in the second half of the season, but had some setbacks in his rehab which shut him down. He recently pitched a few innings in the Indians Fall Instructional League program and sat in the low 90s with his fastball and even touched 96 MPH. The arm strength looks like it has certainly returned, but the big question marks for him are his still questionable health status and if his command will return.
By the start of next season Reyes will be over 18 months removed from the surgery, so recovery from the surgery should no longer be an issue. Since he did not pitch this year and is coming off such a major surgery, his innings workload will likely be restricted in 2011 which is certainly a negative when considering him for the rotation next year. With this in mind, before turning to Reyes as an option the Indians will surely look for other alternatives that may give them a better shot to pitch 170-180 quality innings. Even if the Indians sign another pitcher, they may still sign Reyes anyway to a minor league deal with an invite to spring training.
Coaching Moves
There are lots of current and former Indians managers and coaches who have been in the news this week. First off, former manager
Eric Wedge
(2003-2009) was hired as the new manager of the Seattle Mariners this week. The Mariners probably offer him a better chance from a spending standpoint, but one thing that will be interesting to see play out in the short term is how his managing style fits in with a roster that includes a guy by the name of Milton Bradley and a few others who have been malcontents in the past.
Indians first base and catching coach
Sandy Alomar Jr.
is suddenly a finalist to be named the new manager of the Toronto Blue Jays. He along with former Indians Farm Director and current Boston Red Sox pitching coach
John Farrell
are considered two of the top candidates for the Blue Jays job. Finally, Double-A Akron manager and former Indians third base coach
Joel Skinner
has been hired by the Oakland A's to be a part of their major league coaching staff as a bench coach.
Minor Coaching Options
If Sandy Alomar Jr. bolts for the Blue Jays job, the Indians will need to add another coach to their major league staff, and I couldn't think of a more deserving coach than Triple-A Columbus manager
Mike Sarbaugh
. He is a proven winner and over the years has earned the respect of his players with the way he goes about his business.
Sarbaugh, 43, has been in the Indians organization since 1990 as a player and coach, and since becoming a minor league manager in 2004 he has won at every stop he has been at. He won the NY-Penn League championship in his managerial debut in 2004 at short-season Single-A Mahoning Valley, won the Carolina League championship at High-A Kinston in 2006, the Eastern League championship in 2009 at Double-A Akron, and the International League championship at Triple-A Columbus this year. In between there his 2008 Akron team was the leaguer runner-up after losing the championship series, and Kinston made the playoffs with the best record in the league in 2007 before an early playoff exit.
Also, with the Double-A Akron manager position now open with Joel Skinner's departure, look for short-season Single-A Mahoning Valley manager
Travis Fryman
to get strong consideration for the job. In fact, if he wants it, I would think it is his. If Sarbaugh moves up to Cleveland, then the Indians will need to replace the manager at both Akron and Columbus. If this happens, Fryman could even end up as the manager at Columbus and someone like High-A Kinston manager Aaron Holbert could move up to Akron.
No matter what, there is going to be some movement on the minor league coaching front, and there may be one or two new coaching faces in the dugout at Akron and Columbus this year.
Award Winners
On Thursday the Indians announced that second baseman
Jason Kipnis
was named the recipient of the Lou Boudreau Award which is given to the organization's top position player in their minor league system. In addition, right-handed pitcher
Alex White
won the Bob Feller Award, which is given to the organization's top pitcher in their minor league system.
Kipnis hit a combined .307 with 96 runs scored, 32 doubles, 8 triples, 16 homers and 74 RBI in 133 games between High-A Kinston and Double-A Akron this year. White went a combined 10-10 with a 2.45 ERA in 26 games (25 starts) between Kinston and Akron while limiting opponents to a .220 average against.
Going, going, gone
The Indians released minor league right-handed pitcher
Santo Frias
this week. Frias, 22, was signed as an undrafted free agent out of the Dominican Republic in December of 2005, and was a promising arm in the lower levels of the system. He was armed with a mid-90s fastball, but arm injuries sidelined him for most of the 2008 and 2010 seasons and ultimately led to his release.
Follow Tony and the Indians Prospect Insider on Twitter @TonyIPI. His latest book the 2010 Cleveland Indians Top 100 Prospects & More is also available for purchase on his site for a special year end closeout sale of $10.00 (including shipping and handling).
User Comments
No comments currently. Be the first to comment!