Tribe Madness: Dunn Field Region Round 1 results
Our IBI Tribe Madness tournament moves into the first round of the Dunn Field Region where eight players move on and eight are eliminated.
For an overview of how the tournament works, go here, and for an indepth preview into each of the Dunn Field Region matchups, go here.
#9 SP Dennis Eckersley (1975) vs. #8 RP Sid Monge (1979)
Dennis Eckersley lost his first three decisions then went on a five-game winning streak. On the season, the Eck went 14-11 with a 3.40 ERA as he thumped Sid Monge, 125-21.
Dennis went 4-0 in May but his best month may have been September when he went 4-1 with a season best 1.47 ERA. The gopher ball hurt Eck throughout the season as he gave up 28 of the long ones including 10 in August. Table setters were a breeze for Dennis as he held the number one and two hitters in the lineup to below the Mendoza-line. Number three hitters had success putting up a .904 OPS and cleanup hitters socked eight balls into the cheap seats.
Monge converted 20 of 30 save situations and finished with a 5-5 record. El Sid's May featured 6 saves and he added a 1-1 record but his August doomed him with a 5.95 ERA. Sid wasted little time getting the first out as the opposition hit only .176 with no outs, but one-out situations hurt him most (.706 OPS). El Sid was also able to keep the ball in the park with men on base as five of his six homers surrendered were with the bases empty.
#10 SP Sonny Siebert (1965) vs. #7 RF Rocky Colavito (1958)
Rocky Colavito used the long ball as he belted 64 bombs on his way to a high scoring 441-294 win over Sonny Siebert.
Rocky's .921 OPS in April was his least productive month as he then put the pedal to the metal culminating with a 1.553 OPS in September (19 homers). While 35 of his homers were with the bases empty, he did drive in 156 runs because he hit .329 with runners in scoring position. Rocky was lethal in extra innings putting up a 2.048 OPS with three bombs.
After losing a 3-0 decision on opening day, Siebert won his next eight decisions. In no month did Sonny suffer more than one loss as he was dominant throughout the season. He was just over powered by the Rock. Siebert buckled down when Rock's team had runners in scoring position and held them to a .201 average, especially with the bases loaded as Sonny mowed down all seven batters (five strikeouts) he faced in with the bases juiced. In head to head matchups, Colavito hit .276/.311/.534/.846 with 8 homers and 15 RBI.
#11 SP Clint Brown (1932) vs. #6 SP Willie Mitchell (1913)
Willie Mitchell cruised to a 261-153 win over Clint Brown.
Clint Brown picked up a 9-7 win over Willie Mitchell on opening day. Four days later he added a 3-2 victory as the Brown Ship was sailing high. Brown continued to draw start after start against Mitchell but the tide turned and between June 9th and August 8th, Brown lost 13 consecutive decisions but twirled a six-hit shutout victory to break the slump and start a seven game win streak for him. Brown's woes can be attributed to opponents hitting him at a .285 pace and struggling a bit more against lefties (.298 average and .770 OPS).
Despite struggling to a 1-3 record through his first four starts, the southpaw turned it on winning his next 20 decisions as Willie Mitchell's ERA dropped from 5.09 to 2.87. Mitchell was especially on his game on July 26th when he limited the Brown's to only four hits but the game was locked up at zero heading into the bottom of the ninth. A leadoff double chased Brown whose bullpen walked in the winning run and Mitchell had a 1-0 shutout win. After his 20-game win streak was stopped in a 7-0 defeat on August 12th, Mitchell lost the next six before finishing with wins in his final two games. Mitchell was effective in keeping the ball in the park as only four hitters hit homers off of him.
#12 OF Al Smith (1955) vs. #5 SP Cliff Lee (2008)
Al "Fuzzy" Smith got things rolling hitting .317 (.923 OPS) with 10 homers through May but as the temperatures rose his stats dropped and by the end of July he was hitting only .236. The two month swoon doomed Smith to a 288-66 annihilation. After the June-swoon became a summer draught, Fuzzy hit .316 with 7 homers in August to salvage his summer. Fuzzy was effective in late game/close game situations as he put up a .928 OPS with 9 bombs in 105 at bats in those situations.
Cliff Lee's season started out a bit rocky as he dropped a 4-6 decision but then rattled off nine consecutive wins. Cliff then finished strong by winning his last seven decisions. His gem of the season was an August 25th start. Lee mowed down the Smithies through seven innings and with the no-no on the line, Cliff got the silent treatment from his teammates. The silence ended with two outs in the eighth when the Smithy shortstop doubled to break up the no-hitter. Cliff retired the final four for a one-hit shutout. Lee loved pitching at the Jake as he claimed 17 of his 24 victories on the corner of Carnegie and Ontario. Lee's success is that he silenced the opposition in the first three innings (.218 average) and got the first out as the Smithies only hit .188 off Cliff with no outs. Another key was Lee stepping up with runners in scoring position (.208 average). In head-to-head matchups, Smith hit .252/.297/.398/.696 with 4 homers and 11 RBI off Lee, but struck out 24 times (8 walks).
#13 SP Gene Bearden (1948) vs. #4 3B Bill Bradley (1903)
Gene Bearden was hot in April going 4-0 with a 1.94 ERA to set the pace in the competition but that was undone quickly with a 1-4 (5.71 ERA) May. Losing months in June (2-3) and July (2-4) left Gene needing a good September to even his record. Gene delivered and went 4-2 to pull even at 16-16. In spite of his rally, Gene fell to Bill Bradley 174-63. The knuckleballer was most effective with one out as he held the Brad-boys to a .217 average but getting the final out deemed to be challenging (.285 average).
Like Bearden, Bradley excelled in April (.390 with a 1.017 OPS) but in Bradley's case he kept it going. A .315 average in May turned into a .336 average in June. Bradley slowed down from July on and his .344 average slipped to .301. Bill hit mostly in the three-hole and clean-up spot on the year but found better success at the three spot (.830 OPS vs. .755). Bradley wasn't very clutch as he only hit .245 with runners in scoring position. In head-to-head matchups, Bradley hit .324/.364/.465/.829 with 21 runs and 16 RBI (10 doubles and 5 triples).
Next Up: #5 SP Cliff Lee (2008) vs. #4 Bill Bradley (1903)
#14 3B Buddy Bell (1978) vs. #3 SP Willis Hudlin (1929)
Hudlin lived up to his nickname of ACE by thumping the Indians third baseman 201-48.
After starting the season 5-5, Ace rolled off 10 consecutive wins and won 15 of 16 decisions. Ace capped his win streak with a two-hit shutout in a 3-0 victory. While Ace only struck out 75 hitters all season, he was extremely effective keeping balls in the park (only four gopher balls). He also got better as the game went on (.307 average in first three innings, .252 in the middle innings, and .251 in the final three innings). He also stymied the Bell-boys in bases loaded situations (.176 average with no slams).
It took Buddy a few months to get things going as he was hitting only .238 at the end of June. Bell hit a season high four bombs in July as he put together a .743 OPS month. He followed that up with a .330 August but his efforts were too little, too late. Buddy hit most of the season in the five-hole where he put up a .259 average. Bell should learn to not swing at the first pitch as he only just made the Mendoza-line on first pitches. Bell's best count was at 2-0 where he raked to the tune of .542 and three of his seven long balls. In head-to-head matchups, Bell hit just .241.252/.301/.553 with 13 runs and 10 RBI.
Next Up: #6 Willie Mitchell vs. #3 Willis Hudlin
#15 CL Jose Mesa (1995) vs. CF Tris Speaker (1923)
Entering the final game of the season, the Indians star center fielder Tris Speaker was sitting at an even .400 batting average. Did he sit out to preserve the .400 average? That just wasn't the Speaker way so he put the .400 chance on the line and took his place in center. Speaker struck out in the first to dip to .399. In the bottom of the third Speaker grounded out to second to dip even further away from the magical number. The Grey Eagle pulled a single past a diving second baseman to revive hope in his pursuit of .400. A hard grounder up the middle squirted into center and Speaker's average rose above the .400 mark. Then Tris capped off his day with another ball past second for a 3-for-5 day to post a .402 average on the season.
Really, the only drama on the season was Speaker's pursuit of the .400 club as the Grey Eagle cruised to a 384-42 victory. In real life, only one player in franchise history joined the .400 club and that was Joe Jackson in 1911 (.408) although Jesse "the Crab" Burkett did it for the Cleveland Spiders in 1895 and 1896. For the first half of the season, as he was hitting .343 as the calendar turned to July. Speaker then went 57-for-110 (.518) in July then followed it up with a .440 and .411 numbers the final two months. Speaker surpassed the .400 mark on August 25th and never dropped below .397 afterward. As a team, Tris stomped Mesa's team every month except June. On July 19th, the Grey Eagle added a cycle to his resume in an 11-5 win.
Mesa was slow getting out of the blocks posting an 8.74 ERA in 11.1 April innings. He really turned it on during his only winning month (June) by not giving up an earned run in 19 innings (4-0). Mesa was also strong in July as he went 2-1 with a 2.49 ERA but slumped as the season closed 5.85 (August) and 8.31 in September. In head-to-head matchups Speaker was limited to .281/.425/.406/.831 in 32 at bats with 1 double and 1 homer plus 6 runs and 4 ribbies.
Next Up: #7 OF Rocky Colavito (1958) vs. #2 OF Tris Speaker (1923)
#16 OF George Hendrick (1976) vs. #1 SP Bob Feller (1946)
Rapid Robert dominated Joggin' George in a 357-36 dismantling.
The Heater from Van Meter started off winning his first 16 decisions (19 starts) en route to breaking the 30-win mark for the first time in the tournament. Rapid Robert had a nine game winning streak from July 9th through August 12th. Feller started off the season with a one-hitter but his real gem was a no-hitter on June 4th (11-1 victory). The only blemish in the no-no was when Feller walked the first two hitters in the fourth inning. A double steal put runners on second and third and the run crossed the plate on a wild pitch. At the time the run tied it up at 1-1 but Feller's Army made it a no doubter scoring 10 unanswered runs.
Hendrick was totally dominated in the head-to-head battles with Feller. He would have hit .279 but could only muster 14 hits in 125 plate appearances against Feller so his overall batting average was .247. In fact in 33.6% of the battles with Feller they resulted in George walking back to the dugout in shame. Jogging George enjoyed May the most putting up a .861 OPS with 6 dingers. He also mashed southpaws with an .877 OPS.
Next up: #9 SP Dennis Eckersley (1975) vs. #1 SP Bob Feller (1946)
Here is the updated bracket: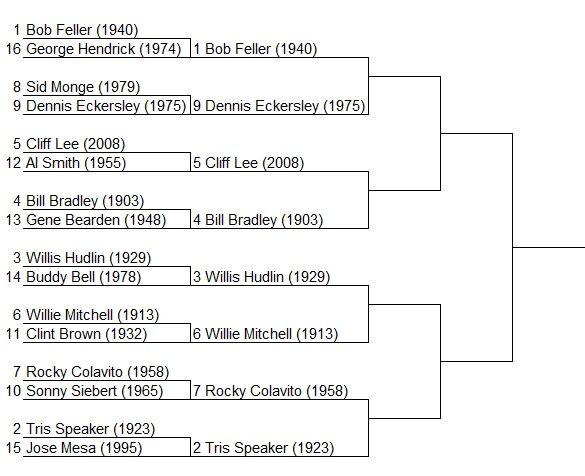 User Comments
No comments currently. Be the first to comment!