Tribe Madness: League Park Region round one results
Our IBI Tribe Madness tournament moves into the first round of the League Park Region where eight players move on and eight are eliminated.
For an overview of how the tournament works, go here, and for an indepth preview into each of the League Park Region matchups, go here.
#9 1B Andre Thornton (1978) vs. #8 OF Minnie Minoso (1959)
Minoso downed the big first baseman Thornton, 174-102.
Thunder Thornton turned a below average April (.244 average) into a fantastic May. Thunder pounded 11 bombs in May and put up a 1.110 OPS. Unfortunately for Andre, a .174 September turned his .282 average (.939 OPS) into a .264 batting average (.886 OPS) for the season. At bats with runners in scoring position was Thunder's bane as he only hit .200 but did touch them all 12 times in those situations. He also only hit .235 with two outs. Thunder did rake when hitting the first pitch as he put up 1.027 OPS with 10 homers.
While Thunder did out homer Minnie 48-22, Minnie's whole game was just better than Andre. Minnie's .211 July was his first month below .300 but he did rally to hit .331 in September. Minnie was better in the clutch as he hit .312 in late game/close game situations. The biggest difference is that Minnie hit lead off and Thunder hit clean up. Thus, Minnie did a better job of doing what he was asked as he got on base at a .369 clip with the bases empty and Thunder struggled with runners in scoring position.
#10 SP Monte Pearson (1933) vs. #7 DH Travis Hafner (2006)
This one was never close as Hafner beat down Pearson, 237-60.
Things started looking good in April as Pearson went 2-1 with a 2.82 ERA, but Hoot just couldn't get things going afterward going 15-15 in the final five months of the season. On July 31st, the only thing standing between Hoot and a no-no was a fourth inning single by his opponent Pronk, and Person's People took that game 11-0. It was late game/close game situations which prevented Hoot from having a lot of success as Pronk's power slapped him around to a .331 average. In fact, Hoot was much better early in the game (.223) as opposed to late in the game (.300).
Pronk started out slow hitting only .233 in April and after a good May (1.086 OPS), he struggled in June (.196 average). After the dismal June, Travis really needed to turn it on and he did raising his average from .247 to .286 with three months of over 1.000 OPS. It all started with a .385 and 9 home run July and then Pronk added 25 bombs in the season's final two months. Hafner produced with runners in scoring position (1.240 OPS) and added two slams as he hit .312 with bases loaded. Head-to-head, Hafner hit .219/.414/.368/.782 with 4 HR, 16 RBI, 17 runs, 38 BB and had 19 K's against Pearson.
#11 OF Roy Cullenbine (1943) vs. #6 SP Fausto Carmona (2007)
Roy Cullenbine battled all year jumping out to an early lead and building on it for a 162-126 victory over Fausto Carmona.
After Fausto found his pitching form, Roy put up a .988 OPS in June powered by 6 homers to knock Carmona back a bit. He then used a .348 August to put an end to Carmona's hopes. Cullenbine shined best when hitting with two outs as he put up a .911 OPS. He also hit .293 with runners in scoring position. In head-to-head matchups, Carmona held Cullenbine to a line of .262/.338/.377/.715 with 3 HR and 11 RBI as well as 20 runs scored.
Fausto lost four of his first five decisions then battled back to enjoy an 8-6 record. That's when the wheels fell apart for Fausto (Roberto Hernandez). A seven game losing streak in which his ERA ballooned from 3.26 to 4.25 doomed his effort to advance. Fausto went on to win four of this next five decisions but his fate was then sealed as he lost three in a row. The Cullenbiner's slapped him around with runners in scoring position (.313 average). If Fausto could make it to the seventh inning, he was pretty effective as he limited the Cullenbiners to a .233 average.
#12 SP Steve Hargan (1967) vs. #5 OF Grady Sizemore (2006)
In mid-September, Hargan was 15-12 with a 3.31 ERA and his chance of advancing was on the line. Hargan then went out and won his final three starts to take a 207-174 upset win. Hargan's best game was a three-hit shutout on June 14th. In that game he struck out Sizemore twice and held Grady to only one walk. Hargan was very effective preventing runs when there were runners in scoring position (.237 average) and dealing with lefties (.226 average).
Grady Sizemore really turned things on in August (1.048 OPS) and September (1.087 OPS) by hitting 9 homers in each month. Grady can only look at the match up with the Fort Wayne man as his downfall since he only hit .259 against Hargan. Grady hit better with the bases empty (.996 OPS) versus when guys were in scoring position (.914 OPS), and he only hit .261 in close game/late game situations. In head-to-head situations, Sizemore really struggled striking out (39) more times than he got hits (36). He only smacked 3 HR's against Hargan with 10 RBI. His line against Steve was .259/.331/.396/.727.
#13 3B Odell Hale (1936) vs. #4 SP Bert Blyleven (1984)
Hale pulled off the upset over Blyleven with a convincing 174-81 win.
A 5-2 opening day win was the highlight for Bert's season. After the win, Blyleven went into the tank and before he knew it he was 1-6 with a 4.25 ERA. Unable to string consecutive wins, Bert slipped into deeper trouble (4-12 with a 4.76 ERA). By then Blyleven's chance to advance had slipped away and he pitched .500-ball the rest of the season. Blyleven had trouble with the gopher ball giving up 37 long ones. Bert had success against righties holding them to a .236 average but lefties put up a .284 average. Blyleven also struggled in the later part of games as Hale's Heroes slapped him around to an .866 OPS. Blyleven also gave up 10 hits in 20 bases loaded at bats with two grand slams.
On July 10th, Odell "Bad News" Hale, hitting cleanup, ripped an RBI double in the first off of Blyleven. A third inning single was followed by a fifth inning RBI triple. Bad News completed the cycle with a three-run bomb to left field. The homer chased Blyleven as Hale's Heroes strolled to a 6-2 win. Hale ended the day 4-4 with a run and four RBI. Bad News raked with the bases loaded, he had a 1.048 OPS with runners in scoring position and a .996 OPS in late game/close game situations. In head-to-head situations, Hale dominated with a .353/.408/.538/.946 line with 3 homers, 22 RBI and 28 Runs scored out of the cleanup spot in the order (#3 spot versus lefties).
Next up: #12 SP Steve Hargan (1967) vs. #13 3B Odell Hale (1936)
#14 SP Bob Rhoads (1906) vs. #3 3B Jim Thome (1996)
This one was not pretty as Thome annihilated Rhoads, 330-93.
Bob "Dusty" Rhoads was rolling with an 8-5 record and a 3.73 ERA when the wheels came off. He lost five in a row and 13 of his final 19 decisions and tumbled to a huge loss at the hands of Jim Thome. Dusty crumbled in late game/close game situations as the Thome-Nators battered him to an .827 OPS. He also struggled with runners in scoring position (.332 average) and with bases loaded (.382 average). Despite his struggles, Rhoads did dominate cleanup hitters by holding them to below the Mendoza-Line (.178 average).
Jim Thome was on fire in June hitting .407 with 12 homers and 1.443 OPS. Thome also was almost unstoppable at Jacobs Field hitting 30 of his 44 bombs in the new stadium. The Dusties obviously didn't want to face Thome in late game/close game situations as they walked him 42 times in those situations but Thome still hit .341 with 7 homers in them. He also was walked 59 times with runners in scoring position including three times with the bases loaded. In head-to-head matchups, Thome hit a blistering .336/.458/.543/.1.001 with 6 homers, 26 RBI and 22 runs scored.
Next up: #11 OF Roy Cullenbine (1943) vs. #3 3B Jim Thome (1996)
#15 Jack Kralick (1963) vs. #2 Jim Bagby (1920)
Bagby cruised to a 111-57 win over Kralick.
The fans were disappointed when "Sarge" Bagby was slotted as the number one pitcher while Kralick was slotted in the number two spot. This caused two pitchers to both face the same pitcher (Al Jackson) but they didn't go head-to-head. After starting slowly, Sarge took his 3-4 record onto the mound on May 15th, and for eight innings Sarge held the Jackers hitless but a leadoff single ended his hopes of making history. He still held on for a one-hit shutout in an 8-0 win. Five days later Sarge pitched a four-hit shutout and his season turned. Bagby went 4-0 with a 2.07 ERA in July.
Kralick went 2-2 with a 3.03 ERA in April and the Bagbies only hit .225 off of him but ERA's of 4.28 in May, 4.42 in July and 4.33 in September doomed Kralick's boys. Kralick's Achilles heel was the Bagbies' number three and four hitters. Three-hole hitters hit .316 and cleanup hitters smacked him to a 1.090 OPS and 16 homers. Overall it was the long ball that hurt him as 50 times he released a pitch that was driven into the cheap seats.
Up Next: #7 DH Travis Hafner (2006) vs. #2 Jim Bagby (1920)
#16 Ray Mack (1940) vs. #1 Nap Lajoie (1906)
Lajoie started off with hits in his first six games as he raked his way to a 243 to 57 win over Ray Mack.
Lajoie's season peaked in July as he hit .424. Lajoie, who hit third in the order, hit .373 with runners in scoring position. He also raked with two outs slugging his way to a .936 OPS. The only gap in Nap's season was the lack of homers as he didn't go deep once.
After a very solid .346 April, Mack's season turned with a .214 May as Mack's advancement possibilities faded. Hitting in the fifth spot in the order, Ray only hit .172 with two strikes and 90 times walked back to the dugout having not made contact. Mack did hit .309 with runners in scoring position but only drove in 49 runs in the 136 at bats.
Up Next: #8 OF Minnie Minoso (1959) vs. #1 Napolean Lajoie (1906)
Here is the updated bracket for this region: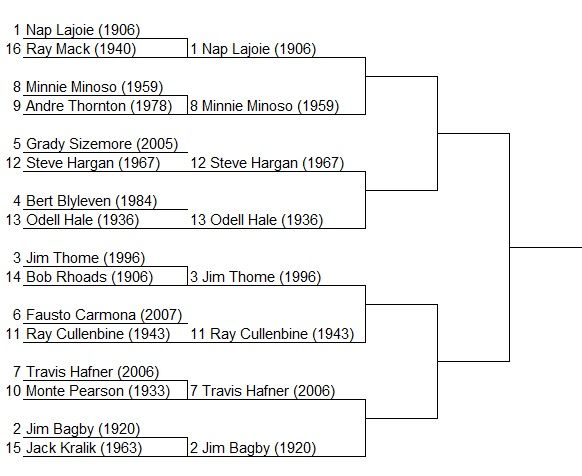 User Comments
No comments currently. Be the first to comment!