Tribe Madness: Municipal Stadium Region Round 1 results
Our IBI Tribe Madness tournament moves into the first round and eight teams are eliminated.
For an overview of how the tournament works and also an indepth preview into each of the Municipal Stadium Region matchups, go here.
Tournament Scoring
In order to determine the winner of each matchup, a scoring value has been devised to declare the winner. The scoring is based on the game's WAR rating. Each WAR has been converted to 30 Madness Points.
OOTP calculates a full season WAR but not individual month WAR. The ability to accurately paint how the competition goes month-to-month led me to devise the Madness point system. Offensive players are rated on OPS, runs and RBI; starting pitchers are rated on W-L, innings and ERA; and relievers are rated on W-L+Saves-blown saves, innings, and ERA. The calculation sets each player Madness Point total equal to 30 x WAR. This eliminates other players' performance - or lack thereof - from affecting each player's value in the tournament as this tournament is all about the players. While each player was placed on identical teams, various random generation of a player's teammates affected the game outcomes.
#9 SP Steve Gromek (1945) vs. #8 1B Hal Trosky (1934)
Hal Trosky turned a 37 to 29 April deficit in Madness Points into a 261 to 186 victory.
In April, Trosky hit .293 with 4 homers and 13 RBI. April would be Trosky's only losing month and by the end of May he turned it around taking a 77 to 69 lead. Trosky's season peaked in June as he took Gromek down 54 to 35. Trosky used a .374 average, 1.189 OPS, 8 bombs and 33 RBI to notch 54 points in June. No day represented Trosky's June dominance more than on June 24th. In the first inning, Hal tripled to left-center, added singles in the third and fourth innings, rocked a solo home run in the sixth and completed the cycle in the top of the ninth with a double. The June surge left Trosky up 131 to 102 and Trosky wouldn't look back. Hal came on fire when the bases were jammed as he belted two grand slams, drove in 22 runs and put up a 1.412 OPS with the sacks juiced.
Gromek used a 2-2 record with a 1.95 ERA in April. He added a 4-2 record in May but his ERA jumped to 2.91 and he put up his fewest innings (46.1) of any month. On August 21st, Gromek cruised through six innings without yielding a hit, but with one out Hal Trosky hit a fly ball off the wall in left-center. Hal raced around the bases and pulled into third for a triple. It would be the only hit surrendered by Gromek in a 3-0 shutout.
Against each other Trosky stepped up his game with a .378/.451/.654/1.105 with 7 HR and 40 RBI.
#10 Brett Butler (1987) vs. #7 Omar Vizquel (1999)
Omar Vizquel put up a .725 OPS in April with one homer and 9 RBI to take a 21 to 16 lead in Madness points. He then stretched it to 59 to 32 in May and didn't look back as he won every month en route to a 198 to 114 victory over Brett Butler.
The rout was so bad that at the end of June, Vizquel lead 95 to 46 and that is when Omar put in his best months in July (4 homers and 26 RBI) and August (.910 OPS). In a strange twist, Omar enjoyed old Cleveland Stadium as he put up .868 OPS compared to a .775 OPS at Jacobs Field. Omar was also clutch putting up a 1.016 OPS with runners in scoring position.
The highlight to Butler's season was on April 22nd when he went 5-for-5 with 2 runs and 2 stolen bases in a 7-5 victory. Butler put up his best months in July (.832 OPS) and September (.920 OPS). Butler hit .326 with 6 of his 7 homers at Jacobs Field but slumped at home hitting .247 at Cleveland Stadium. Despite his struggles, Brett did perform in late inning/close game situations hitting .294 with a .833 OPS.
#11 OF Jimmy Piersall (1961) vs. #6 OF Shin-Soo Choo (2010)
Jimmy Piersall and Shin-Soo Choo battled it out for 162 games over six months. Piersall jumped out to a 32 to 28 lead in April as he waltzed to a 204 to 159 upset victory over Choo.
Choo started out with his best month in April as he hit .329 with 5 homers and 21 RBI (.947 OPS) but couldn't stay on the right track. In July, Choo put up his worst month with a .731 OPS and only 9 RBI. Choo did enjoy late inning/close game situations as he put up a 1.060 OPS from the third spot in the order.
Piersall, who hit lead-off, scored a season high 23 runs in both May and September (.920 OPS) using his ability to get on base to generate runs for the Piersall team. Piersall also was decisively better defensively as he only committed one error in 436 chances compared to Choo's seven (330 chances). Piersall really raked at Jacobs Field as he hit .340 with a .846 OPS and highs in every offensive category except triples (8 to 7). Jimmy also felt more comfortable against righties (.815 OPS versus .759 OPS).
#12 1B Les Fleming (1942) vs. #5 SP Johnny Allen (1936)
Allen went 5-1 with a 1.63 ERA in April to take hold of the contest with a 47 to 11 lead. In May, June, July and August, Johnny added to his lead until he was up 205 to 126. Despite a dismal 6.27 ERA in September by Allen, Fleming had no chance to cut the lead and Allen triumphed 228 to 126. Municipal Stadium was good to the right-hander as he went 10-3 with a 1.87 ERA on the road. On August 21st, Allen threw a one-hit shutout as his team took down the Flemings 11-0.
The bright spot of Fleming's game was in his 13 bases loaded at bats. In those situations, Les had a slam and drove in 17 runners. Ten of Fleming's 16 bombs came with the bases empty (.821 OPS) and he loved it when ahead in the count as he had a 1.157 OPS with a 3-1 count. Les' highlight was on August 28 when he went 3-5 with two doubles and a triple. Les chipped in three RBI on that day.
Against each other, Allen held Fleming at bay. Fleming did post a .292/.393/.367/.760 slash line but only scored 13 runs and drove in only 10 from the third spot in the order. Fleming was only able to muster one homer off of Allen and only six extra base hits in total.
#13 Larry Gardner (1921) vs. #4 Larry Doby (1952)
Gardner hit .435 in April with a 1.056 OPS, but found himself trailing the American League's first African American player 47 to 70. Gardner did everything he could to catch up but Doby stayed one step ahead of him and Doby won 345 to 252. Gardner, who hit lead off, did what you wanted a leadoff hitter to do: he got on base and scored runs. He led Doby in average, on-base percentage, doubles and triples but Doby kept it close while belting 59 bombs. Gardner loved to jump on the first pitch collecting 60 hits with a .444 average and 1.023 OPS but he was even better with the count full (1.240 OPS in 41 at bats).
Doby was equally effective at Cleveland Stadium (1.137 OPS) as he was at League Park (1.037 OPS). Doby was also lethal in the middle innings (4-6) as he pounded 23 bombs with 59 RBI (1.225 OPS). He, like Gardner, didn't like to wait as he had a 1.389 OPS on the first pitch with 16 homers (his most in any specific count).
Next up: #5 SP Johnny Allen (1936) vs. #4 OF Larry Doby (1952)
#14 Rafael Betancourt (2007) vs. #3 Early Wynn (1956)
Early Wynn suffered through a tough 18-20 with a respectable 3.07 ERA but was able to defeat Raffy-Right 249 to 96. Gus waited till August to put up his best month going 4-3 with a 2.29 ERA. Early enjoyed his first taste of Jacobs Field as he went 8-8 with a 2.56 ERA on the road. Gus also saved his best start for his last as he held the Betancourters to a four-hitter in a 4-1 win.
Raffy-Right was hot in September saving all seven of his save attempts. The seven saves were his season high and he did it with a 3.71 ERA in 12 games. He also converted 19 of his 27 saves at Cleveland Stadium (1.85 ERA). Raffy held opposition to a .221 average (.573 OPS) with runners in scoring position including a perfect 4-for-4 with a runner on third. His most critical failure was usually with runners on first and third where opposition hit him to the tune of a .357 average (.976 OPS in 14 at bats).
Next Up: #11 OF Jimmy Piersall (1961) vs. #3 SP Early Wynn
#15 Otto Hess (1906) vs. #2 Wes Ferrell (1930)
Otto Hess out-dueled Wes Ferrell 1-0 on opening day. Hess twirled a three-hit shutout as the southpaw jumped out to a 45 to 23 April lead. The opening day loss seemed to stun the second seeded Ferrell and he stayed in a funk through August. Hess lead 221 to 136 heading into the final month and Ferrell seemed to come alive. Ferrell whipped Hess 44 to 28 in the final month but Otto's lead was too much as he downed the right-hander 249 to 180. Hess was sterling in August holding Ferrell hitters to below the Mendoza-line (.190) as he went 4-2 with a 2.06 ERA. Hess went 14-9 with a 2.59 ERA at the original League Park but was still respectable at the refurbished League Park of Ferrell's home (7-4 3.07 ERA).
Ferrell's September was by far his best going 5-2 with a 1.37 ERA. In a statistical oddity, Wes went eight scoreless innings on September 16th while surrendering 10 singles. Ferrell was very effective against Hess cleanup hitters as he held them to a .218 average and only 27 RBI (7 homers and a .638 OPS) but guys in the three-spot hit .301 off the right-hander.
Next up: #7 SS Omar Vizquel (1999) vs. #15 SP Otto Hess (1906)
#16 Jim Hegan (1948) vs. #1 Gaylord Perry (1972)
Gaylord Perry won his first four decisions as he pummeled Jim Hegan 249 to 120. On June 13, Gaylord was on top of his game and he needed to be. The two-hit shutout was just enough to eek out a 1-0 win. He would repeat the feat over a month later as Jim Hegan banged out one of the two hits as the Perry-men notched a 3-0 win. Perry was 20-7 as the calendar turned to September and his 3-3 month put him at 23-10. Perry did it by striking out 293 hitters while only walking 62. Perry's worst month (September) followed his best (6-0 1.02 ERA). Perry held Heganite hitters to below the Mendoza-line in both July and August.
Jim "Shanty" Hegan, possibly the best defensive catcher in franchise history, just couldn't get things going at the plate. He was able to deliver in extra-innings as he hit .286 (.983 OPS) and with a 2-1 count (.429 average with a 1.257 OPS). Shanty really struggled in his 14 bases loaded at bats (only 7 RBI and two of them on walks). As said, Hegan was strong on the defensive side nailing 32 would be stealers and posting a 1.041 defensive efficiency rating.
Next up: #8 1B Hal Trosky (1934) vs. #1 SP Gaylord Perry (1972)
Here is the updated bracket for this region: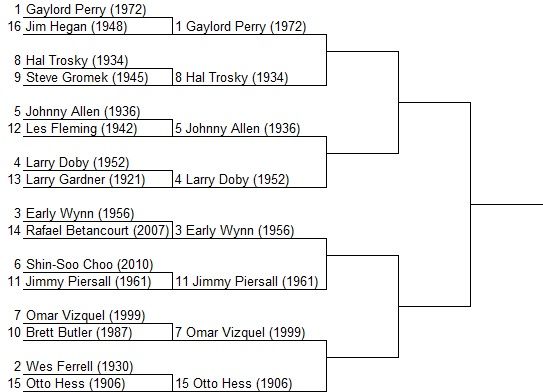 User Comments
No comments currently. Be the first to comment!