Tribe Madness: Previewing the Dunn Field Region matchups
Our tournament moves to the League Park Regional where the winner of this region draws the winner of the Dunn Field region.
Here are the regions previewed so far:
Municipal Stadium Region
Stadium Region
League Park
#9 SP Dennis Eckersley (1975) vs. #8 RP Sid Monge (1979)
The Indians have made several ill-fated trades in their history. One of those was sending star pitcher Dennis Eckersley to the Red Sox for four players. Drafted in the third round in 1972, Eck arrived on the scene three years later in 1975 going 13-7 with a 2.60 ERA. Another 20-year old also came up that year for the Indians and that was Rick Manning. The two rookies sparked the Indians who finished just shy of .500 (79-80) under player-manager Frank Robinson. The team finished in fourth place 15.5 games behind the Red Sox.
Eckersley would pitch the 200th MLB no-hitter against the Angels in 1977. It looked like the Indians had a star for years to come. Unfortunately circumstances changed. Eck and Manning had become fast friends and when Manning suffered a back injury he convalesced at Eck's house. When the dust settled, Eck's wife left him for his teammate. The Indians felt they needed to make a move or the clubhouse would be a mess. With Manning's value diminished because of the injury, the front office chose to shop Eck and that's when the Red Sox came calling. Eckersley would win 20 games in his first Red Sox summer. All wasn't roses and by 1986, Eckersley was struggling with the Cubs. Athletics manager Tony LaRussa formed a plan to make Eckersley into a closer and he thrived winning the 1992 Cy Young Award. He followed LaRussa to the Cardinals and by the time his 24 year career ended, he had saved 390 games.
During the 1977 season, the Indians traded one left-handed reliever (Dave LaRoche) for another Sid "El Sid" Monge in a four player trade. Monge went on to spend parts of five seasons in Cleveland saving 46 of his career 56 saved games. The closer role was much different in the 1970's as closers often went two and sometimes three innings to close out a game. Nothing demonstrates this like Monge's 1979 season. He went 12-10 with a 2.40 ERA and 19 saves. The 19 saves finished 5th in the AL (behind the Twins' Mike Marshall – 32). It was a good showing for a sixth place Indian team that finished 81-80. The 81 wins tied for the most wins in the 70's for the Tribe.
Monge's five Indian summers were the most of any team in his 10 year career. Monge was traded to the Phillies forBake McBride after the 1981 season. Monge later pitched for the Padres and Tigers (in addition to the Angels, Indians and Phillies) before ending his career with the World Champion Tigers in 1984 (although Sid was not on the postseason roster).
#10 Sonny Siebert (1965) vs. #7 OF Rocky Colavito (1959)
Coming out of the University of Missouri, Wilfred "Sonny" Siebert was pursued by both the Indians and the St. Louis Haws of the NBA. Instead of going with the home town team, Sonny chose a career on the mound. It appears to have been the right choice. Sonny arrived in Cleveland in 1964 making 14 starts and 41 appearances on the mound. It was in his second year that Siebert left his mark winning what would be a career high 16 games (matched two other times in his career) with a 2.43 ERA. Starting the season going 33-39 under skipper George Strickland, management changed leadership and Birdie Tebbetts lead the team to a stronger 46-44 finish. In the end, the Indians finished in sixth place.
The next year, Sonny matched his 16 wins then won double digits the next three years. In '69 after just two starts, Siebert was sent to the Red Sox for Ken Harrelson in a six player trade (the Indians also sent Joe Azcue andVicente Romo east as Dick Ellsworth and Juan Pizarro came west). Sonny won 14 games that year, then 15 in '70 before winning 16 for the third time. Siebert retired after the 1975 season having donned the jerseys of the Indians, Red Sox, Rangers, Cardinals, Padres and Athletics. His career numbers were 140-114 with a 3.21 ERA.
One man took down a once proud franchise with one infamous move. General Manager Frank 'Trader" Lane never saw a trade that he didn't like. He once tried to trade Stan Musial for Robin Roberts as GM of the Cardinals but Augustus Busch stepped in and stopped him. Oh how I wish that the Indians owner had stepped in to prevent the ill-fated 1960 trade of the Rock for Harvey Kuenn. Rocky had just led the AL in homers with 42 and Kuenn was the AL batting champ. The Rock also added 111 RBI and an .849 OPS for an Indians team which finished second in the AL with an 89-65 mark. On August 26th the Indians had drawn to within one game of the Go-Go Sox (White Sox) but were swept in a four game series by the Chi-Sox in Cleveland. After that the Indians could only draw as close as three games the rest of the way.
That was the last season that the Indians would contend until 1995. That stretch is referred to in Cleveland as the Curse of Rocky Colavito. During the curse, the Indians had only seven winning seasons (including the strike shortened 1994 season) and three 100 loss seasons. The Rock finished second in the AL Rookie of the Year balloting in 1956 and made his first All Star appearance in '59. After the trade, Rocky would be an All Star three more times before he returned to Cleveland in '65. That season Rocky lead the AL in RBI (108) and he enjoyed All Star seasons in both '65 and '66. His second stay with the Tribe would end when he was traded to the White Sox in '67. Rocky's career ended with the Yankees in 1968 having played 14 years for the Indians, Tigers, Athletics, White Sox, Dodgers and Yankees. He belted 374 balls into the cheap seats with 190 of them as an Indian.
#11 SP Clint Brown (1932) vs. #6 SP Willie Mitchell (1913)
With a 15-12 record and a 4.08 ERA, the Blackash Pennsylvania hurler finally posted a winning record. After four seasons with losing records for the Indians, Clint Brown made a statement. Teamed with 20 game winner Wes Ferrell and fellow 15 game winner Mel Harder, the pitching staff did their job to propel Roger Peckinpaugh's team to an 87-65 record. The finish left them in fourth place and 19 games behind the Yankees.
Clinton Brown showed up in Cleveland in 1928 as a 24-year old rookie. By 1930, Brown was in the Indians rotation and finished 11-13. After his successful year, Brown arguably pitched better in '33 but finished 11-12 with a 3.41 ERA. Injuries limited the right-hander to only 17 appearances in 1934 and he regressed in '35. The Indians sold Brown to the White Sox in '36 and Brown moved to the bullpen. He led the league in games pitched in '37 and '39. The Tribe reacquired Brown in '41 and he made 41 appearances that year. Concluding his career in '42, the 38-year old Brown only made seven appearances before he was released.
Willie Mitchell pitched 11 MLB seasons for the Naps/Indians then the Tigers from 1909 through 1919. He reached double digits in wins five seasons but had his best season in 1913 for the Naps team also known as the Molly Maguires. That team managed by Joe Birmingham went 86-66 finishing 9.5 games behind the Athletics. Featuring Hall of Famers, Nap Lajoie, Shoeless Joe Jackson and Ray Chapman, the Naps were sunk by a 13-16 June and could never gain much ground on the Philadelphia team.
Willie for his part went 14-8 with a 1.91 ERA. Willie went 63-76 with a 2.88 ERA in his eight years in Cleveland before being waived and claimed by the Tigers. In Detroit, Willie enjoyed a solid 1917 season going 12-8 but saw his ERA balloon in '18 and '19. Mitchell's MLB career came to an end after '19 at the age of 29.
#12 Al Smith (1955) vs. #5 SP Cliff Lee (2008)
On July 10th, 1953 the Indians brought up former Cleveland Buckeye (Negro League) Al "Fuzzy" Smith. That season the 25-year old outfielder/third baseman would appear in 47 games. The next season he settled in left field as the Indians streaked to an American League championship. Fuzzy hit a leadoff homer in game two becoming the first player in history to lead off a World Series game with a homer. It would be the Tribe's only run in the game and the Indians lost 3-1 as they were swept in four games by the Giants.
1955 would be a special year for Fuzzy as he led the league in games (154) and runs scored (123) while hitting .306 with 22 homers. After the 1957 season, Smith was sent to the White Sox in a deal that netted the Tribe Minnie Minoso. He did return to Cleveland in '64 for 61 games but at 36 his batting stroke had deteriorated. In August, Smith was released and picked up by the Red Sox where he hit below the Mendoza Line. With no prospects, the Kirkwood, Missouri native retired after 12 MLB seasons with the Indians, White Sox, Orioles, and Red Sox. He pounded 164 homers (67 in Cleveland) and a .272 batting average.
The Indians went into a 34 year draught without having a 20 game winner after Gaylord Perry won 21 in 1974. In 2007, pitchers Fausto Carmona and CC Sabathia came close after winning 19 but that 20 win plateau appeared just out of reach. Then in 2008, the 29 year old southpaw from Arkansas went 22-3 with a 2.54 ERA to give the Indians their second consecutive Cy Young Award. Cliff Lee came to the Indians in a 2002 trade for Bartolo Colon. The minor-leaguer wasted little time before making his debut on September 15 of that same year. It wasn't until 2004 that Lee took regular turns in the rotation with the big league club.
Lee had a breakthrough year in 2005 going 18-5 with a 3.79 ERA. Lee injured his oblique in 2007 and the injury was something he never recovered from. Cliff spent most of the season in either the minors, on the disabled list or struggling with the big league club as the Indians took the AL Central. Seeking to re-establish himself, Lee went on a roll in 2008 winning his first six games and his ERA was a microscopic 0.81. Fast forward to September 1st, Lee scattered five hits with no runs to hit the 20 win mark. After winning the AL Central in 2007, Eric Wedge's crew could only muster an 81-81 record in 2008. Facing financial losses and with the team out of the playoff picture, the Indians sent Cliff to Philadelphia in July of 2009 for four prospects. Cliff has just concluded his 12th season with short stints with the Mariners and Rangers (to go along with the Indians and Phillies). He has four All Star game appearances with one in an Indian uniform.
#13 SP Gene Bearden (1948) vs. #4 3B Bill Bradley (1903)
The Indians were 4.5 games out on September 10th when Gene Bearden took the mound in 1948. The Indians had already won three in a row but hadn't dented their largest deficit of the year. The rookie knuckleballer went out and threw nine innings as the Tribe downed the Tigers 9-1. He was 14-7 in a season where every game would count. Bearden followed it up with a 6-3 win against the Senators. The Athletics were his next victim (6-3) and the Tigers were win #17. He shutout the White Sox and then the Tigers on the week's final weekend (18-7). Faced with a one game tie-breaker, Lou Boudreau bypassed 20-game winner Bob Lemon to Bearden who started in Fenway on one day of rest - one day after a nine inning complete game. Bearden would deliver going another nine innings to beat the Bo-Sox 8-3 and punch the Indian's ticket to the World Series.
The southpaw from Arkansas, pitched in two games in the World Series against the Braves, winning game three as the Indians won their second World Series title. It capped a wild season that saw the rookie with one-third MLB inning transform into the AL ERA leader (2.43). Bearden experienced the sophomore jinx in '49 going 8-8. In '50 he was traded away after starting 1-3. He then bounced around the majors before ending his MLB career in 1953. In his seven years, Bearden went 45-38 with the Indians, Senators, Tigers, Browns and White Sox.
After two seasons with the Chicago Orphans (Cubs), third baseman Bill Bradley jumped to the new American league and came home to play for the Cleveland Blues in 1900. In 1902 he hit homers in four straight games and finished the season with 11 and a .340 average. His WAR that season was 6.7. The following year, Bradley put up a better WAR (7.1) but his average dropped to .313 and his homer total dropped to six. One thing about 1903 was that on September 24th, Bradley became the first Cleveland hitter to hit for the cycle. Bill Armour's Naps went 77-63 which put them 15.5 games behind the Red Sox.
Bradley would handle the hot corner for the Indians until 1910 and would briefly manage the franchise in 1905 (20-21). Bradley would make a comeback in the Federal League with the Brooklyn Tip-Tops (1914) and the Kansas City Packers (1915). In his 10 years as a Blue/Broncho/Nap, Bradley played in 1231 games and hit .272 with 27 round trippers.
#14 3B Buddy Bell (1978) vs. #3 SP Willis Hudlin (1929)
When David Bell played in 1995, the Bell clan joined the Boone's to become baseball's second three generation family. Gus Bell was an outfielder most notably with the Reds, Buddy a third baseman who joined the Indians in 1972 after having been a 1969 16th round draft pick. Bell played mostly outfield as a rookie as the hot corner was owned by Graig Nettles but after he was traded, Bell showed off his glove as one of baseball's best. While Buddy never won a Gold Glove in Cleveland, he should have. Bell's best season with the Tribe was his final one where he hit .282 with a .720 OPS with 6 homers and 62 RBI.
One of the reasons Bell was never honored as a Wahoo was because his teams were so bad like in 1978 whenJeff Torborg's bunch went 69-90 which was only better than the Blue Jays and Mariners (two second year teams) in the AL. The sixth place Indians settled 29 games behind the division champion Yankees. As was said, it was Bell's last season in Cleveland as they traded him away to the Rangers for third baseman Toby Harrah. With Texas, Bell would receive his well-deserved decorations winning the Rawlings Gold Glove six times to go along with a Silver Slugger Award. Bell finished his MLB career in 1989 having played 18 years for four teams (Reds and Astros too). He played seven years with the Indians making one All Star game (1973) but made the Topps All Rookie team in 1972.
If you carry the nickname Ace, you had better live up to it on the mound. That wasn't a problem for Willis "Ace" Hudlin, who pitched for the Indians from 1926 to 1940. In that time, he teamed with guys like Mel Harder, Bob Feller, George Uhle, Joe Shaute, Monte Pearson, Clint Brown, and Jake Miller. Going 18-12 with a 4.01 ERA in his first full year, Ace would win 15 or more games five times in his Indians tenure. As Roger Peckinpaugh's Indians were coming off a 62-92 record in 1928, Hudlin chose to lift up his team by going 17-15 with a 3.34 ERA as the Indians did improve by 19 games. The 81 wins vaulted them to third place behind the AL champion Athletics and the Yankees. Ace's ERA was his career best as were his 22 complete games and 280.1 innings.
Hudlin spent parts of 15 seasons with the Indians until he was released in 1940. That season the Oklahoma man played for the Indians, Senators, Giants, and Browns. After being out of the majors for three seasons, Hudlin took the mound for one game in 1944 for the Browns and his 16 year career was over with a 158-156 record.
#15 RP Jose Mesa (1995) vs. #2 OF Tris Speaker (1923)
Many Indians will remember Game 7 of the 1997 World Series when thinking about Jose Mesa. While that memory is pretty painful, I also remember the 1995 season in which in my opinion, Jose turned in the best season for a relief pitcher in the 42 years I've been following the Tribe. That season Mesa closed out a league leading 46 games in save situations while going 3-0 with a 1.13 ERA. I was a bit surprised when compiling this tournament that Jose only had a 3.9 WAR that season. That season Jose made his first All Star game and was runner up for the Cy Young. Add all that up and that is why I gave Jose one of the at large bids for this tournament.
After not getting much traction as a starter (34-52), the Indians converted Jose into the team's closer in 1995. Jose would hold down the Indian's closer position until md way through the '97 season when Mike Jackson wrestled it away from the Dominican right-hander. One of the reasons for Jose's success in '95 may have been catcher Tony Pena. Pena had a way of walking to the mound and getting all up in Jose's face. These on the mound confrontations made Jose uncomfortable and at times angry but it got his attention. The veteran catcher just knew how to push Jose's buttons. The Indians traded Jose to the Giants during the '98 season and he hopped around the majors having the most success with the Phillies and Pirates (three times breaking the 40 save mark). Jose retired after the 2007 season with 321 saves, having pitched 19 years for the Orioles, Indians, Giants, Mariners, Phillies, Pirates, Rockies and Tigers.
Only three players joined the 3,000 hit club as members of the Indians: Nap Lajoie, Eddie Murray, and Tris "Grey Eagle" Speaker. On May 17, 1925 Speaker singled off of Senator's Tom Zachary to join the club. The Grey Eagle was already considered one of the league's best players when the Indians acquired him from the Red Sox on April 12, 1916 for Sad Sam Jones, Fred Thomas and $55K. The 28 year old center fielder already had nine years and 1327 hits on his resume. While the Indians were managed by Lee Fohl, Speaker often relayed to Fohl signals about tactical moves. When Fohl resigned in 1919, Speaker became player-manager and the team responded by winning Cleveland's first World Series the very next year. Speaker continued in this role until a scandal implicated both Speaker and Ty Cobb (player-manager of the Tigers) in 1926.
In his 11 years in the Forest City, Speaker put up WAR numbers of at least 4.0 while peaking in 1923 with a 9.1 WAR. In 1923, Speaker lead the AL in doubles (fourth year in a row and eighth time in his career) with 59 while hitting .380/.469/.606/1.079 and a career high 17 homers. As manager, Speaker led the Indians to an 82-71 record which was good for third place in the AL (16.5 games behind the Yankees). After the 1926 scandal, Speaker had brief stops with the Senators and the Athletics before ending his 22 year career. Speaker would return to the Indians when Bill Veeck hired him to be an "ambassador of good will" in 1947 and Speaker also served as a coaching consultant to Larry Doby. Speaker was elected to the Hall of Fame in 1937 and ranks second on the Indians all-time hits list (behind Nap Lajoie) with 1965.
#16 OF George Hendrick (1976) vs. #1 SP Bob Feller (1946)
In order to fill out the field of 128 and with only 113 players qualifying with a 4.3 or higher WAR there were 15 spots to fill. I am sure there are several players that are more qualified to be represented but most of the 15 at large selections went to players that I have seen play (exceptions being Jim Hegan, Vic Wertz, Ray Mack and Woody Held). A spring training trade with the Athletics acquired the big outfielder George Hendrick (with Dave Duncan) forRay Fosse and Jack Heidemann). Despite having two years and 100 games under his belt, Hendrick, the 23 year old established himself as a force in 1973 by slugging 21 homers.
Hendrick followed it up with All Star appearances in 1974 and 1975 but his last year in Cleveland was his best. In 1976 Hendrick hit 25 bombs while putting up a .265/.323/.448/.771 slash line. Hendrick was a primary cog in the '76 Indians attack that went 81-78 (a rare winning season in the '70s) and a fourth place finish in the AL East (16 games behind the Yankees). In fact, he accounted for 25 of the team's 85 homers that year (Rico Carty's 13 were second). Nicknamed "Silent George" because he didn't talk to the media, the Indians traded him to the Padres forEric Rasmussen, Johnny Grubb and Hector Torres after the 1976 season. Hendrick would go on to play for the Padres, Cardinals, Pirates and Angels in his 18 year career. His 25 homers would be his career high (matched in 1980) and he finished with 267 bombs and a .278/.329/.446/.775 career line.
Twice in his career, Bob Feller posted a 9.9 WAR. The first time as a 21-year old in 1940 when he opened the season with a no-hitter and then in 1946 when he went 26-15 with a 2.18 ERA and had 348 strikeouts. Both seasons were good enough to qualify for a top seed in this tournament but I chose 1946 to anchor the Dunn Field region of this tournament. Feller had just returned from a distinguished stint in the US Navy during World War II (a war that robbed Feller of almost four full years of his prime). Feller was dominant for a team that struggled to a 68-86 record under player-manager Lou Boudreau. The sixth place Indians finished 36 games behind the Red Sox. Feller's 26 wins accounted for 38% of the team's victories. His 1946 numbers were outstanding leading the AL in wins (26), games pitched (46), games started (42), complete games (36), shutouts (10), innings (371.1), and strikeouts (348).
The Heater from Van Meter's career started in 1936 as a teenager - before he even graduated high school - and spanned to 1956. All of it came with the Tribe. He was an eight time All Star, led the league in wins six times, led the league in strikeouts seven times, and led it in shutouts four times. His 18 year career netted him a 266-162 mark with 2581 strikeouts as well as three no-hitters and 12 one-hitters. Feller remained a fixture with the Indians appearing at spring training throughout the remainder of his life.
Here is the bracket: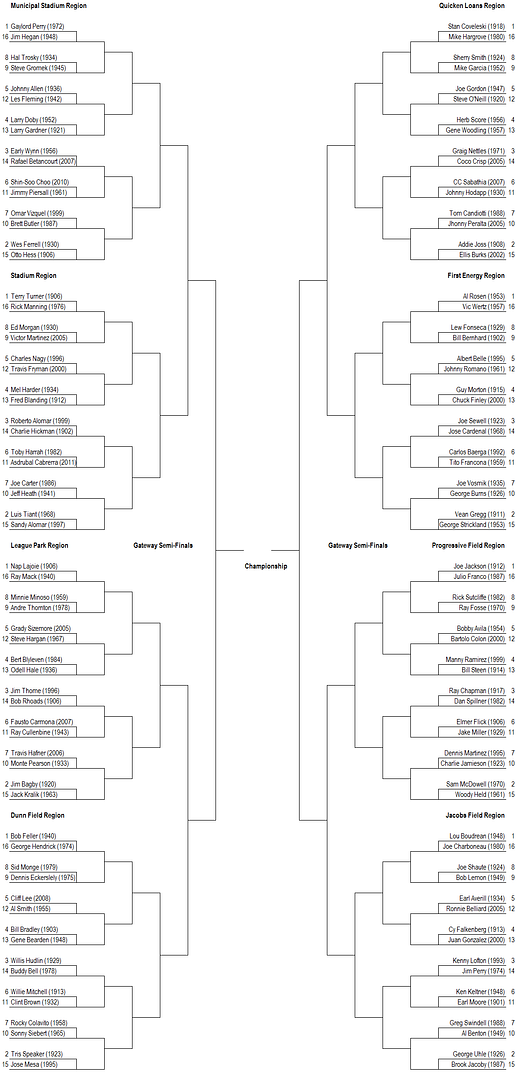 User Comments
Daingean
October 21, 2013 - 1:33 PM EDT
Thanks John.......I agree......I kind of use the simulation as a vehicle for research. Especially on guys that I was unfamiliar with like Clint Brown or guys I knew about but gained better appreciation like Bill Bradley.

I'm planning on doing further research and sharing as guys move deeper into the tournament.
John
October 21, 2013 - 12:54 AM EDT
Interesting tourney.....but what's even better is the trip down memory lane with the previews of so many great Indians of the past.