Tribe Madness: Previewing the Jacobs Field Region matchups
Our tournament moves to the final region to be previewed, the Jacobs Field Regional where the winner of this region draws the winner of the Progressive Field Region.
Here are the regions previewed so far:
Municipal Stadium Region
Stadium Region
League Park Region
Dunn Field Region
Quicken Loans Region
First Energy Region
Progressive Field Region
#9 Bob Lemon (1949) vs. #8 SP Joe Shaute (1924)
October 11, 1948 was the date the Tribe was in Boston clinging to a 3-2 series lead. A win would give the Indians their second World Series championship, a loss would set up a decisive Game 7. Manager Lou Boudreau sent 20-game winner Bob Lemon to the mound to face Big Bill Voiselle and the Braves. Lemon had already out-dueled Warren Spahn in Game 2, a 4-1 Tribe triumph. Lemon went 7.1 innings surrendering three runs on eight hits but the Indians scored four. Lemon along with a little help from Gene Bearden pitched the Indians to their second World Series title. Not bad for a utility player turned pitcher. With 10 games under his belt, the 22-year old Lemon enlisted in the US Navy during World War II. Playing ball in the Navy, Lemon flashed some serious pitching talent and guys like Birdie Tebbetts and Johnny Pesky passed the info on to Boudreau (ironically both were on the 1948 Red Sox team which the Indians beat in a one game "playoff" for entry into the World Series). Back stateside, Lemon was the centerfielder for Bob Feller's no-hitter against the Yankees in 1946 and he made a key defensive play to preserve the victory. Alas Lemon only hit .180 that season and by season's end his days as a utility player were over.
Lemon's strong arm helped him turn from a failed utility guy to a Hall of Fame pitcher. His 20 wins in 1948 started a run of three straight 20 win seasons (he joined that 20 win club eight times in 10 years). One of the Indians "Big Four" starters that kept the Indians as an AL power house in the 1950's, Lemon enjoyed a superb season in 1949. He went 22-10 with a 2.99 ERA in 279.2 innings. He only struck out 138 while walking 139 but Lemon was a force on the mound for the defending champions. The Tribe went 89-65 finishing 8.0 games behind the Yankees (third place). A 21-9 July put the Tribe in contention but a 13-12 September ended their dreams of repeating. Lemon retired after the 1958 season having spent his entire 15-year career in Cleveland (13 on the mound) with seven All Star appearances and a 207-128 career mark. As this tournament utilizes the DH, one of Lemon's strengths (37 homers) will be nullified.
Two outs with the bases juiced and the most feared hitter in baseball walks up to the plate in the bottom of the seventh inning. Manager Tris Speaker trots in from center field and takes the ball from starter Jim Lindsey. What a way to make one's MLB debut, but that's the situation that Joe "Lefty" Shaute faced in July 1922. It took four pitches but Babe Ruth went down on strikes and Shaute escaped his first pressure situation in the majors. He ended up giving up three runs in the 8-3 loss to the Yankees that day but his battle with Ruth would set a tone.
Lefty continued to dominate the Bambino by striking him out at least 30 times throughout his career and it would take Ruth three years just to register a hit off of him. It wasn't complete domination as Ruth did go deep on him three times in 1927 when he hit 60 bombs (in total Ruth hit five long ones off of Shaute in his career). Joe only made one more appearance in 1922 after that fateful day but started 16 games the following year. It was in 1924 that Joe made his mark going 20-17 with a 3.75 ERA for a sixth place Indians team. Their 67-86 record left them 24.5 games behind the Senators (who edged the Yankees by 2 games). Lefty would pitch in nine Indian summers (78-88). In 1931, Shaute found himself playing for the Brooklyn Robins and finished his career with the Reds.
#10 RP Al Benton (1949) vs. #7 SP Greg Swindell (1988)
One of the reasons that I enjoy running these simulations is finding ball players that I never heard of or gaining better appreciation for guys that I had only heard about. Each regional has a couple of those guys that fit the former category. One of those guys is Al Benton. The Nobel, Oklahoma righty only pitched two seasons with the Tribe making 76 appearances as a setup guy and spot starter (11 starts). In 198.2 innings he went 13-8 with a 2.58 ERA.
The Indians purchased Al in spring 1949 from the Tigers and he paid immediate dividends. Benton made 40 appearances (29 in relief) and went 9-6 with a 2.12 ERA. The defending World Champion Indians went 89-65 and Al saved 10 of those games. Benton came back in 1950 at age 39 and pitched well but his numbers were not as good as '49 and the Indians sold him to a PCL club. Benton returned to the majors for a swan song 1952 season with the Red Sox. He retired after 14 seasons with the Athletics, Tigers, Indians and Red Sox.
Five Indians first round draft picks made this tournament: Ray Fosse, CC Sabathia, Manny Ramirez, Charles Nagyand 1986 first rounder Greg Swindell. After going 43-8 with a 1.92 ERA at the University of Texas, the Indians tabbed the 1985 Baseball American National Player of the Year with the second pick in the '86 draft. About two months later, Swindell made his MLB debut and he and his team were drubbed by the Red Sox 24-5 at Cleveland Stadium. The Longhorn southpaw made eight starts that year going 5-2.
It wasn't until 1988 that Swindell became a regular in the Indians rotation. Greg started going 10-1 with a 2.11 ERA before losing eight in a row. The Indians that season finished in sixth place so the eight game losing streak wasn't all his fault. Swindell finished the year 18-14 with a 3.20 ERA and made his only All Star appearance. Faced with the prospects of losing him to free agency the Indians sent him to the Reds for Jack Armstrong and Scott Scudder. Greg returned in '96 but struggled, mostly in relief. In the end, the lefty pitched 17 seasons in the majors having toed the rubber for the Reds, Astros, Twins, Red Sox and Diamondbacks besides his seven years with the Tribe.
#11 SP Earl Moore (1901) vs. #6 3B Ken Keltner (1948)
Ohio State fans may associate Pickerington, Ohio with the Boren brothers but long before they donned the Scarlet and Gray, Pickerington was home to a sidearmed right-hander named Earl "Crossfire" Moore. Moore and the franchise both made their debut in the 1901 season and the Blue's (as they were known that first year) went 54-82 under skipper Jimmy "Loafer" McAleer. It was a dismal year for the franchise as they fell 29 games behind the White Sox. The team mustered just six homers, led by second baseman Erve Beck. It was a good year for Crossfire though as he went 16-14 with a 2.90 ERA and on May 9th, Moore pitched the franchise's first no-hitter.
Two years later Moore would lead the AL in ERA (1.84) in a 20-8 season and throw another no-no but lost in 10 innings becoming the first player in MLB history to lose a no-hitter. During his seven Cleveland seasons, the franchise changed names from the Blues to the Bronchos to the Naps. He left in 1907 when the team traded him to the New York Highlanders. Moore would also pitch for the Phillies, Cubs and Buffalo Buffeds in the Federal League during a career that spanned 14 seasons (163-154).
Yankee great Joe DiMaggio once signed a ball for then retired Indians third baseman Ken Keltner with the words "The Culprit". DiMaggio was referencing the night of July 17, 1941. Riding an MLB record 56 game hitting streak, DiMaggio strolled to the plate four times at Cleveland Stadium. In the first inning, DiMaggio ripped a hard ground ball down the third base line. Playing a deep hot corner, Keltner dove to his right and fielded the ball. Keltner got up and from foul territory threw to first to nip DiMaggio in a bang-bang play. Later in the seventh inning, DiMaggio ripped a near identical shot which Keltner again dove and threw DiMaggio out at first. DiMaggio grounded into a double play with the bases loaded in the eighth (another good play, this time by Lou Boudreau) and the hitting streak was over. Keltner would be defined by those two brilliant plays for years. Cleveland fans would also define "Butch" as a champion after he singled off of Braves Hall of Famer Warren Spahn in the eighth inning of Game Six of the 1948 World Series. Butch would advance to second on another single then score the decisive run on an Eddie Robinson base hit. That run put the Indians up 4-1 and they would hold on for a 4-3 victory and the 1948 World Series Championship.
Had there been a Gold Glove award in the 1940's, the third baseman trophy would most likely have been owned by the man playing the hot corner in Cleveland. His glove was his trademark but his bat carried weight too. No season demonstrated how effective Butch's bat was than 1948. He hit career highs in homers (31), RBI (119), runs (91) and OPS (.917) while making his seventh All Star appearance. The Wisconsin man played in one game in 1937 at age 20 but except for 1945 (military service), Keltner would own the hot corner in Cleveland until 1949 and then it was injuries that took it away. Butch played one more year and that with the Red Sox in 1950 before ending his 13-year career (12 in the red, white and blue for the Cleveland Indians) having played 1500 games at third (and one game at first). Butch belted 163 homers, hit .276 and drove in 850 runs for the Tribe during his career.
#12 2B Ronnie Belliard (2005) vs. #5 CF Earl Averill (1934)
When General Manager Mark Shapiro signed Ronnie Belliard after the 2003 season, many Indians fans yawned. Ronnie had a pretty good season in Colorado but Coors Field was a hitter's haven. Compared to Coors, the Jake is just an ordinary park. Indians fans realistically predicted stats more in line with his five years in Milwaukee (.263/.341/.396/.736) but the 29-year old put up career highs in homers, RBI, hits and doubles in his first year (2004).
That was just the beginning as he bettered most of those numbers the next year. In 2005, Belliard hit .284 with a .774 OPS with career highs in homers (17) and RBI (78). He would only spend two and a half years in Cleveland before he was traded to the Cardinals for former Indians minor leaguer Hector Luna. Belliard would retire after the 2010 season concluding a 13 year career having plied his trade for the Brewers, Rockies, Indians, Cardinals, Nationals, and Dodgers.
In 1929, the Earl of Snohomish filled the void in centerfield which had plagued the Indians since Tris Speaker left. Like his predecessor (only a few years earlier), Earl "The Rock" Averill's career would lead to a permanent home in Cooperstown. It took a while but the Rock finally broke into the MLB at the age of 27 and for the next 10 years would patrol center and hit lots of bomb for the Indians. By the time he left Cleveland, Earl launched 226 round trippers which was an Indians record until surpassed by Albert Belle, Manny Ramirez and finally Jim Thome.
From 1931 through 1938, Averill made six All Star appearances and four top 10 finishes in the MVP balloting. In 1934, Averill hit .313 with 31 homers, 114 RBI and an AL leading 154 games. Traded to the Tigers in June 1939, Averill completed his 13 season career with the Tigers and Braves. Earl's son Earl Jr. spent 1956 and 1958 wearing an Indian uniform. Elected by the Veterans Committee in 1975, the Snohomish, Washington man certainly is one of the Indians greatest outfielders of all time.
#13 OF Juan Gonzalez (2001) vs. #4 SP Cy Falkenberg (1913)
With this recap on Juan "Igor" Gonzalez's Indian career, I will only mention once the 2005 season in which he tore his hamstring in his only at bat. Juan-Gone's real career with the Tribe consisted of one tremendous season in which he belted 35 homers, drove in 140 runs, and put up a .960 OPS. That effort earned him a Silver Slugger Award (his sixth), an All Star appearance (his third) and a top five finish in the MVP race. Gonzalez came up with the Rangers in 1989 and played the bulk of his career there before brief stints with the Tigers and Indians. Juan would return to the Rangers then conclude his career with the Royals and Tribe. Overall in his 17-year career, Juan Gone hit 434 homers (twice leading the AL) and 1404 RBI (once leading the AL).
The former two-time MVP helped Charlie Manual's Indians to an AL Central Division Championship in 2001 with a 91-71 record. It was Charlie's first division crown and the Indians sixth in seven years. Tied for the division lead on August 11th, the Indians went 27-19 as the Indians brushed aside the Twins. What they got was the 116 win Mariners in the ALDS. The ALDS started promising when Bartolo Colon and Bob Wickman combined to shut out the Mariners but Seattle struck back to even the series as it moved east to Jacobs Field. The Indians offense exploded in Game Three as Igor went 4-for-6 with two doubles and a homer for a 17-2 drubbing. That highlight was the team's last of the season as the Mariners took the final two and the Tribe was eliminated.
For $7,000 dollars the Cleveland Naps purchased Frederick "Cy" Falkenberg from the Senators along with Dave Altizer, a shortstop, first baseman, and outfielder. Altizer didn't contribute much to the Naps but they got their money from Falkenberg. Once in Cleveland, Falkenberg refined his trademark "Emery Ball" as he used to scuff the ball with an emery board. The practice was legal and it was said to be able to stop wherever Cy wanted it to.
The winning started in 1909 with a 10-9 mark then followed up with 14-13 and 8-5 seasons. Then in 1913, Cy ruled the roost when he went 23-10 with a 2.22 ERA. The Naps under manager Joe Birmingham went 86-66 to finish third in the AL. The Fighting Illini then jumped to the Federal League, a competing league with the AL and NL, where he would play until the 1917 season with the Athletics. Falkenberg spent 12 years pitching in the AL, NL and FL with five of those seasons as a Nap.
#14 SP Jim Perry (1974) vs. #3 CF Kenny Lofton (1993)
Joining the Alomar brothers, the other sibling pair is Gaylord and Jim Perry. Jim had two stints with the Indians. The first was a successful go as a starter when he led the AL with 18 wins in 1960. The following year Perry slumped to 10-17 but made his first All Star appearance. The Indians sent Jim to the Twins for Jack Kralick in 1963 and it was in Minnesota that he had his finest years, two All Star appearances and the 1970 AL Cy Young award (24-12 3.04 ERA).
Jim returned to the Indians in 1974 to join his brother and he made good on his return. Teaming with Gaylord, the brothers won 38 of the Tribe's 77 wins. Jim's 18-12 record and 2.96 ERA was kind of second fiddle to Gaylord's 21-13 but without them Ken Aspromonte's team would have been even worse than a fourth place finish (14.5 games behind the Orioles). Jim lost it pretty quickly going a combined 4-10 in 1975 between the Indians and Athletics. It would be the end of Perry's 17-year career. The Perry brothers trail only the Niekro's (Phil Niekro and Joe Niekro) in all time wins by siblings.
Needing a catcher, the Astros shipped their number one prospect to Cleveland for Eddie Taubensee in a four player deal on December 10, 1991. The Indians had Sandy Alomar so Taubensee was expendable and what they got was one of the teams most athletic and exciting center fielder in team history. There may have been better center fielders but none were the catalyst like Kenny was. Kenny really didn't pursue baseball until his junior year in college. After playing point guard for the Arizona Wildcats in the 1988 Final Four, the Astros took him in the 17th round. With only 79 plate appearances with the Astros, Kenny won the leadoff job in Cleveland in 1992 and hit .285 while leading the AL in steals (66). Kenny was jobbed in the AL Rookie of the Year balloting as he was runner up toPat Listach of the Brewers. From 1993 until leaving in a spring training deal in 1997, Kenny won four Gold Gloves, led the league in stolen bases every year, and made three All Star appearances.
In the 1995 ALCS, Kenny scored from second on a wild pitch by Randy Johnson as the Indians broke the Curse of Rocky Colavito and made the '95 World Series. Despite making another All Star game with the Braves in 1997, Kenny missed his days with the Indians and signed back for a second tour of duty. Lofton's second tour was another success one and it included two more All Star appearances and three more playoff appearances. In 2002, Kenny started a tour of MLB teams playing for the White Sox, Giants, Pirates, Cubs, Phillies, Dodgers and Rangers but Kenny couldn't stay away from Cleveland as in 2007 he rejoined the team in a July trade and played for the AL Central champs. That season would also be Kenny's last. After 17 seasons and three tours of Indian duty, Kenny retired with 622 stolen bases (15th all time). From a WAR perspective, 1993 was Kenny's best year of his career. He hit .325 with an .815 OPS, scoring 118 runs and had 70 stolen bases. Despite finishing in sixth place in the AL, the 76-86 Indians were on the upswing and it would be their last losing season until 2002.
#15 3B Brook Jacoby (1987) vs. #2 SP George Uhle (1926)
When the Indians traded Len Barker to the Braves in the summer of 1983, the Indians received center fielder Brett Butler, pitcher Rich Behenna and third baseman Brook Jacoby. That offseason, the Indians cleared the hot corner by sending incumbent third baseman Toby Harrah to the Yankees. With his position open, Jacoby grabbed the mantel and held on to it. Brook would hold onto the hot corner from 1984 until midway through the 1991 season when he was sent to the Athletics. In his eight years in Cleveland, Jacoby made two All Star teams.
The 1987 season was dubbed the Rabbit Ball Year because of the sheer volume of home runs hit, the Indians had three players joining in the 30 home run club: Joe Carter (32), Cory Snyder (33), and Jacoby (32). Despite the homer happy environment and being a chic pre-season pick in the AL East, Pat Corrales' Tribe slumped to a 31-56 record before management sent Corrales packing. Under new manager Doc Edwards, the Indians didn't improve (30-45). Jacoby's 32 homers, .300 average, and .928 OPS were all career highs. After leaving in 1991, Jacoby returned for a swan song season in Cleveland in 1992 having spent nine years in the organization (11 MLB seasons).
It has to be a dream come true when a Cleveland boy makes good with the big league club. Such is the case with George "The Bull" Uhle who three times won 20 games for the Wahoo's. He made his debut in 1919 at the age of 20 going 10-5 mostly in relief (14 relief appearances and 12 starts). His numbers dipped in the world championship 1920 season but by 1922 the Bull was on his game. With a 22-16 record, Uhle served notice to the Indians staff. He came back in 1923 to lead the league in wins (26) and innings 357.2. Arm injuries plagued the Bull but in 1926 he was fully recovered and it showed. Uhle went 27-11 with a 2.83 ERA, and 318.1 innings. The wins, innings, and winning percentage (.711) were AL bests that season. Sitting at 81-61 and 4.5 games back, the Indians faced the Yankees in a rare six game series.
If Tris Speaker's boys were going to get back in the race, here was their chance. Uhle took a 4-6 loss in the first game, the Indians took the next three and the Bull's number was called in Game 5. The Bull lived up to his name that day with a four-hit 10-4 win and the Indians trailed by 2.5 games. The Bronx Bombers took Game Six and the Indians tumbled to 3-5 finish but still finished only 3.0 games back. Of the remaining seven games, Uhle won game 26 and 27 and the Indians suffered another near miss. Uhle was traded after the '28 season and after playing for the Tigers, Giants and Yankees, he returned to his old home town in 1936 with seven appearances that I'm sure he would have liked to forget. The Bull ended his 17-year career (11 with the Tribe) with an even 200 wins (147 with the "C" on his hat).
#16 Joe Charboneau (1980) vs. #1 SS Lou Boudreau (1948)
For one season the stars aligned and just as quickly burned out. But what a season it was. After winning the Double-A batting title after hitting .342 for Chattanooga, the legend of Super Joe would begin to emerge. With a spring training invite, manager Dave Garcia expected to send Joe to Triple-A but that plan was derailed when slugger Andre Thornton injured his knee. Joe was asked to fill the void but that was almost put in jeopardy when a fan stabbed him in Mexico. Garcia wasted little time as his opening day line-up had Joe batting seventh and playing left field. Joe's first chance came in the top of the second with two outs and Angels' hurler Dave Frost on the mound. Joe hit a grounder to third which Carny Lansford threw to first to retire the rookie. In the firth, the Indians fans would witness what would become the birth of the legend as Super Joe took Frost deep to right-center field. Aside from that one moment, that first road trip was a taxing one for Joe and when the team arrived in Cleveland the rookie's batting average was hovering at the Mendoza-line. Still Garcia stuck with the kid and put him in left field and batting sixth. His first at bat at the stadium was a walk then Blue Jay catcher Bob Davis threw him out trying to steal. A fifth inning double to left helped spark a three-run rally as the Tribe took the lead and the next inning Indian fans got to witness his second bomb (off of former Indian Tom Buskey).
With each game that season and every article written about him, Super Joe's legend grew. Besides hitting homers, Joe could open beer bottles with his eye socket, perform dentistry on himself, drink beer via a straw up his nose and fix a broken nose with pliers. A string of four consecutive multi-hit games in mid-June spiked his average to .298. In the meantime a local band put out the song "Go Joe Charboneau". By the end of the season, Joe had 23 homers, a .289 average and a .846 OPS while winning the AL Rookie of the Year award. As fast as his star rose, his baseball career sunk. He only played 70 more games in the majors. After just 22 games in 1982, he was sent down and never returned to the majors. His three-year career is used by the sports world as a prime example of the "Sophomore Jinx". Despite his short career, Charboneau still has a place in many Cleveland fans' hearts.
It was quite fitting that after long careers with the Indians, two grizzled veterans had their best season in a year where it counted. The year was 1948 and the two players were Ken "Butch" Keltner and player-manager Lou "Old Shufflefoot" Boudreau. Both players suffered through the abusive style of manager Ossie Vitt (1938-1940). Prior to 1948, the Tribe's best chance to make the post season was in Vitt's final year in 1940. That team was labeled the Crybabies when the team went to the Indians owner and demanded Vitt be fired. Vitt had insulted team leader Mel Harder when he asked Mel "when are you going to start earning your money?" Boudreau was a young 22-year old player in 1940 and by 1948 Lou had to wonder if he'd ever taste post season. Coming off a fourth place finish, Boudreau had to think that it was time to break through the wall and make the playoffs.
Old Shufflefoot did his part both as a player and a manager and he received the MVP honor for doing it. He belted a career high 18 long balls while adding career highs in RBI (106), average (.355), and OPS (.987). Then in the decisive one game tie breaker with the Red Sox, Handsome Lou broke a 1-1 tie with a two-run homer. Lou ended the day with a line of 4-for-4, three runs scored, two RBI and the aforementioned long ball. Then in the six games against the Braves for the whole kit and caboodle, Lou went 6-for-23 with four doubles, one run and three RBI as the Indians took home their second championship. In his 13-year Indians career, Boudreau would play in seven All Star games including 1948 and lead the league in doubles three times and batting once (.327 in 1944). The Fighting Illini took over player-manager duties as a young 24-year old in 1942 and would keep the job for nine years. He'd also hold down both duties for the Red Sox in 1952 and then manage the Athletics and Cubs. As Lou's career wound down he was released and finished his career by playing two seasons with the Red Sox. He was elected to the Hall of Fame in 1970. Each season the Indians top minor league player receives the Lou Boudreau Award honoring their great shortstop (the Feller Award goes to the top minor league pitcher).
Here is the bracket: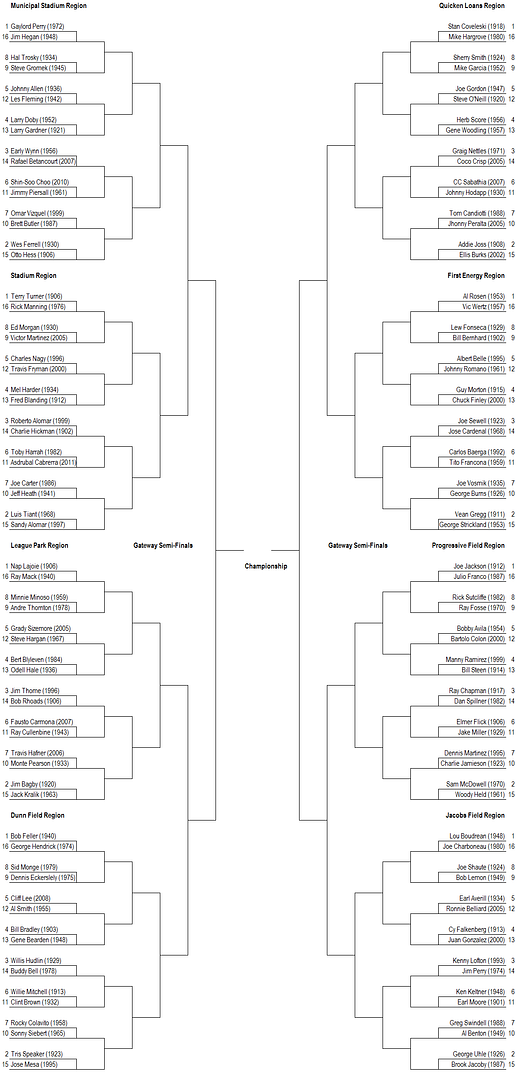 User Comments
No comments currently. Be the first to comment!