Tribe Madness: Previewing the League Park Region Matchups
Our tournament moves to the League Park Regional where the winner of this region draws the winner of the Dunn Field region.
Here are the regions previewed so far:
Municipal Stadium Region
Stadium Region
#9 1B Andre Thornton (1978) vs. #8 LF Minnie Minoso (1959)
A fixture for nine of his eleven years in Cleveland, Andre "Thunder" Thornton was one of the few bright spots in a Tribe uniform during some of the team's leanest years. Arriving in Cleveland on December 10, 1976 via a trade with the Expos for pitcher Jackie Brown, Thunder established himself with a 28 HR and 70 RBI season in his first year. Then the 28 year old had the best of his 14 MLB seasons in 1978 hitting .262/.377/.516/.893 with 33 dingers and 105 ribbies and posting a 5.3 WAR.
The 1978 team under manager Jeff Torborg struggled to a 69-90 record finishing a distant 29 games behind the Yankees (6th place). With the exception for missing all of 1980 with an injury, Thunder was a fixture in the Indians line up through 1986 before finishing up as a bench player in 1987. Andre won a Silver Slugger award and was twice an All Star as he slugged 214 of his career 253 home runs as an Indian while compiling a .254/.355/.453/.809 career slash line in Cleveland. Andre was awarded the Roberto Clemente award in 1979 and in 1982 won the AL Comeback Player of the Year and the Hutch Award.
Saturnino Orestes Armas "Minnie" Minoso also known as the Cuban Comet arrived in Cleveland in 1949 but couldn't establish himself on the 25-man roster and was eventually shipped to the White Sox in 1951 where he finished second in the Rookie of the Year and was a five-time All Star. Minoso returned to Cleveland following the 1957 season in a trade for Early Wynn. Minoso then enjoyed two outstanding seasons wearing an Indians uniform. His 1959 season included a Gold Glove and a .302/.377/.468/.846 line with 21 homers and 92 RBI. Trader Jack Lane then shipped Minnie back to Chicago for Johnny Romano and Norm Cash.
Minoso played 17 seasons in the majors including three games in 1976 as a 50-year old and two games in 1980 in a stunt to make him a five decade player. For all intents and purposes his career ended after the 1964 season. In 1959 Minnie posted a 5.5 WAR as the Tribe under manager Joe Gordon finished 89-65 which was good for second place to the White Sox (5.0 games back). The Indians battled until the final week but a 4-2 loss to the White Sox ended their playoff hopes. It would be the last time until 1995 that the Indians would play a meaningful game in September.
#10 SP Monte Pearson (1933) vs. #7 DH Travis Hafner (2006)
WAR is such a suggestive statistic but it represents Wins Above Replacement which is basically the basis of this tournament. Placing a player on one of the all-time worst teams and seeing how that player's presence affects the team. The reason that I bring this up now is that Monte Pearson qualified for this tournament with a 5.0 WAR in 1933 but he was sixth on his own team in games started (16) and eighth in games pitched (19) but he did lead the league in ERA (2.33) and posted a 10-5 record.
The 24 year old, nicknamed Hoot, made his first appearance on July 5th relieving Sarge Connally in the sixth inning. Hoot then started 16 of his next 18 appearances at one point winning six consecutive starts. 1933 was Pearson's rookie season but he did make eight relief appearances in 1932. Pearson would then go on to pitch in 10 seasons with the first four in Cleveland going 36-31 with a 4.00 ERA. Hoot would then be traded to the Yankees for Johnny Allen before finishing up with the Reds in 1941. In 1933, the Indians would finish 75-76 (fourth place to the Senators, 44 games back) under managers Roger Peckinpaugh, Bibb Falk and Walter Johnson.
2006 was a disappointing year for the Tribe. Eric Wedge's crew finished 78-84 and in 4th place just one year after challenging the White Sox and Red Sox for playoff appearances into the last week of the year. That said, Indians DH Travis "Pronk" Hafner enjoyed one of his finest seasons with a career high 42 HR and 117 RBI. Hafner posted a line of .308/.439/.659/1.097 while leading the AL in slugging and OPS and putting up a 5.9 WAR (his third consecutive 5+ WAR season).
Travis would enjoy a decent season in 2007 as the Indians would win the AL Central but shoulder injuries would limit him to less than 100 games every year after that except 2010. Travis would spend 10 seasons on the shores of Lake Erie before signing a contract with the Yankees this past season. In those 10 years, Hafner hit 200 homers and posted a line of .278/.382/.509/.890. Originally a first baseman, Travis played almost exclusively at DH.
#11 RF Roy Cullenbine (1943) vs. #6 SP Fausto Carmona (2007)
Ray Cullenbine spent two-plus seasons playing for Cleveland, all while World War II raged in Europe and the Pacific. Baseball kept playing despite several players serving in the military. To be fair, Cullenbine was an All Star in 1941 as a member of the Browns. Roy joined the Indians via a December 1942 trade ending a year in which he was a member of four organizations (Browns, Senators, Yankees, and Indians).
In 1943, Roy put up a line of .289/.407/.404/.811 with 8 homers and 58 RBI and a 4.8 WAR for Lou Boudreau's 82-71 team (3rd place, 17.5 behind the Yankees). For his career, Cullenbine spent 10 years for six teams and was the classic Moneyball player before Moneyball with a .408 career on base percentage.
Fausto Carmona aka Roberto Hernandez was a pitcher for the Indians from 2006 – 2013 with a devastating sinker (when he could get it over the plate). It was discovered in 2012 that he wasn't Fausto Carmona but Roberto Hernandez and a couple years older than originally thought. In 2007 he won 19 games to qualify for this tournament. Incidentally, there was another Roberto Hernandez on the 2007 Indians team (relief pitcher).
F-Bob broke in with the Tribe in 2006 but had a dismal 1-10 record. In 2007, an injury to Cliff Lee opened up a spot for him and he dominated AL hitters going 19-8 with a 3.06 ERA. The Indians won the AL Central that year and came within one game of playing in the World Series. Fausto teamed up with AL Cy Young winner C.C. Sabathia to form a lefty-righty combination which vaulted the Tribe to a 96-66 record and a tie for the best record in the AL. For all the talent F-Bob had he only posted a 53-69 record for the Tribe in seven years and now pitches for the Rays.
#12 SP Steve Hargan (1967) vs. #5 CF Grady Sizemore (2006)
On a pitching staff of Sam McDowell, Luis Tiant and Sonny Siebert, Steve Hargan sometimes gets overlooked but in 1967 Hargan was as solid as they come. With only a 14-13 record, he posted a 2.62 ERA with a league leading six shutouts while making his only All Star appearance. Hargan also led the staff with 15 complete games as the Indians posted a 3.25 team ERA with three starters having ERA's under 3.00 (Siebert and Tiant). Despite the quality pitching, Joe Adcock's Indians could only win 75 of their 162 games and finished in 8th place 17 games behind the Red Sox (leading to Adcock's dismissal). Despite that Hargan, scored a 4.6 WAR to qualify for this tournament.
Hargan broke in with the Indians in 1965 and embarked on a 12 year MLB career with the first eight in Cleveland. He posted double digit wins four times (three with Cleveland) but also had six double digit loss years including a dismal 1-13 1971 season. Hargan's Cleveland career record was 56-74 with a 3.78 ERA. Much of his good/bad season sway was a result of injuries (ankle, arm, hamstring, and carpal-tunnel syndrome).
In 2004, the Indians promoted their #1 prospect to the majors and put him in centerfield and the 21 year old got his feet wet. Sizemore then came to spring training ready to romp and romp he did putting up a .289/.348/.484/.832 line and a 6.6 WAR in 2005. Grady would then match that WAR in 2006 with a better .290/.375/.533/.907 line with 28 homers, a league leading 134 runs and 53 doubles while making his first of three All Star games. From 2005 through 2009, Sizemore solidified center field winning two Gold Gloves and a Silver Slugger award.
Injuries curtailed his career as he was only able to appear in 104 games in 2010 and 2011. In his eight-year career (all with Cleveland to this point), his final numbers are .269/.357/.473/.830 with 139 homers, 601 runs scored and 134 stolen bases. Despite teaming up with Hafner to put up very good 2006 numbers (see Hafner above), the Indians could only muster 78 wins.
#13 3B Odell Hale (1936) vs. #4 SP Bert Blyleven (1984)
In 1936, Cleveland manager Steve O'Neill had easy decisions when filling in first base (Troskey), center field (Averill), left fielder (Joe Vosmik) and third base. The guy that started 148 of the 154 games at third was Arvel Odell "Bad News" Hale. The 37 year old put up a .316/.380/.506/.887 line with 16 homers and 101 RBI while scoring 126 runs. With Hale and company the Indians went 80-74 to finish fifth in the AL, 22.5 games behind the Yankees. Hale made his MLB debut for the Tribe in 1931 and spent nine of his 10 year career in Cleveland before brief stints with the Red Sox and Giants in 1941. For his career, Bad News hit .293/.353/.447/.800 for the Tribe with 72 dingers and 563 RBI.
The Indians had a Cy Young award winner in 1984. Unfortunately, the guy won it as a member of the Cubs after a mid-season trade but that's not the guy featured here. This guy is Dutch born Bert Blyleven and he posted very good numbers in 1984 for a woeful 75-87 Pat Corrales managed Indians team. The sixth place Indians finished a whole 29 games behind the juggernaut Tigers.
Armed with maybe the best curveball of his era, Blyleven went 19-7 with a 2.87 ERA with 12 complete games and finished third in the Cy Young balloting. Blyleven was 19 in 1970 when he went 10-9 with the Twins before making stops with the Rangers and Pirates before joining the Indians in 1981. He would spend five years in Cleveland going 48-37 with a 3.23 ERA and made one All Star appearance. The Indians would ship him to the Twins in 1985. Blyleven pitched 22 years in the majors going 287-250 with a 3.31 ERA before retiring after the 1992 season as a two-time All Star.
#14 SP Bob Rhoads (1906) vs. #3 3B Jim Thome (1996)
Decades before the American Dream hit the air waves on the professional wrestling circuit there was another Dusty Rhoads (yes the spelling is different) and he pitched for Cleveland. In 1906 Rhoads teamed with Addie Joss and Otto Hess to lead a pitching staff that relinquished only 2.09 earned runs per every nine innings pitched. This pitching staff led the Naps to a 89-64 season for player-manager Nap Lajoie but the team fell five games shy of making the World Series.
The team sat 7.5 games out on the morning of September 1 but went on a furious 27-12 run outscoring opponents 178-89. That season the 26 year old Wooster, Ohio native went 22-10 with a 1.80 ERA. Rhoads pitched seven of his eight MLB seasons with Cleveland from 1903 – 1909 going 88-66 with a 2.39 ERA. 1906 represented his only 20-win season but he twice had ERA's under two and four other seasons he had ERA's under three. He wasn't a strike out guy as his 89 strikeouts in 1906 was his career high.
Fresh off the Indians first World Series appearance in 40 some years, the 1996 Indians took the field en route to a 99-62 record and a second straight AL Central division title. The team clobbered the competition winning by an easy 14.5 games. The Indians scored 952 runs and relinquished only 769 to set up a playoff match up against the wild card Orioles. Unfortunately, the Orioles surprised the Lake Erie Warriors by winning the series 3-1.
Manning the hot corner was a 25 year old Illinois native with a sweet left-handed swing and he put up a .311/.450/.612/1.062 line with 38 homers and 116 RBI and 122 runs. Thome would be awarded with the only Silver Slugger of his career in 1996 and would finish 15th in the AL MVP balloting. Drafted in the 13th round out of Illinois Central College, Thome represents the best Indians mid-round draft pick in franchise history. He is the Indians all-time home run leader (337) and is a member of the 600 HR club. He was a five- time All Star including three times with Cleveland. He played the first 12 years of his 22-year MLB career in Cleveland and then returned for a brief stay in 2011. His career line is .276/.402/.554/.956 with 612 long ones and 1699 RBI.
#15 SP Jack Kralick (1963) vs. #2 SP Jim Bagby (1920)
The 1963 pitching staff had some names: Perry, McDowell, John, Wynn but the Perry was Gaylord's brother Jim, Sam McDowell and Tommy Johnwere young and would come into their own later and Wynn had already declined. Enter lefty Jack Kralick, who went 13-9 with a 2.92 to lead the staff. The 28 year old Youngstown native was a May 2nd acquisition for the above mentioned Jim Perry and made an impression with his Indians' debut.
Kralick would spend five years in Cleveland going 33-33 with a 3.47 ERA but in '63 and '64 he went a combined 25-16 while making his only All Star appearance in 1964. Kralick started his career in '59 with the Senators and moved to Minnesota with the team. In total he pitched nine MLB seasons going 67-65 with a 3.56 ERA. In 1963 the Birdie Tebbetts' Indians would finish 79-83 a distant 60 games behind the Yankees (fifth place).
1920 was a legendary season for the Indians. On a down note, shortstop Ray Chapman was killed by a pitch and ace pitcher Stan Coveleski's wife passed away during the season. The Indians would rebound and win the World Series. On October 10th, the Indians stamped their mark on World Series lore. With the series tied two-to-two, Jim "Sarge" Bagby took the mound at Dunn Field against the Brooklynn Robins. In the bottom of the first, Elmer Smith launched a home run to deep right field with the bases juiced for the first grand slam in World Series history. In the fourth inning, Sarge hit a three run bomb to center for the first home run by a pitcher in World Series history. Then in the fifth, 2B Bill Wambsganssturned the only unassisted triple play in World Series play. The Tribe would win 8-1 and go on to triumph in the series 5-2 and Cleveland's first WS title.
During the regular season, Sarge went 31-12 with a 2.89 ERA with 30 complete games. Bagby would play seven of his nine MLB seasons in an Indians uniform going 122-86 with a 3.03 ERA. 1920 was Sarge's peak year as the next year he tailed off to 14-12 with a 4.70 ERA and by 1922 his ERA ballooned to 6.32 and the Tribe waived the big right-hander. Bagby's son Jim Jr. pitched for the Indians from 1941-45.
#16 2B Ray Mack (1940) vs. #1 2B Napolean Lajoie (1906)
In a battle of second sackers, 23 year old Raymond Mickovsky brings his Cleveland toughness to the tournament. Mack started off 1940 making a great diving stop for the final out to preserve Bob Feller's opening day no-hitter and went on to have his best season. Mack would put up a line of .283/.346/.409/.755 with 12 homers and 69 RBI. Mack also teamed up with Lou Boudreau to create an awesome double play combination as he helped turn 582 double plays in eight seasons with the Indians. Mack's 2.0 WAR didn't qualify him for this tournament but he was selected as an at large bid. Mack made the All Star game in 1940 and finished 20th in the MVP voting. For his career, Mack only hit .232 with a .631 OPS along with 34 dingers.
Considered the best player in baseball in the early years of the 20th century, Nap "Larry" Lajoie jumped from the National League Phillies to the American League Athletics but a law suit ensued and he was unable to play in the state of Pennsylvania so he was declared a free agent and signed with the Bronchos in 1902. He was so good that by 1903 the Bronchos were renamed the Naps and in 1905 he took over as player-manager. How the Naps finished in third with the kind of years individual players had in 1906 has to be a mystery. Lagjoie, shortstop Terry Turner, outfielder Elmer Flick, pitcher Otto Hess and pitcher Bob Rhoads all had their best seasons in a Cleveland uniform.
Pythagorian also calculates that this team should have gone 98-55 (nine games better than their 89-64 record). Despite his failings as a manager, the "Frenchman" was as good a second baseman that this franchise has ever had. In 1906, Nap put up a .355/.392/.465/.857 mark with 91 RBI and 88 runs scored. He stole 20 bases as well. Nap would play 13 of his 21 MLB seasons for Cleveland collecting 2047 of his career 3243 hits while hitting .339/.389/.452/.840. Nap is in the Hall of Fame and would have his number retired by the Indians if he had worn a number.
Here is the full bracket: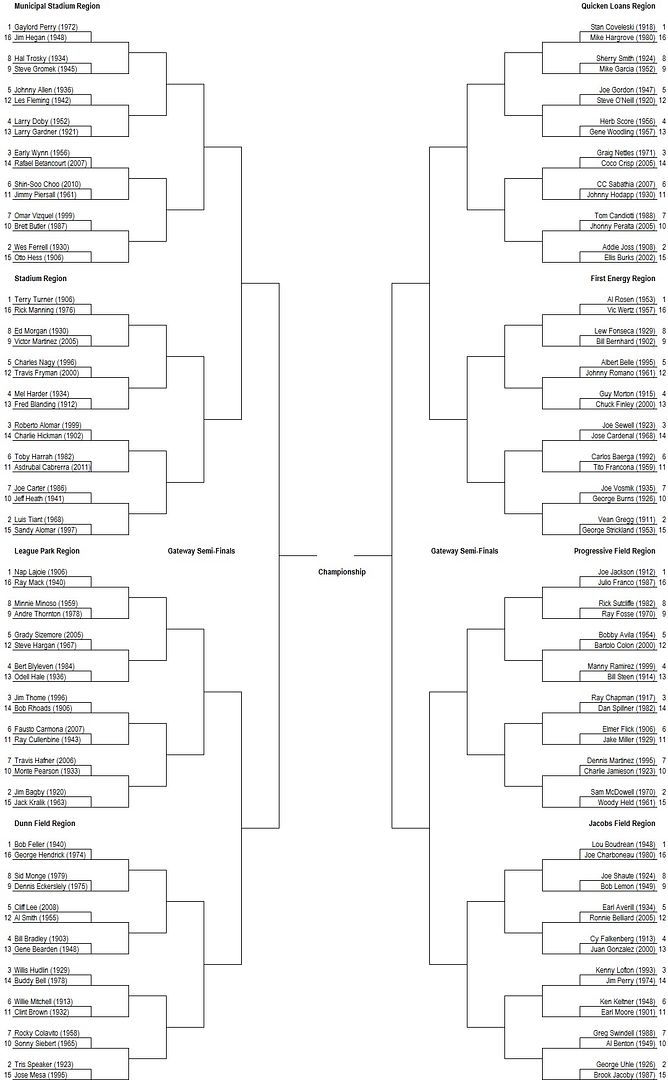 User Comments
Daingean
October 19, 2013 - 8:32 PM EDT
Thanks William......started this a few months ago......I wish the 2013 team was in the game but that won't be available until the next version.
William
October 19, 2013 - 8:14 PM EDT
Boy, this is going to be interesting to see how this all plays out. Really complex with 128 guys! Thanks for putting this together.
Daingean
October 19, 2013 - 8:11 PM EDT
My mistake but in the #12 spot in the Jacobs Field regional it should be Ronnie Belliard not his weak hitting (good glove) cousin Rafael.