Tribe Madness: Previewing the Quicken Loans Region matchups
Our tournament moves to the Quicken Loans Regional where the winner of this region draws the winner of the First Energy Region.
Here are the regions previewed so far:
Municipal Stadium Region
Stadium Region
League Park
Dunn Field
#9 SP Mike Garcia (1952) vs. #8 SP Sherry Smith (1924)
After signing with the Indians in 1942, Mike "Big Bear" Garcia then proudly served our country as a signal man in the US Army. Upon his return from active duty, Garcia spent a few years in the minors before making his debut on the last scheduled day of the 1948 Championship season (the Indians would be required to play a one game tie-breaker with the Red Sox). Garcia would establish himself the following year making 20 starts in 41 appearances while going 14-5 with a league leading 2.36 ERA. The Big Bear would go on to win 142 games (all for the Indians) in a fourteen year career (12 with the Indians and one each with the White Sox and Senators). Twice he won 20 or more games including 22 in 1952 when he posted a 2.37 ERA.
In 1952, manager Al Lopez's Indians battled the Yankees down to the final week. Trailing the Bronx Bombers by 2.5 games on September 14th, the Indians won nine of their last 10 but still fell two games short. That year they posted winning records in every month except June and went 19-5 in September but a 10-12 record against their pinstriped rivals was the difference. Still a 93-61 record was good and Garcia was a fixture in a rotation that included three 20 games winners in Bob Lemon (22), Early Wynn (23) and Garcia.
Sherrod Malone "Sherry" Smith was a southpaw starter for the Indians for six seasons in the 1920's. Joining the Indians on a waiver wire pickup from the Brooklyn Robins in 1922, Sherry would start 101 games for the Indians (140 total appearances) while going 45-48. The left-hander from Monticello, Georgia originally played for the Pirates in 1911 but established himself with the Robins from 1915-1922. His best season was in 1920 when he was on the losing end of the World Series to the Indians. In that series, he won game three 2-1 but lost a 1-0 pitcher's duel to Duster Mails in Game Six.
Just two years later Smith would join the Indians. Despite a stellar ERA in 1924 (3.02), Smith had a losing record (12-14) but his 5.7 WAR that season qualified him for this tournament. That season, Tris Speaker's Indians suffered the worst season in Speaker's tenure going 67-86 putting them in sixth place and 24.5 games behind the Washington Senators. Smith retired after the 1927 season capping a 14-year career finishing with a114-118 record.
#10 SS Jhonny Peralta (2005) vs. #7 SP Tom Candiotti (1988)
At 23 years old in 2005, Jhonny Peralta succeeded Omar Vizquel at shortstop in the Indians' line-up and put up his finest season. The Dominican thumped 24 homers while putting up a four slash line of .292/.366/.520/.885 and driving in 78 runs. The 2005 Indians fell as far back as 15 games behind the White Sox on July 25th (51-49). That's when Eric Wedge's boys won 12 of 15 and then a six game winning streak in mid-August saw them at 7.0 games behind. The team got hot in September winning 17 of 19 to sit 1.5 games back and in the wildcard lead with one week to play, but they collapsed down the stretch and missed the playoffs entirely.
Jhonny was signed by the Indians out of the Dominican Republic in 1999 and made his MLB debut in 2003 at the age of 21. He played for the Indians AL Central championship team in 2007 but was traded to the Tigers in 2010 for Giovanni Soto. His eight years with the Indians featured 156 homers and a .751 OPS but his 2005 season's 5.1 WAR qualified him for this tournament.
On December 12, 1985, the Indians signed a little known free agent pitcher who had little prior success. Armed with a knuckleball, Thomas Caesar "Candy Man" Candiotti made a splash going 16-12 with a 3.57 ERA for an Indians' team that went 84-78 in 1986. For the next five years, the Candy Man floated the knuckler which at times baffled opponent hitters until being traded to the Blue Jays who went on to win the AL East. In the six years Candy was with the Indians he won at least 10 games five times for some pretty bad Indian teams. One of those teams was the 1988 Indians which went 78-84 and finished sixth (11 games behind the Red Sox). One thing managerDoc Edwards did that year was give the ball to Candiotti and ask the 30 year old right-hander to get the win. Candy did that 14 times (only 8 losses) while posting a 3.28 ERA in 216.2 innings with 11 complete games. Tom struck out 137 batters while walking only 53 which was outstanding control for a guy whose primary pitch danced its way through the strike zone.
Leaving in a trade that netted the Indians Mark Whiten, Glenallen Hill and Dennis Boucher, Candy pitched for the Blue Jays, Dodgers and Oakland (he pitched for the Brewers before signing with the Tribe) before returning to the Indians in 1999 at age 41. In total, Candiotti pitched in 16 MLB seasons going 151-164 with a 3.73 ERA. The Candy Man never appeared in an All Star game but played in the playoffs for the Blue Jays and Dodgers (0-1 6.52 ERA).
#11 2B Johnny Hodapp (1930) vs. #6 SP CC Sabathia (2007)
Johnny Hodapp joined the Indians in 1925 as a 19-year old but it wasn't until 1928 that he established himself as a fixture in the Tribe's lineup. It was that year on July 29th that the Indians pounded the Yankees 24-6. Hodapp went 5-for-7 with a double, four runs and four RBI but more significantly he became the first MLB player to garner two hits in the same inning twice in the same game.
Then in 1930, Johnny had his best season hitting .354/.386/.502/.889 with 9 homers while leading the league in hits (225) and doubles (51). Hodapp also added 111 runs and 121 RBI for Roger Peckinpaugh's Tribe that finished 81-73 which finished fourth 21.0 games behind the juggernaut Athletics. Hodapp's Indian career was going strong until a knee injury affected his 1931 season. He appeared in only seven games for the Indians before an April 1932 trade to the White Sox. His eight years with the Indians saw him hit .318 with a .787 OPS. After a brief stop in Chicago, Hodapp finished his career in 1933 with the Red Sox.
Ray Fosse, Rick Manning, Greg Swindell, Charles Nagy, Manny Ramirez and CC Sabathia: those players represent the best of the Indians first round picks over the last 48 years and all have earned a spot in this tournament (Manning was selected at large). The 6-foot-7 290-pound southpaw from Vallejo, California was selected with the 20th pick in the 1998 draft and quickly signed. CC joined the Indians in 2001 going 17-5 then won at least 10 games in every season since. In 2007, Sabathia went 19-7 with a 3.21 ERA and a league leading 241 innings as he led the Indians to a division title. Sabathia would win the AL Cy Young Award joining Gaylord Perry as the Indians only Cy Young winner (a club that would soon be joined by Cliff Lee in 2008).
With free agency pending, in July of 2008 the Indians sent Sabathia to the Brewers for Michael Brantley, Matt LaPorta, Rob Bryson and Zach Jackson. After finishing the year with Milwaukee and leading them to the playoffs, Sabathia then signed with the Yankees as a free agent. To date, CC has a 205-115 record in 13 seasons including 106-71 with the Tribe over eight years. He has made the All Star team six times including three as a Wahoo.
#12 C Steve O'Neill (1920) vs. #5 2B Joe Gordon (1947)
It's my opinion that a catcher's most important job is to handle the pitching staff and anything one gets offensively is just icing on the cake. Breaking in with the Naps in 1911 at age 19, O'Neill established himself as a defense first catcher. It wasn't until Tris Speaker took over as Indians manager in 1919 that O'Neill added offense to his game and in 1920 he put it all together. He hit a career best .321/.408/.440/.848 with 3 homers, 69 RBI and 63 runs scored all while managing a staff that won 98 games with a 3.41 ERA including one 30-game winner (Jim Bagby) and two 20-game winners (Stan Coveleski and Ray Caldwell). That 1920 Indians team went on to win the team's first World Series title.
O'Neill would play 13 seasons with the Indians before being traded to the Red Sox for George Burns. O'Neill would then play for the Yankees and the Browns before a serious auto accident ended his career. Steve then returned to the Indians as manager from 1935 to 1937 and at one point presided over a tryout for catcher Jim Hegan (the only other backstop to win a World Series for the Tribe). He later managed the Tigers, Red Sox and Phillies (winning the 1945 World Series with the Tigers).
In 1946, Yankees' second baseman Joe "Flash" Gordon suffered his worst year of his career, slumping to career lows in average (.210), homers (11), RBI's (47) and runs scored (35). Not only that, but his manager Joe McCarthywas fired. Gordon was a favorite of McCarthy's and the Yankees looked to trade their All Star second sacker. The Indians offered pitcher Allie Reynolds and on October 11th, 1946, Flash was a member of the Tribe. 1946 was Gordon's first year after spending two years in the US Army serving in World War II. Gordon finally knocked the rust off for his new team in 1947 putting up a .272/.346/.496/.842 slash line with 29 homers, 93 RBI and 89 runs scored. His 6.9 WAR that year punched his ticket into this tournament.
Playing for his new double play partner - player-manager Lou Boudreau - Gordon helped the Indians to an 80-74 record and a fourth place finish behind his former team but Gordon returned to his All Star form. Gordon would follow up his first Indian summer with another All Star performance in 1948 as the Indians battled to their second World Series title. Flash would make his final All Star appearance in 1949 before concluding his MLB career in 1950 at age 35. Gordon only spent four years playing for the Indians but hit an even 100 homers. Interesting enough, he played an even 1000 games for the Yankees and delivered an even 1000 hits in pinstripes. Gordon returned to the Indians as manager in 1958 and served in that capacity until Trader Frank Lane sent him to Detroit for manager Jimmy Dykes.
#13 OF Gene Woodling (1957) vs. #4 SP Herb Score (1956)
One of the interesting twists in running this tournament is putting Gene Woodling as a 1957 player on the 1962 Mets to battle Herb Score for a second round spot. Why interesting? Only because as a 39-year old Woodling played 81 games for the Mets. The Akron native's career started in 1943 at the age of 20 when he appeared in eight games for the Indians. Woodling then joined the Navy to represent his country in World War II, losing two years of his career. Woodling returned in 1946 but was then traded to the Pirates for future Indian manager Al Lopez. Woodling rejoined the Indians in June 1955 via a trade with the Orioles. Then in 1957, Woodling put up career high numbers at the age of 34. Those numbers included a .321/.408/.521/.929 slash line with 19 homers and 78 RBI.
That year the Indians under manager Kerby Farrell slumped to 76-77 for their first losing season since 1946. Woodling would then be sent back to Baltimore in a deal that netted the Tribe Larry Doby and Don Ferrarese. Aside from the Orioles and Indians, Woodling would also play for the Pirates, Yankees, Senators and Mets in his 17 year career. The one-time All Star had a career .284 average with 147 long balls. His 1962 season with the Mets was his final year.
I remember Herb Score opening up Indians games on the radio with his trademark phrase, "It's a beautiful day for baseball". It didn't matter what the weather was like; it was always a beautiful day. Long before his broadcasting career, Score was a stud left-handed pitcher for the Indians. Score burst on the scene in 1955 as a 22-year old and went 16-10 with a 2.85 ERA and set a then rookie record for strikeouts with 245. Those accomplishments earned Herb the Rookie of the Year award. The following year Herb put up even better numbers with a 20-9 record, 2.53 ERA and an AL leading 263 strikeouts. That year Score teamed up with Early Wynn and Bob Lemon to give the Indians three 20 game winners as Al Lopez's squad went 88-66 finishing nine games behind the Yankees in the AL.
In 1957 Score was off to a 2-1 start when on May 7th he faced Gil McDougal of the Yankees in the top of the first inning. McDougal's line drive back up the middle caught Score in the face breaking bones and injuring his eye. Score's year was over. Many consider this moment the beginning of Score's downfall although Score says it was arm injuries which derailed a once promising career. In 1958 Score returned but after a 2-2 April with 3.00 ERA, Score suffered arm issues and would only make seven more appearances. In '59, Scores fell to 9-11 with a 4.71 and was shipped off to the White Sox after the season. After three seasons with the Chi-Sox, Score's career was over after eight seasons. He went 55-46 with a 3.36 ERA but between 1955 and 1956 he was one of the best in the game. Score returned to Cleveland in 1964 to broadcast Indians games and his last game was Game 7 of the 1997 World Series.
#14 OF Coco Crisp (2005) vs. #3 3B Graig Nettles (1971)
When the Indians run of six division championships in seven years came to an end in 2002, the Tribe made an August 7th deal with the Cardinals by shipping LHP Chuck Finley for an unknown AA outfielder Covelli "Coco" Crisp. Crisp would make his MLB debut a little over a week later on August 15.
Coco would spend the next three years in Cleveland playing in 415 games. Each year in a Tribe uniform, Crisp got better and better and in 2005 put up his best year. He hit .300/.345/.465/.810 and all would be career highs and he also smacked 16 long balls while stealing 15 bases. In the offseason the Indians traded him to Boston for "can't miss" prospect who did miss, Andy Marte. Coco then went on to play for the Royals and has now completed his fourth year in Oakland.
On December 10, 1969, the Indians traded two of their top 1960's pitchers Luis Tiant and Stan Williams to the Twins for a package of four players Dean Chance, Ted Uhlaender, Bob Miller, and 25-year old Graig Nettles. Nettles came to the Tribe with a lot of potential but with little success in his 121 MLB games. In his first year at the old Cleveland Stadium, Nettles socked 26 homers but had a low .235 batting average. It was 1971 that catapulted Nettles' career as he put up a .261/.350/.435/.785 slash line along with 28 homers while manning the hot corner. That season the Indians hit bottom as they went 60-102 for managers Alvin Dark and Johnny Lipon. The result was a last place finish and 43 games behind the Orioles.
In 1972 Nettles' homer numbers dropped by 17 but he did have a solid season, but a feud with manager Ken Aspromonte resulted in his trade to the Yankees. Nettles would spend 11 seasons in the pinstripes and was a fixture on the Yankees championship teams in '77 and '78. In a September 1974 game with the Yankees, Nettles broke his bat and it was found to contain six super balls inside, though he would come back and win the AL home run championship in 1976 with 32 homers. Nettles would go on to complete his career with stints in San Diego, Atlanta and Montreal. He would conclude his 22-year career with 390 homers, a .750 OPS, two Gold Gloves, and six All Star games.
#15 DH Ellis Burks (2002) vs. #2 SP Addie Joss (1908)
Speed, power, defense, ability to hit for average, and arm strength. Those are the five tools of baseball. Burks had it all. Unfortunately, that was early in his career. By the time he signed on with the Indians in November of 2000 injuries had sapped Burks of three-fifths of those tools (speed, defense and arm strength) but the hitting for average and power were still there. Once he got to Cleveland, Burks would play 280 of his 317 games as a designated hitter over three seasons. Paid to hit, Burks didn't disappoint. In his first year, Burks thumped opposing pitchers to a .911 OPS with 28 bombs, 83 runs and 74 RBI as Cleveland captured their sixth division crown in a seven year period.
Burks' follow up season in 2002 was arguably better as he hit .301 (.903 OPS) with 32 dingers, 92 runs and 91 RBI. To make it more impressive, he did it for an Indians team which slumped to a 74-88 record under managers Charlie Manuel and Joel Skinner (interim). That season the Tribe finished in third place 20.5 games behind the Twins. The injury bug hit Burks again in 2003 (elbow) after which Burk returned to Boston for his swan-song season. Over his 18-year career with the Red Sox, White Sox, Rockies, Giants and Indians, Burks was an All Star (twice), Silver Slugger (twice) and Gold Glove winner.
I remember when a boating accident took the life of Steve Olin and Tim Crews. The following offseason pitcherCliff Young also perished in an auto accident. Two Cleveland ball players that suffered the same fate were Ray Chapman and Addie Joss (you could probably add in Browns players Ernie Davis, Don Rogers and Don Fleming). Death is a tragedy but it is especially tragic when a player is cut down during the prime of his career. One of those guys was an ace pitcher Addie "The Human Hairpin" Joss who passed way in April of 1911 from tuberculosis meningitis after he collapsed in spring training. The Wisconsin right-hander started his career with the Bronchos in 1902 and the 22-year old wasted little time in proving he was an ace pitcher when he went 17-13 with a 2.77 ERA in his rookie season.
Over his nine year career (all for Cleveland) Joss went 160-97. He picked up the nickname "the Human Hairpin" because of his twisting delivery. 1908 was a special year for Joss and his Nap teammates and it got very special on October 2nd. The Naps entered the contest with the White Sox at League Park only a half of a game behind the Tigers. Joss took the mound mowing down White Sox 1-2-3. Outfielder Joe Birmingham scored a run in the third and Joss kept at it. With two out in the ninth, pinch-hitter John Anderson almost ruined Joss' perfection but his sure double went foul. Anderson then hit a grounder to third, Bill Bradley bobbled the ball but still his throw beat Anderson and Joss went into the history books with Cleveland's first perfect game. The Naps finished the season 90-64 but the Tigers were 90-63 - the AL didn't have a plan to make up postponed games at the end of the season – so the Indians missed the playoffs. For Joss's part he went 24-11 with a league leading 1.16 ERA. In 325 innings that year he only issued 30 free passes (less than one a ball game).
#16 1B Mike Hargrove (1980) vs. #1 SP Stan Coveleski (1918)
When Mike "Grover" Hargrove strolled up to the plate, you knew that you could make that run to the fridge between pitches. Grover was deliberate and had a routine which frustrated opposing pitchers. He would adjust his helmet, adjust his batting gloves, pull each sleeve on his uniform, wipe his hands on his pants and then take a couple practice swings (touching his shoulder each time). This would take up enough time that he was dubbed "The Human Rain Delay". He did that every pitch. Well, it paid off. Five times in his career, Grover eclipsed the .400 on base percentage mark. His good batting eye combined with his routine frustrated pitchers. His career .396 on-base percentage ranks 76th all time.
Hargrove came onto the scene as a 24-year old outfielder/first baseman with the Texas Rangers in 1974 and won the Rookie of the Year award. After five years in his home state (Texas), he was traded to the Padres but things didn't go well in the NL (.192 batting average). On June 14th, only two and a half months into his only NL season, the Padres sent him to Cleveland for outfielder Paul Dade. Grover would regain his form in Cleveland finishing the 1979 season with a .325 average and .433 OBP. In1980, Grover was instilled in the three-hole and put up a .304/.415/.404/.819 slash line with 11 bombs, 85 RBI and 86 runs. The Tribe finished 79-81 and 21 games behind the Yankees that season. Grover would retire after the 1985 season as an Indian having spent seven years with the team. Grover would return as the Indians manager in 1991, leading the Indians to their first playoff and World Series appearance in 1995 - a feat he would duplicate again in 1997. In his career, he was a one time All Star collecting 1614 hits. Grover received an at large bid to this tournament.
After pitching briefly in one season with the Athletics, Stanley "Covey" Coveleski came to Cleveland in 1916 with the intention that he would be a reliever. That didn't last long and at the age of 26, Covey went 15-13 with a 3.41 ERA. His best was yet to come. He followed that up with a 19-14 mark in 1917 and then in 1918 he went 22-13 with a 1.82 ERA in 311 innings. It would start a string of four consecutive 20-win seasons. That season, the Indians and manager Lee Fohl would go 73-54 while finishing 2.5 games behind the Red Sox. A 15-15 May put the Indians 4.0 games back heading into June. Despite going 52-35 the rest of the way the Indians couldn't catch the BoSox.
1920 was a bittersweet year for the Indians hurler. First, MLB banned the spitball but since Covey was an established spitballer he like all spitballers were grandfathered in letting him continue to utilize the pitch. In May, tragedy struck as his wife suddenly passed away. Three months later, Covey's teammate Ray Chapman was killed after getting beaned in the head by a pitch. His team responded by taking the AL championship and then the World Series title. After the '24 season, Covey would be traded to the Senators and then the Yankees before ending his career in 1928. He pitched nine of his fourteen seasons in Cleveland going 172-123 with a 2.80 ERA. Overall the right-hander went 215-142 with a 2.89 ERA. Stan Coveleski was inducted into the MLB Hall of Fame in 1969.
Here are the brackets: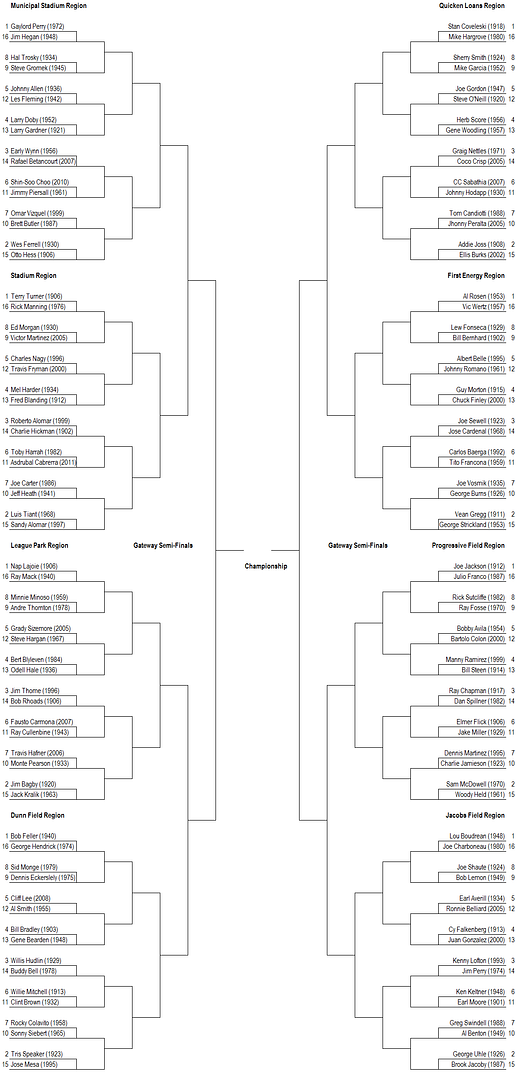 User Comments
Bobby
October 23, 2013 - 9:33 PM EDT
Seconded. These previews are long, but well worth the trip down memory lane and I have even learned some things!
DJ Sebastian
October 23, 2013 - 9:26 PM EDT
Excellent preview, Rick. You have created Tribe baseball's version of March Madness. Can't wait until the tournament plays out.