Tribe Madness: Stadium Region Round 1 results
Our IBI Tribe Madness tournament moves into the first round of the Stadium Region where eight players move on and eight are eliminated.
For an overview of how the tournament works and also an indepth preview into each of the Stadium Region matchups, go here.
#9 Victor Martinez (2005) vs. #8 Ed Morgan (1930)
Ed Morgan cruised to a 162-135 win over Victor Martinez.
V-Mart thumped six April homers to sprint to a 20-17 early lead. Victor's 1.039 OPS set an early standard but he couldn't keep it going and he slipped behind Morgan in May (39-50). For Morgan, the key to grabbing the lead was a .366/.444/.589/1.033 May with 5 homers and 27 RBI. Morgan added to his lead in June and July as he amassed a 112-88 lead in Madness Points. With time starting to run out, V-Mart got his game going in August as he put up a 1.039 OPS and cut Morgan's lead to 137-115 but Victor suffered a September slump (.247 average) to fall in the contest.
The switch-hitting backstop enjoyed League Park belting 17 of his 25 round trippers (.901 OPS). Hitting cleanup, Victor cleaned up when the bases were juiced as he drove in 14 runs in 12 bases loaded at bats and he was extremely dangerous with a 3-1 count (1.455 OPS). Victor also was better focused with one out as he hit .362 in those situations.
With one out in the top of the first on July 27th, Ed Morgan hit a line drive single between the third baseman and shortstop. It was part of a 3-for-4 day that included his 40th double and 14th homer. Morgan was stranded on base after that single but it started a string of 18 consecutive games that Morgan would collect a base hit as his average climbed twelve points (.332 to .344). The one situation that propelled Morgan to victory was his 1.049 OPS in late game/close game situations. In 128 such at bats, Morgan sent six balls in the cheap seats and drove in 23 runs. Morgan's 1.060 OPS with runners in scoring position was pretty impressive as well.
#10 Jeff Heath (1941) vs. #7 Joe Carter (1986)
Joe Carter powered his way to a 126-75 victory over Jeff Heath.
While Heath and Carter both put up similar offensive numbers, it was Carter's 32-21 advantage in homers which helped him drive in 42 more runs and put him over the edge. Carter really put the hammer down from July through September belting 21 of his homers and driving in 81 of his runs. With two grand slams, Carter drove in 25 bases loaded runs while putting up a 1.235 OPS. Carter also put 10 balls into the cheap seats in his 98 at bats with a 1-2 count. That count appeared magic to Joe as he put up a 1.040 OPS.
While Heath was overpowered by Carter, he also struggled in late game/close game situations. Jeff slumped in those situations to a .204 average (.619 OPS). That's not to say Jeff wasn't clutch, as he did perform with runners on first and third (1.342 OPS), second and third (1.711 OPS) and bases loaded (1.065 OPS). Seeing pitchers a second, third or fourth time wasn't an advantage as Heath put up his best numbers in the first three innings (.332 average and .918 OPS).
#11 Asdrubal Cabrera (2011) vs. #6 Toby Harrah (1982)
Asdrubal collected more extra-base hits and RBI, but Harrah did the more important things like get on base. As a result Toby took down Asdrubal 186-147 in the battle of infielders.
Entering August, Toby had a .788 OPS but then turned in his best months by hitting .360 (1.023 OPS) and .347 (.911 OPS) in August and September. Toby was a machine at Cleveland Stadium hitting .328 with 10 bombs but his numbers dropped at Jacobs Field (.294 with 8 round trippers). Things didn't start out well for the third sacker as he started the season 0-for-15 but went on a six-game hitting streak to pull his average from zero to .300.
Asdrubal on the other hand got off to a hot start and by the end of April he was hitting .341 but then slumped in May hitting only .231. While he only got 19 at bats with runners on every base, Asdrubal capitalized on those nine at bats belting two grand slams and driving in 23 runs (1.277 OPS). His advantage was most evident at the beginning of games as he hit .325 in the first three innings. His numbers waned as the games went on hitting .261 in the middle three innings, .246 in the seventh through ninth innings and he hit a measly 3-for-16 in extra innings. Defensively Asdrubal committed 28 errors while Toby only misplayed 7 balls.
#12 Travis Fryman (2000) vs. #5 Charles Nagy (1996)
Nagy romped and stomped his way to a 195-135 victory over Fryman.
A miserable month of April put Travis behind the eight-ball. It wasn't until the final day of that month before Fryman crossed the Mendoza-line and for good. Travis then went to work hitting .356 in May, his best month, but the hole he dug himself in April just was too much. Travis raked with one out (1.046 OPS) as he thrived when there wasn't the pressure of making the first or third out of the inning. Travis did hit 9 of his homers with two outs which was his highest total of any of the out situations. Travis also got it done with the bases loaded by belting two grand slams, driving in 25 and hitting .550 (1.450 OPS).
Nagy was 4-3 heading into June; then he resembled Cy Young going a combined 9-2 in June and July. He then lost it going 2-9 the final two months. Sir Charles was most successful in late game/close game situations holding the opposition to a .217 average (.608 OPS). After plodding through the top four hitters in a line-up, Charles surprisingly struggled against the number five hitter in the lineup as they belted 12 homers while posting a .922 OPS against him, by far the highest of any spot in the order.
In head-to-head action, Fryman hit .301/.338/.447/.786 with 3 HR, 9 RBI and 20 runs scored. Nagy struck Travis out 33 times. While Fryman's average was slightly better against Sir Charles, his other numbers waned. On the head-to-head battle, I'd call it a draw or slight advantage to Nagy.
#13 Fred Blanding (1912) vs. #4 Mel Harder (1934)
On opening day, Mel "Chief" Harder held Fritz Blanding's boys to four runs through eight innings. With a 9-4 lead, Chief took the mound in the 9th. He quickly retired the leadoff hitter but an error on the shortstop put a runner on and manager Casey Stengal made the call to the bullpen. When the dust settled, Chief's Indians held on for a tight 9-7 win. Like on opening day, Chief edged Fritz in every month through August (196-149) and held on despite a poor September for a 220-213 win.
Chief was at his best during the dog days of summer going 7-5 in July (2.63 ERA) and August (2.29 ERA). August was his most impressive month holding Blanding's crew to a .197 average. Harder was especially impressive in preventing the long ball as he only surrendered six gopher balls all season.
Fritz Blanding also enjoyed July (2.48 ERA) and August (1.75 ERA) going 6-4. After starting off going 1-4 with a 4.33 ERA, manager Casey Stengal moved Fritz to number two in the rotation thus eliminating the head-to-head pitching duel. Late game, close game situations were Fritz's bane as he let hitters rake to the tune of a .323 average. Fritz did buckle down when the bases juiced as he held batters to a .174 average.
Next up: #5 SP Charles Nagy (1996) vs. #4 SP Mel Harder (1934)
#14 Charlie Hickman (1902) vs. #3 Roberto Alomar (1999)
Hickman edged Alomar in a tightly contested matchup for a 273-270 victory.
Roberto Alomar got off to a hot start using a .333 average with a .906 OPS in April to jump out to a 42-30 lead. "Piano Legs" Hickman stormed back in May as opposing pitchers couldn't get him out (.563 average, 5 homers, and a 1.531 OPS) and he jumped to a 98-86. By the end of June, it was all locked up at 138-138. Robbie then edged ahead 183-181 after July and stretched it to 236-220 in August. Robbie's August was spectacular as he hit .362 with 10 bombs. In September, Robbie slumped (.254 average) and Charlie raked (437). Hickman's rally started on September 3rd when he went 3-for-4 with one run and a triple. Charlie used the day to springboard his comeback as he would hit in the next 21 straight games and raise his average from .379 to .396. The streak enabled Hickman to a 1.174 September OPS, and in contrast, Robbie suffered his worst month with a .254 average and .732 OPS.
Despite the narrow loss, Robbie was clutch most of the season. Robbie had a 1.061 OPS in the seventh through ninth innings then added a 1.467 OPS in extras. In late game, close game situations, Robbie had a 1.061 OPS as well as a 1.033 OPS with two outs and a .973 OPS with two outs. Piano Legs had numbers similar putting up a 1.068 OPS in late/close situations, a 1.075 OPS in the seventh through ninth innings, and a 1.750 OPS in extras.
Next up: #6 Toby Harrah (1982) vs. #14 1B Charlie Hickman (1902)
#15 Sandy Alomar (1997) vs. #2 Luis Tiant (1968)
When El Tiante took the mound, it was all over. Luis completed 29 games with seven of those shutouts. He struck out an amazing 455 batters and only had a measly 1.89 ERA. How dominant was El Tiante? His 3-2 with a 2.83 ERA month of April was his worst month of the year. He posted an identical 1.89 ERA at both Cleveland Stadium and Jacobs Field. He held opponents to below the Mendoza-line (.173) in every single month of the year. The Sandy team's only hope was to get ahead in the count as they hit .280 in those situations. Tiant's performance was so dominant that only two spots in the order hit over .200 (third .225 and ninth .202).
Sandy in fact hit pretty well against every pitcher except El Tiante. The older Alomar brother hit .338 in April and .343 in August. He was very effective at the Jake (.841 OPS) as he drove in 53 of his 96 runs at home. Alomar was very good in late game/close game situations, hitting .312 in such spots. Alomar also saved his best for the latter stages of the game hitting .322 in innings seven through nine and put up an .837 OPS in extras.
Really, Tiant was Sandy's Achilles heel as the Cuban right-hander held him to a .178 average and struck him out 33 times. Alomar hit .177/.191/.280/.471 with 2 homers, 9 runs and 10 RBI against Tiant.
Next up: #7 OF Joe Carter (1986) vs. #2 SP Luis Tiant (1968)
#16 Rick Manning (1976) vs. #1 Terry Turner (1906)
It wasn't pretty but Terry Turner won the battle of leadoff hitters 174-160.
Cotton Top did it by turning it on in September. Entering the final month with a frustrating .249 average (.301 OBP), Turner hit .391 and got on base at a .427 clip. That final month allowed Cotton Top to raise his average 24 points. For a leadoff hitter, Turner wasn't very good in the first three innings posting a .272 OBP. He did get better as the game went on (.348 in 4-6, .368 in 7-9 and .400 in extra frames). If Cotton is going to advance in this tournament, he will need to improve on those stats and his poor .229 average with no outs.
In the NCAA tournament, a number 16 seed has never defeated a #1 seed. In this tournament, it almost happened in the second region. Well, it was there for the picking if Manning had performed better. Despite a 10-game hitting streak in April, Manning only had a .207 average for the month. Manning did improve every month until a .369 August but slumped in September.
Next up: #8 1B Ed Morgan (1930) vs. #11 SS Terry Turner (1906)
Here are the results in the bracket: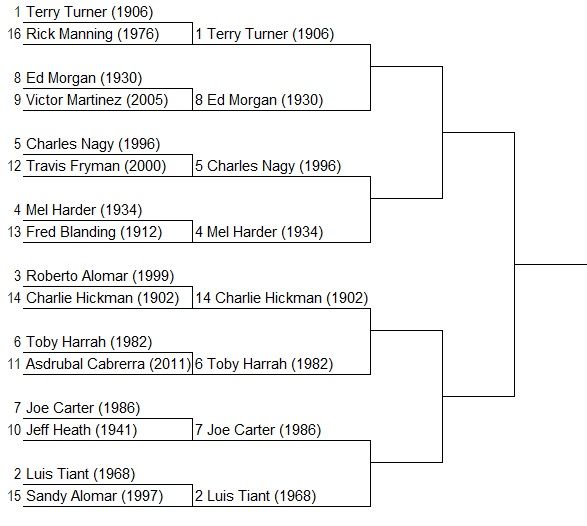 User Comments
No comments currently. Be the first to comment!