Video Recap: More 2010 Videos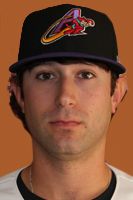 (Photo: MiLB)
Here is a listing of all the final 2010 videos I shot this year that I have just uploaded for on-line viewing. These have been on
my You Tube page
for a few weeks but I had not posted them on the IPI until just now. Some of these players had videos made earlier in the year, but these are recent videos from July-September.
Players shot include: Eric Berger, Bo Greenwell, Brian Heere, Bryan Price, Carlton Smith, Chase Burnette, Chun Chen, Jeremie Tice, Jeremy Johnson, Josh Rodriguez, Kirk Wetmore, Matt McBride, Michael Goodnight, Nick Bartolone, Ron Rivas, Tim Fedroff, Trent Baker, Tyler Cannon, Jason Kipnis, Jerad Head, Jess Todd, John Drennen, Preston Guilmet, Takafumi Nakamura, and Jose Flores.
As always, many thanks to the talented Michael Taylor for taking the time to edit these videos and present them in a professional manner.
Note: Since a lot of videos will be shown, please be patient while the videos load
Eric BergerBo GreenwellBrian Heere:Bryan PriceCarlton SmithChase BurnetteChun ChenJeremie TiceJeremy JohnsonJosh RodriguezKirk WetmoreMatt McBrideMichael GoodnightNick BartoloneRon RivasTim FedroffTrent BakerTyler CannonJason KipnisJerad HeadJess ToddJohn DrennenPreston GuilmetTakafumi NakamuraJose Flores
User Comments
No comments currently. Be the first to comment!