Wait Till Next Year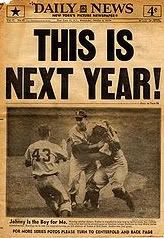 Please welcome Gregory Dew to the IPI. He is a new site columnist who will be providing commentary and other pieces specific to the Cleveland Indians this coming season. Welcome aboard, Greg.
"Wait till next year."

For Cleveland sports fans, this has become a much cursed rallying cry.

For the Cleveland Indians, it has become an organizational strategy.
This strategy acknowledges this market, in the current state of baseball economics, is never going to allow Cleveland to keep many home grown players once they hit free agency.

But it is not a defeatist strategy.

It is designed to produce wave after wave of minor league prospects.

It is a "next man up philosophy."
Done properly, a planned introduction of players will not allow windows of opportunities to close for long.

It will not require the fire sales that have become the bane of existence for Indians fans in the new millenium.

In order to be successful, the Indians will need a plan to introduce a rookie positional player AND pitcher to the major league roster.

Year after year, the front office will need to produce two major league ready players, and then declare to the fans they ain't seen nothing yet.
Just "wait till next year."
To better understand this philosophy, look at the successful organizations in baseball with similar market size.

The Tampa Bay Rays had a plan in place two years ago to replace Carl Crawford and Matt Garza with Major League ready prospects.

It is a plan that has been working for years for the Minnesota Twins.

Yes, they've signed Joe Mauer and Justin Morneau to long term deals, but they also did not skip a beat when they were unable to lock up Johan Santana to a contract extention.

Nor did the Colorado Rockies collapse when Matt Holliday left.

Even the Oakland A's have stayed relevant through years of rotating rosters.
How have they done it?
Trading players that would not be resigned has been done multiple times.

The Twins traded Santana while both the Rockies and A's traded Holliday.

The A's have also held onto their players in an attempt at winning and then garnered extra draft picks when the players leave.

That is the strategy the Rays are now employing.

And it is the strategy the Indians are about to embark upon.
The Indian fire sales of 2008, 2009 and 2010 were necessitated by a weak farm system, depleted by years of poor drafts.

Conducting yearly fire sales is not a sustainable plan for excellence, obviously.

The Rays have lost a cornerstone offensive player and a good pitcher but still expect to contend this year with replacements from their system as well as two stop-gap positional players. They are in this position because of years of drafting quality and quantity.

They have built organizational depth that will continue growing with the upcoming 2011 Draft where the Rays have 10 picks before the second round even begins.

That is taking the draft seriously.
And now look at what the Indians are setting up to do with their drafting strategy.
The 2010 Draft saw the Indians put their organizational monetary might behind the prospects they had just drafted, often times spending more than MLB suggested to sign their top 14 selections.

The return pumped MLB projectable talent in the form of pitchers Drew Pomeranz, Kyle Blair, and Cole Cook as well as positional players LeVon Washington, Tony Wolters, and Alex Lavisky.
Add to them recent standout draftees Lonnie Chisenhall, Alex White, and Jason Kipnis, and the prospects to come from a strong 2011 Draft and it is easy to see who fans of the Indians will "wait till next year" to see over the coming years.
To be sure, it is a strategy rife with peril.

Cleveland fans know "wait till next year" has not worked since the 1967 rallying cry produced the Browns' 1968 NFL Championship.

Prospects do not always pan out.

Injuries happen, players do not develop as planned. But a well run, deep farm system stocked with players drafted by the organization will provide a cushion to absorb the misses of a draft.
The system being developed by the Indians will provide a sustainable resource of players to replenish those who leave.

This year, Carlos Carrasco, Chisenhall, and Kipnis will attempt to make their mark at some point in the season.

And then "wait till next year" when Alex White hopefully steps forward.

And then "wait till next year" for yet another wave of players.
User Comments
No comments currently. Be the first to comment!