Washington, Wolters Making Adjustments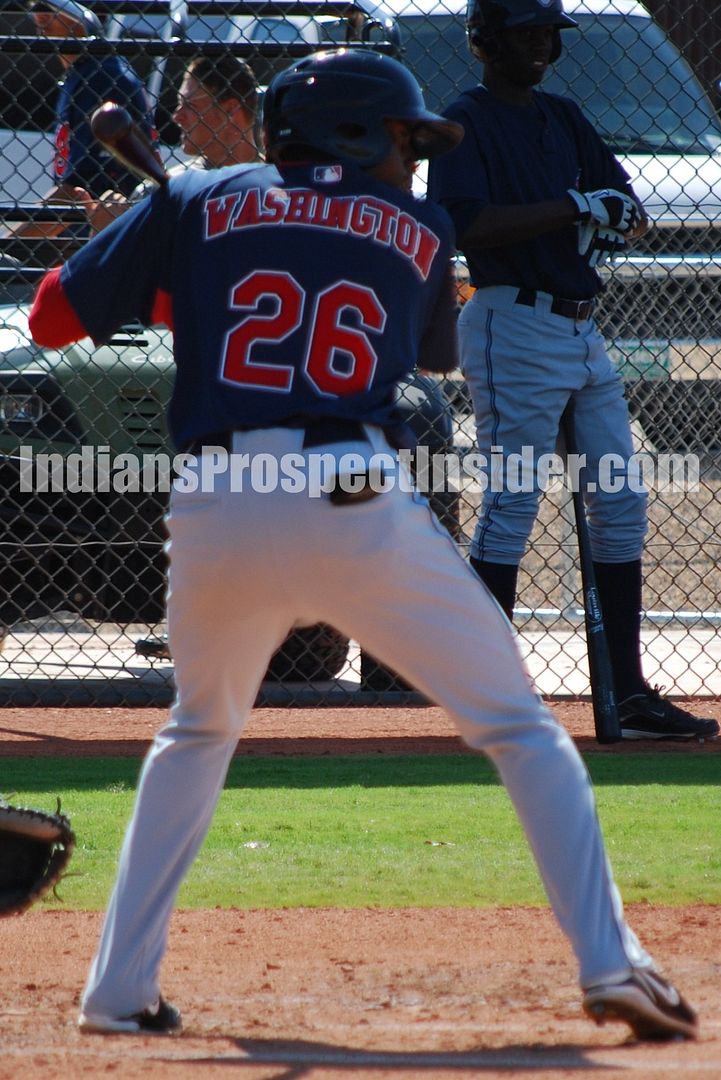 Instructional League has come and gone, and with that so has the first real experience as a professional baseball player for Indians outfielder LeVon Washington and shortstop Tony Wolters.
Washington, who turned 19 in July, was the Indians 2nd round pick in the 2010 Draft while Wolters, who turned 18 in June, was their 3rd round pick. Both players did not sign until the August 16th signing deadline, and immediately after signing both went out to Arizona to participate with the Indians' rookie-level affiliate in Arizona for the final week of the season. Washington went 4-for-9 with three RBI in three games while Wolters went 4-for-19 with three RBI in five games.
Since both signed so late they missed out on an opportunity to get their feet wet this summer with adapting to the every day grind as a professional baseball player. Instructional League helped give them an idea of what to expect next year as their first spring training and full season loom.
"It is a lot different as it is a grind and everyday, but I like it a lot," said Wolters who just graduated from high school this past June. "I know [playing for] Team USA helped me a lot to get used to playing everyday."
Washington feels the same way, though he did have a season of college under his belt as he attended Chipola Junior College in Florida this past year. He was signed to go to the University of Florida, but his SAT was not high enough so that is why he ended up at Chipola.
"It's fun, but it's a lot different," added Washington. "I went to rookie ball for about a week and got about ten at bats. You don't really get a day off, so you have to be ready to play everyday and that's the biggest difference. I also didn't expect it to be this nice of a field and for the facility, training room, food and everything to be good. I expected it to be terrible out here."
Instructional League provided both Wolters and Washington a chance to make some early adjustments and for the Indians staff to get their first extended looks at them in order to help put together a development plan for them next year.
Washington made the first of many adjustments to his swing where he has brought his hands up and implemented a leg kick into his swing. But for him, the focus in the early going has been on his full time transition to center field. He was an infielder in high school, but converted to the outfield at Chipola this year and it is there where the Indians see him in the future. The Indians like his speed and ability to cover gaps, and the ability to track down balls and go back and come in very well on them. They feel that he can one day be an above average centerfielder.
One thing Washington will have to overcome is an injury to his shoulder he suffered in high school. He had surgery to correct the problem, but while his arm will never be a strength in his repertoire he feels the shoulder is fine.
"I am just going to play center and am not going to play the infield with the Indians," said Washington. "[My arm] is not how it used to be and I don't think it ever will be, but I can hit the cutoff man. I had surgery and am still coming off that, so I think I can get it stronger. I am not going to throw anybody out and just have to catch the ball and get it in."
Wolters is a sound defender, and the Indians believe he has the ability to remain at shortstop as he displays very good hands, actions, and instincts for the game. But the first order of business for him will be to help him improve as an offensive performer. He is still searching for his swing, which is not uncommon for a player his age breaking into pro ball.
"It is tough trying to really figure out my timing and everything with my swing," said Wolters. "I haven't found mine yet, so it is tough right now as I am trying to get it back. So [I've made] a lot of different adjustments like bringing my hands up and am learning a lot of new things. It is just a lot of little things I never knew of as I used to just go up there and swing [in high school], but now I kind of know what big leaguers would think about [when they hit] so that is kind of cool. It is really a hard adjustment and is going to take awhile that's for sure."
As the timer now ticks down to the start of the 2011 season, both Washington and Wolters will hit the weight room in an effort to get bigger and stronger. Washington himself said he "hopes to add ten pounds" this offseason.
Their first offseason is now officially here, and their future at the moment could not be any brighter.
Follow Tony and the Indians Prospect Insider on Twitter @TonyIPI. His latest book the 2010 Cleveland Indians Top 100 Prospects & More is also available for purchase on his site for a special year end closeout sale of $10.00 (including shipping and handling).
User Comments
No comments currently. Be the first to comment!