Weekend Update 3/9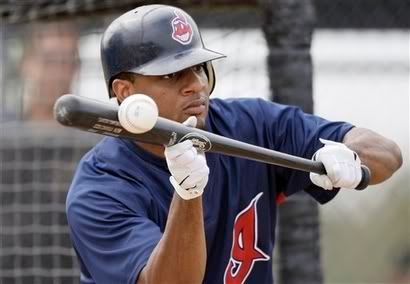 Looking outside at the two feet of snow that was dumped on NE Ohio over the past 48 hours, I can't believe the home opener is just three weeks away. Well, at least I get to leave the snow in a few days and will be in Winter Haven for two weeks.

Francisco Stuck In A Holding Pattern

Barring an injury to Grady Sizemore, Franklin Gutierrez, David Dellucci or Jason Michaels, outfielder Ben Francisco already has his ticket punched to Buffalo when the season opens in April. Even with a platoon situation in left field, Francisco will not be kept on as a fifth outfielder. Also, Shin-Soo Choo's roster issue also will come into play early in the year as Choo is out of options. Choo should be ready to return to action with the big league club sometime in May, so the Indians will likely wait and see what happens with Choo when he comes back from his elbow injury before Francisco gets a shot.

Still, while it is unfortunate that Francisco will not break camp with the Indians, this is the right move at the outset of the season. As a fifth outfielder, Francisco would barely play, whereas going to Buffalo ensures he plays everyday and can stay sharp. He would be a phone call away and be ready to play if one of the outfielders in Cleveland were to go down with an injury. Also, while Francisco is clearly ready, it is probably best to have Francisco open the season in an environment with much less pressure than to open the season with the big league team. So often you see a young kid open the season with a major league team and then struggle because they press early on as they try to validate their inclusion on the opening day roster. It makes more sense to have Francisco get the season started in Buffalo, relax, and be ready for duty sometime later in the year.

Going back to Buffalo will undoubtedly be frustrating for Francisco, as it will be his fourth year there. He won the International League batting title last year when he hit .318 with 28 doubles, 12 HR, 51 RBI, and 22 stolen bases. That said, he is still not a finished product. While he can be a quality major league hitter right now, the Indians still want him to work on his route running in left and right field, and also become a more fundamentally sound base-runner. This should be Francisco's last year where he starts in Buffalo, as he is penciled in as Michaels' replacement in the outfield next year.

Miller Bides His Time

It is starting to look like right-hander Adam Miller will be put under wraps until the start of the season in Buffalo. Miller came to camp healthy, but has been sidelined in camp by a blister on the middle finger of his throwing hand. After not throwing for a week to allow the blister time to heal, Miller played catch at 120 feet on Monday and Wednesday. He threw a 35-pitch bullpen session on Friday and came out fine, and is scheduled to throw another bullpen session today.

It has certainly been a frustrating past twelve months for Miller, who at this time last year had the hype machine at full throttle when he was dominating in spring training (14 shutout innings pitched) and there was some rumbling he could win a spot in the Indians rotation with Cliff Lee hurt. But, Miller ended up starting the year in Buffalo and a little over a month into the season he injured the middle finger on his throwing hand. He returned almost two months later, and after just a handful of starts he went on the disabled list again with elbow inflammation. He returned at the tail end of the season to pitch a few innings in Buffalo and for Akron in the playoffs. He went to the Arizona Fall League in November to get more work in, but in his last start ended up re-injuring his middle finger.

The Indians are being cautious with Miller, who even with the injury troubles over the past year is still their most prized prospect in the system. Even when Miller gets cleared for game action, the Indians are not expected to have him pitch in any games this spring. He most likely will continue to get his work done on the side in bullpen sessions and possibly get a few starts near the end of minor league camp. Even with the setback, he should be ready to start the year in Buffalo, only that he may be on a strict 70-75 pitch count his first few starts.

Crowe Settles In

Last year was a learning experience for outfielder Trevor Crowe. After he received an invite to big league camp and impressed team officials, the general feeling was that he could debut in Cleveland sometime over the course of the season. Crowe knew this, but it ended up being a huge distraction as he put a lot of pressure on himself to perform and put up good numbers early in the season to warrant a callup. As a result, he struggled and it snowballed on him fast where three months into the season he was still only hitting .192 as of June 26th, which is unheard of for a top prospect.

The Indians kept hammering it into Crowe that he needed to simplify his approach and not worry about the results. Crowe finally relented and began to relax and concentrate on his daily work and how best to prepare for baseball at a higher level, and responded by hitting .323 from June 26th until the end of the season. Crowe followed that up by hitting .355 in the Eastern League playoffs, and impressed in the Arizona Fall League when he hit .286.

Fast forward to 2008, and once again Crowe is being looked at as a prospect you could help the Indians at some point this season. Crowe will take his craft to Buffalo to start the season where the focus will be on him becoming more defensively sound at the corner outfield positions, improve his base-running, and keep putting up quality at bats. It will be interesting to see how he performs under expectations the second time around.

Minor League Assignments

During the offseason, there is a lot of uncertainty in trying to decipher where Indians prospects will be assigned in the upcoming season. Filling out most of the Buffalo roster is not too hard, and there are some locks at a few positions in Akron and below, but after that things often get dicey. The players themselves are in the same position as they usually do not know where they are going until camp breaks and the season starts.

When the season ends, the player development staff holds exit interviews with their players to let them know how they feel about their progress from the completed season, what they need to work on in the offseason, and also give a general hint at what level they could start at next season. Then, when minor league camp opens in the spring, the staff once again sits down with the players to give a vague idea where players may end up, give an update on their progression, and ask the players to self-evaluate themselves to be sure the player and organization are on the same page. The staff already pretty much knows who is going where when camp starts, but they do not tell anyone and (barring injuries) how the players perform in camp usually does not change much.

Mr. MVP Goes For Three

Indians first base prospect Jordan Brown is going for the trifecta this year. After winning the Carolina League MVP Award for Single-A Kinston in 2006 and the Eastern League MVP Award for Double-A Akron last year, Brown is going for three in a row with the International League MVP for Triple-A Buffalo a real possibility this season.

Brown is on the cusp of getting a major league chance. If one of Ryan Garko or Travis Hafner were to go down with an injury for any length of time, Brown could get a shot, although at this point Michael Aubrey would get the first shot at a callup. Brown was the batting champ in the Eastern League for Akron last year when he hit .333, which actually led all of Double-A baseball. He managed all this with a knee issue that bothered him the last half of the season and limited his ability to drive the ball. Brown had arthroscopic surgery on the knee in the offseason to correct the issue, and was held back some early in camp as he was still not a 100% recovered from the surgery.

Brown is now ready to go, and the Indians already view him as a major league quality hitter. The Indians want Brown to focus on improving his defense at first base, which is where he will play this season. He needs to become more fluid in his movement around the bag and work on his first step quickness. It was thought that his experience in the outfield would allow him to split time at first base and the outfield this year in Buffalo considering how crowded the outfield and first base will be there this year, but for now the plan is to only play Brown at first base this season.

Laker Apologizes

Former Indians catcher and current minor league catching coordinator Tim Laker talked to the press this week about his use of steroids in the past. Laker was one of 89 current and former players who were listed in the Mitchell Report for using steroids. Laker openly expressed his regret for using steroids and apologized for his involvement. Laker started using steroids at age 25, and he explained that he was young and not wise and thought steroids would be a shortcut to get past his issues with colitis and weight issues.

Laker used steroids from 1995-1999 and stopped taking them in 2000, and is one of those cases where steroids clearly did not help from a performance perspective as he only had a .226 career batting average in his 11-year career. Laker recently had his gall bladder removed this offseason, and his health issues forced him to step down as the skipper for the Indians short-season Class-A affiliate Mahoning Valley. Laker was reassigned as a roving catching coordinator.

Infirmary Report

Left-hander Juan Lara's career is still in serious doubt as he recovers from several surgeries after a fatal car accident that killed two people over the winter. Lara will not play in 2008 - if ever again - but the Indians plan to leave him on the 40-man roster for the entire season. Since they can put him on the 60-day disabled list when the season starts, he will not count toward the 40-man roster and he will not prevent another player from being rostered. He will likely remain on the 40-man roster all year until the end of the season when his roster spot will be needed for another player (there is no disabled list in the offseason). Keeping him on the roster will allow him to continue receiving a major league salary and medical benefits, and the Indians want to be sure he is taken care of financially. Kudos to the Indians for their goodwill here.

Shin-Soo Choo is continuing his rehab from Tommy John surgery on his left elbow last fall, and is throwing at 120 feet and taking batting practice. He is expected to play in games late in spring training as a designated hitter, but when the season starts he will remain in extended spring training to continue his rehab. He likely will go on a minor league rehab assignment sometime in May.

Left-hander Tony Sipp threw a 60-pitch bullpen session this week. Sipp is still recovering from Tommy John surgery last July, and is not expected to be ready for game action until later this summer.

Indians third catcher Wyatt Toregas has a sprained right index finger from being hit by a ball over a week ago. He is supposedly fine, and returned to game action yesterday.

Parting Shots

2007 first round draft pick Beau Mills will split time at first base and third base this year. Mills has had some shoulder issues with his throwing arm, so plans of playing Mills at third base have been put on hold for now. Because of some concerns with the strength in his shoulder, Mills is working out solely at first base this spring. When the season starts, he could split his time at both positions. ... Rule 5 Update: Outfielder Brian Barton is hitting .333 (6-for-18) with 1 HR and 2 RBI for St. Louis, and first baseman Matt Whitney is hitting .000 (0-for-8) with 0 HR and 1 RBI for Washington. Barton had some knee issues early in Cardinals camp, but looks like he will stick with St. Louis. Whitney is an extreme long-shot to make the Nationals opening day roster, and barring injury he should return to the Indians at the end of spring training.

User Comments
No comments currently. Be the first to comment!