Weekend Update: Goleski Gonzo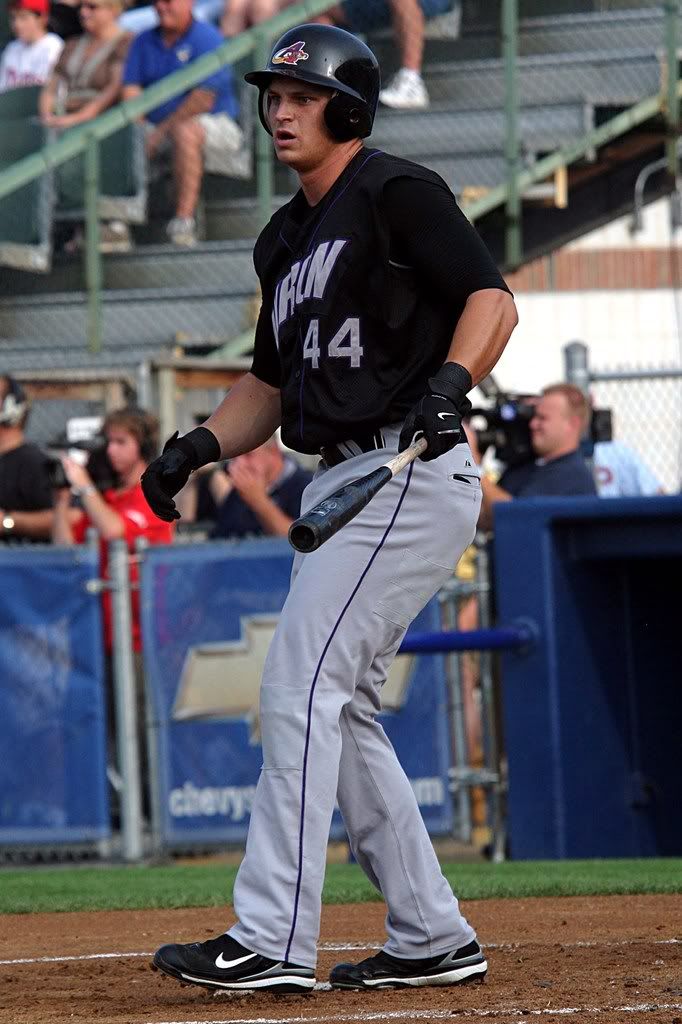 Taking a quick break from the prospect rankings (two players will post later today), here is a rundown of the week that was in the farm system for the Indians:
The Indians recently released outfielder Ryan Goleski. He finishes his six-year Indians career a .267 AVG, 102 HR, 425 RBI and an .800 OPS in 674 games. Most will recall he was taken in the 2006 Rule 5 Draft by the Oakland A's, but ended up being returned to the Indians when he did not make their opening day roster out of spring training in 2007. Goleski's poor seasons since may then have been a byproduct of the disappointment from not making the Oakland A's opening day roster and returning to the Indians where he was essentially being buried in a system deep with outfielders. He was pretty vocal about his displeasure of having to come back to the Indians, and according to sources who watched Goleski a lot since then, he showed a lack of passion that seemed to carry over into his performance on the field and at the plate.
To be fair to Goleski, it is only human nature to be disappointed in not seeing your major league dream realized and instead having to go back to the daily grind in the minors. On top of that, he also had injured his wrist during that offseason and it was not 100% healthy when the 2007 season started. The wrist injury would help explain the evaporation of his power in the early part of the 2007 season, but where his power went the second half of 2007 and all of 2008 remains a mystery. Most of this is probably due to the development of some bad habits since recovering from the wrist injury, and the Indians worked with him to try and correct them.
He also likely was putting too much pressure on himself to try and impress the organization or other teams by trying to hit more home runs, which resulted in his swing getting long. Some people I know well even went as far as to say that Goleski mailed it the last two seasons because he was still steaming over being returned to the Indians. The Indians did not even have to release him now, but they felt his at bats and spot was better served going to someone who wanted to be here and would be fine with filling an outfield role in Double-A where they desparately need players. Obviously, Goleski would not have been happy returning to Akron for a fourth season, so the Indians probably felt it best to part ways. The sad thing is that if indeed Goleski did mail it in as mentioned above, this is sad that a player would take things to such extremes that they in effect ruin their career.
Now a free agent where he can play with whoever he chooses and will have him, if he can ever get past his issues, he is a prototypical right-fielder in that he brings power to the plate and has a cannon for an arm. His biggest problem is consistency as he put up great numbers in 2004 and 2006, but has tapered off considerably the last two seasons. He needs to overcome the bad habits that have plagued him since 2007, and if his power returns and his two strike approach gets back to where it was in 2006, he could put himself back on the prospect map in a new organization.
**********
Most of these names I made mention of unofficially last weekend, but here is the official list of players the Indians have participating in the two week Winter Development Program:
Michael Brantley (OF/1B)
Jordan Brown (1B/OF)
Jose Constanza (OF)
Ryan Edell (LHP)
Chris Gimenez (C)
Stephen Head (1B/OF)
Frank Herrmann (RHP)
Wes Hodges (3B)
David Huff (LHP)
Matt LaPorta (OF/1B)
Jon Meloan (RHP)
Beau Mills (1B)
Josh Rodriguez (SS/2B)
Hector Rondon (RHP)
Rich Rundles (LHP)
Carlos Santana (C)
Erik Stiller (RHP)
Luis Valbuena (2B)
Neil Wagner (RHP)
Steven Wright (RHP)
**********
The Indians this week invited eight non-roster players from their player development system to big league camp this spring: Ryan Edell (LHP), David Huff (LHP), Jordan Brown (1B), Stephen Head (1B/OF), Wes Hodges (3B), Beau Mills (1B), Michael Brantley (OF), and Matt LaPorta (OF). Others like Trevor Crowe, Chris Gimenez, Hector Rondon, and Carlos Santana will also be in big league camp because they are already on the 40-man roster.
So how do they go about picking who goes to big league camp and who does not? Well, in some cases it can be quite a bit of drama behind the scenes as obviously some players will feel slighted when they are not selected, but hopefully they don't let it affect them. Basically, these guys are invited either because it is written into their contract that says they have to be invited or because the Indians deem them as potential major league options sometime this season. A lot of the high round draft picks - particularly the first rounders or those who slid and commanded a large signing bonus - have it written into their contracts that they attened big league spring training. This is why high profile draft pick signings like Mills, Hodges, Miller, LaPorta, etc usually are at big league camp right from the start, while others like an undrafted Frank Herrmann really are not invited.
The Indians really only take what they are obligated to and what they want to get a closer look at in spring training as they prefer that as many players as possible work out in minor league camp to stay in their routine and continue to work with the coordinators and all the coaches down there who can give them lots of time and know them well. At big league camp these players get to enjoy the experience, for sure, but they don't get that one-on-one attention or regular work like they would get (and need) in minor league camp. So, really, the ones who get invited to big league camp are the players who are close to finished products and are viable options they may turn to in the upcoming season that Wedge, Shapiro, and their staff want a closer look at in practice and in a few Cactus League games.
**********
A 60-foot baseball sculpture created by world-renowned artist Donald Lipski was installed at the spring training complex on Friday. The 6,000-pound fiberglass sculpture is located at the main entrance of Goodyear
User Comments
No comments currently. Be the first to comment!