Weekend Update: Indians Sign European Catcher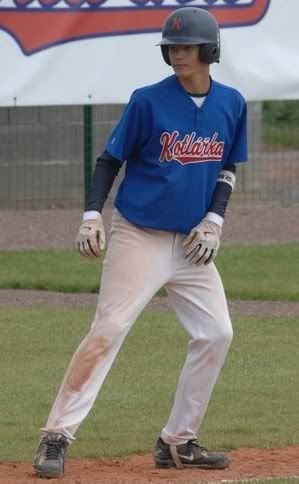 It is time for another weekend rundown of the happenings from the past week in the Indians farm system. Spring training is already underway for the big league players, but minor league camp has yet to start, although the start of camp is creeping up fast. Some players will report to early camp which starts this Wednesday February 25th, but most of the players will report on Thursday March 5th (pitchers) and Saturday March 7th (position players).
**********
The Indians signed European catcher
Martin Cervenka
a few weeks back. While the 17 year-old native of the Czech Republic was signed to an unknown amount, he will actually not join the Indians until 2010 as he will play for his native team Kotlarka this year.
According to an Italian friend from
our message board here on the site
, a scout out there told him that Cervenka is "tall and skinny, with a light bat, has no fundamentals, and is a terrible base runner. His throw from home plate to second base in 2.3 seconds without any precision."
Not exactly a ringing endorsement for Cervenka, although it is just one viewpoint. Regardless of his ability, this is an interesting signing as one does not normally think major league scouts are out in Europe and beyond scouting prospects. The Pacific Rim, yes, but Europe? In any case, the Indians supposedly gave him a hefty signing bonus to sign (unknown) to where it is the third highest for a European player. The Twins' Alexander Smit has the largest signing to date ($800K).
This is certainly one to file away as we won't hear much of Cervenka until he reports to the Indians a year from now.
**********
A big thanks to outfielder
Nick Weglarz
for taking the time to come on our radio show
Smoke Signals this past Thursday
. Weglarz came on and talked for about 25 minutes, sharing his Olympic experience from last summer, the upcoming World Baseball Classic (WBC), his season in Kinston last year, and what he is doing to prepare for what is looking to be a big 2009 season for him in Double-A Akron. Weglarz will be leaving the Indians next weekend to join his Canadian teammates in Florida for a few exhibition games before they kick off WBC play against Team USA in Toronto on March 7th.
This week (Feb 26th), first baseman/outfielder Stephen Head will be on the show.
**********
On Thursday, the Indians traded minor league infielder
Isaias Velasquez
to the Tampa Bay Devil Rays for right-handed reliever
Juan Salas
. In connection with the move, since Salas was on the Rays 40-man roster, the Indians needed to clear space to add him to their 40-man roster, so they designated infielder
Andy Marte
for assignment. For a rehash on the trade,
click here
.
The addition of Salas is an interesting move by the Indians. They already have what appears to be a plethora of bullpen arms at their disposal at both the major league and Triple-A level, so the addition of Salas was certainly a surprise. Clearly, the Indians have scouted Salas in the past, had some good reports on him, and like his live arm. This is a shot in the dark, but a gamble they probably saw as little risk since they only gave up a low level utility player and Salas costs little money. He throws a fastball in the mid-90s, topping out as high as 96-97 MPH, but lacks a second pitch and his command is an issue. Being 30 years old, his development opportunities are pretty much long gone, so I am curious to see how he fits into things and how the Indians manage him this spring and over the course of the season.
Speaking of Marte, I've seen many accounts saying he is gone and tearing the front office to shreds because of it. It should be noted, he is not gone yet and is still property of the Cleveland Indians as he was only designated for assignment. For the Indians to lose him, another team would need to consider him valuable enough to claim him on waivers or trade for him and add him to their 40-man roster. While this could happen, it does not appear very likely to actually happen. If he clears waivers and another team does not trade for him, then he will be outrighted to Triple-A Columbus. I don't foresee the Indians outright releasing him if he clears waivers, and I think there is a good chance he remains with the Indians (good or bad) this year and is in Triple-A Columbus in some sort of role where he splits time at third base, first base, and designated hitter.
**********
From the Lost & Found files….right-hander
Joe Ness
is still with the Indians. Some may have wondered what happened to him as he participated in spring training last year, but did not appear in a game with any of the Indians affiliates last season. He was never cut after spring training, and no official release was announced at any time last year; however, his disappearance was somewhat of a mystery.
Well, apparently, near the end of spring training last year he ended up having shoulder surgery which resulted in him missing all of last season, and he has spent the last 8-10 months rehabbing it. He will be in spring camp which kicks into gear in about two weeks, and is ready to get back on the mound again.
**********
Baseball America ran a pretty interesting article on Friday more or less saying that newly acquired second base prospect
Luis Valbuena
from the Seattle Mariners this offseason
is going to be the next Asdrubal Cabrera
. Yep, that's right, Cabrera. The same high ceiling middle infield prospect we stole from the Mariners two years ago. To think we got Cabrera and Valbuena (and Joe Smith) for Eduardo Perez and Franklin Gutierrez is mind-boggling. These are two of the most under-rated trades in Mark Shapiro's tenure as GM of the Indians.
User Comments
No comments currently. Be the first to comment!