Weekend Update: Miller To The Bullpen And More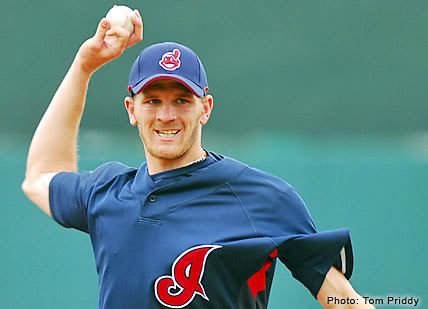 Time for another Saturday rundown to recap all the happenings in the system from this past week as well as a few news items:


Anthony Castrovince did a nice piece on right-hander Adam Miller this week on Indians.com. To summarize the article, Miller's stat line in the Dominican Republic so far (1-1, 6.48 ERA, 16.2 IP, 17 H, 4 BB, 12 K) is better than it looks and he is up to 97 MPH consistently. According to Farm Director Ross Atkins, Miller is set to get two to three more starts then will move to the bullpen out there for the remainder of his time before he comes home around Thanksgiving.

The Indians have officially committed to Miller in the bullpen next year, and that is where he will pitch from the outset of spring training. While he will be a longshot to win a job in Cleveland when camp breaks, it is likely he will be in Cleveland at some point next year provided he is healthy. This is good news though, and It is about time the Indians made this move which was long overdue. Miller has closing stuff, and is someone who could fill that role next year in Cleveland by season's end.

After seeing the success that the Cubs had with Kerry Wood in converting the oft-injured starter into a closer, the Indians obviously took notice and probably see Miller in much the same vein as Wood from a talent and medical perspective. Down the road Miller could move back to the rotation, but right now he impacts the Cleveland Indians the best in 2009 pitching out of the bullpen. This is going to be one of the top storylines to follow next spring and during the season. Just stay healthy Adam.


Outfielder Matt LaPorta has struggled some out in Venezuela this offseason while playing winter ball. In 16 games, LaPorta is hitting .175 with 2 HR, 12 RBI and a .581 OPS, and also has 6 walks and 20 strikeouts in 63 at bats. Coming off his short stint in Akron where he hit .233 with 2 HR, 8 RBI and a .649 OPS in 17 games after being acquired from Milwaukee in the C.C. Sabathia trade, some fans are already getting restless with his performance to date as an Indian. There certainly is reason for concern as in his combined time in Akron and Venezuela, in 33 games as an Indian he is hitting .203 (25-for-123) with 4 HR and 20 RBI.

It can be tough for any American or foreign player who plays out in Venezuela or the Dominican Republic, and in LaPorta's case a firsthand report from out there said that his slow start is partly the result of the umpires who keep expanding the zone on him. So, LaPorta has had a tough time with the large strike zone.

That said, while the concern is noted, it is way too early to go off the deep end and ledge on LaPorta's performance until things settle down for him and he has a chance to play in a regular environment for an extended period of time. Remember, upon being acquired he played a handful of games in Akron, then a week later went to New York for the Futures Game, then went home to Port Charlotte, Florida for a week to spend time with his family after the passing of a family member, then he came back to Akron for ten days, then he went to Beijing for a month and played for Team USA, then he returned to Akron for about two weeks, and then he went home for a little bit between the end of Akron's season and the start of winter ball, and now is in the Dominican Republic. All this in about four months.

Bottom line, this is LaPorta's first full season and the level of competition he has played at in the Olympics and now Venezuela is about as good as it gets next to the major leagues. No doubt he is getting challenged, and when you combine that with all everywhere he has been and everything he has been a part of these past four months, some slack should be given. The performance to date is surely noted, but let's see what he does next season after he comes back in with the batteries recharged and sticking in one spot (Columbus) for what should be most of the first half of the season and then start to grade him out.


I had a chance to talk with catcher/outfielder Matt McBride for about ten minutes this week. McBride is close to wrapping up play in Hawaii this offseason and has performed okay at the plate hitting .277 (31-for-112) with 3 HR, 20 RBI and a .786 OPS in 28 games. He also said the transition to the outfield is going well, and while it was to give him some versatility next year and also help with the rehab of his arm, he has no idea at the moment what position he will be playing next year since the Indians understandably have not told him what position he will be playing.

Farm Director Ross Atkins approached him about the move to the outfield just before Instructional League started back in September, and McBride was fired up for the opportunity. It is likely that McBride still catches next year, but we agreed that in any case he could see some time in the outfield at some point next year whether just on off days from catching or on a more consistent basis if the move is made to take him out from behind the plate permanently.

Also, McBride is locked in as a guest on an upcoming edition of Smoke Signals. No date has been determined, but he should be on anytime between the end of November and early January.


Third baseman Wes Hodges has been hot of late in the Arizona Fall League (AFL) and has been one of the best hitters this year out in the AFL. Hodges has 10 RBI over his last 5 games and over his last 7 games he is 14-for-33 (.424) with 4 2B, 4 HR & 14 RBI. For the year in Arizona he is hitting .371 (26-for-70) with 6 2B, 6 HR and 23 RBI in 16 games. He is 10th in the AFL in average, tied for 2nd in HR, 2nd in RBI, 5th in slugging % (.714) and tied for 2nd in extra base hits (12).


In addition to being named California League MVP, catcher Carlos Santana has also been named Topps Player of the Year for the California League. Santana had a monster season batting .326 (151-463) with 39 2B, 5 3B, 21 HR, 125 runs and 117 RBI in 130 combined games at Single-A Inland Empire, Single-A Kinston and Double-A Akron. Santana led all minor leaguers in runs and finished 2nd in RBI, tied for 6th in walks (89), 8th in on-base % (.431) and tied for 9th in extra base hits (65). Santana was with Single-A Inland Empire of the California League from April 3rd until being acquired by the Indians on July 26th. He was recently selected as the best hitter in all of Class-A baseball (High A) by MLB.com.


The Indians minor league free agent list just got a little smaller as they signed catcher Damaso Espino and shortstop Andy Cannizaro a few days ago. Espino will likely be the backup catcher at either Triple-A Columbus or Double-A Akron, and Cannizaro could be the starting shortstop at Triple-A Buffalo since Josh Rodriguez may start the season in Akron and/or play more second base. Also, 2008 Triple-A Buffalo hitting coach Dave Myers and Mental Skills Coordinator John Couture have not been rehired for the 2009 season.


We probably had the most interesting radio show to date since Paul Cousineau and I debuted "Smoke Signals" back in mid-August. We had an exciting show lined up this past Wednesday because we were set to talk about the 5th starter spot for the Indians in 2009 and who at the moment had the best chance to claim it among all the candidates, and one of the candidates left-hander Dave Huff was set to come on. Of course, things didn't go as planned as BlogTalkRadio (BTR) had all sorts of login issues where we could not connect to our show and start it on time at 9:30pm.

So, Paul and I spent the better part of 25 minutes from 9:30-9:55 literally calling frantically to BTR to log in, and I was on-line with their tech staff trying to resolve the issue. Eventually, Paul got in and we started the show 25 minutes late. Big, big props to Huff for continuing to try to call in as he had problems connecting too, and after like his 50th try, much to Paul's surprise, Huff got on the air which made for a very funny moment for the two! (you have to listen to the podcast to understand) Anyway, after I feverishly dialed in with my house phone in one hand and my cell phone in the other hand and continually hit redial, I eventually got into the show about 5 minutes later on like the 100th try and things settled down and went smoothly from there.

Of course, little does Huff know that this was all a ploy by Paul and I to put him on the spot and see how he deals with pressure and a little adversity when things don't go right (LOL). Seriously though, even though he could have been flustered by the whole thing and said the hell with it, he remained cool and collected and was determined to get on the show. This is but a mere example of why he is so highly thought of by the Indians and around baseball and why he has so much success on the mound. Thanks again Dave, and next time we promise it will be much better (we hope).


Speaking of our radio show, I have had some inquiries/requests to see if the interviews can be transcribed. I think this is an excellent idea; however, I just don't have the time to do it myself. That said, if someone wanted to volunteer to transcribe these interviews and post them here on my blog I certainly would be open to that. If interested, please reply to the comments section of this posting or e-mail me at tlastoria@indiansprospectinsider.com. I'd really like to add this feature if possible, so let me know!


Sometime this coming week I will be talking to left-hander Chuck Lofgren and interviewing him for an article which should post a week from this Monday (Nov 17th). The focus of the article will center almost entirely around what has been a difficult season for him on and off the field. It is a real honor for me that Chuck respects and trusts me to talk on the record for the first time about the "personal issue" he has dealt with for the better part of a year. Personally, I think talking about it and getting it off his chest will be a big lift off his shoulders and it also will help the fans get a better perspective of what he has been going through. Behind all the stats, vitals, and scouting reports for these players lies a human being, and I think we as fans forget that at times.


Last, Baseball America's Indians Top 10 Prospect list is scheduled to be released on their site on November 19th.


As an aside, sometime later this month I will begin a daily countdown of Indians prospects ranking them from #100 to #1 for 2009. Each day we'll countdown to the next prospect and his new and updated scouting report will be posted until #1 is unveiled the first week of March. The new prospect book will be available well before that, so if you want the full 100 before March you'll have to get the book (selling ploy!). I'm hoping to have scouting reports for up to 125-150 players in the book this year, so we will see! More details on the book later, but it promises to be bigger and better than last year's inaugural effort!
User Comments
No comments currently. Be the first to comment!