Weekend Update: Valentine's Day Edition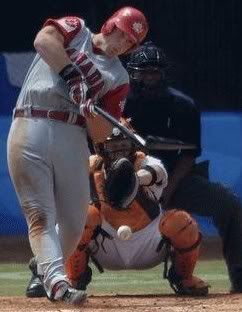 Time for another rundown of the week that was in the Indians minor league system. Lots of news to share this week, especially for this site. Spring training for the big league team is officially underway, and minor league camp is on the horizon.
Anyway...
Thanks to
Josh Tomlin
for coming on
Smoke Signals this past Thursday
to talk some baseball. Tomlin is an interesting guy to watch and follow this year as in his three previous years in the organization he has been what many baseball people would call a "performer" due to his impressive numbers year to year, but has questionable tools. What really changed last year for him was the increase in his fastball velocity to where it tops out now at 93 MPH, and in addition to that his slider improved greatly and the addition of a cutter seems to have been the difference maker for him. Also, his story about playing against Adrian Peterson in high school was classic!
This week (Feb 19) outfielder
Nick Weglarz
will join the show, and the next week (Feb 26) outfielder/first baseman
Stephen Head
will be on. Also, sometime in March, possibly as soon as the March 5th show, former Baseball America writer and now Pittsburgh Pirate scout
Chris Kline
will be on the show to talk scouting. We won't get into the Pirates/Indians organizations for obvious reasons, but instead talk about the life of a scout, what they do, how they do it, and so on. I am really looking forward to it, and when the time comes I'll be soliciting for questions to ask on the show.
**********
Speaking of Weglarz, I've been trying to nail him down on the show for about a month, but we always had to reschedule because he is one of the busiest 21 year olds I know (just turned 21 by the way). We appear to be catching him at the right time because he actually flew out to Goodyear out of Buffalo (yikes) on Wednesday and will be in big league camp with the Indians preparing for the Word Baseball Classic (WBC). After two and a half weeks of prep, he'll leave Goodyear on February 28th to join his Team Canada teammates in Florida and be the starting left fielder for them. After a few exhibition games March 3-5 against the Blue Jays, Phillies and Yankees, they will open WBC play with their first game against Team USA in Toronto on March 7th.
It goes without saying that Weglarz's experience playing with and against so many high caliber major league players will do nothing but benefit him. In a big way. While some people were disappointed with his overall season in Kinston last year (I felt it was good for a 20-year old), I was mostly impressed with his play Internationally last year in the Olympics in Beijing and the qualifiers in Australia and Taiwan before that where he faced a lot of talent equal to Triple-A or higher. And, you'll see that factored heavily when his ranking is released in my Top 100 list (those that have the book already know what I am talking about).
By the way, he's up to 255 pounds now...and that's a ripped, country strong 255 pounds. The kid just turned 21 for crying out loud and is as big and strong as an ox. He still has yet to step in the batters box at the Double-A level or above yet, but he's one of the best young pure power prospects in the game right now. And his power ability surpases that of LaPorta. I expect big things from this kid, and I think he not only has the talent (chicks AND dudes dig the long ball), but he has the makeup and personality to be adored in Cleveland if he gets there. All the comps to Jim Thome are dead nuts on.
**********
I have some big site news to announce. It looks like several players will be blogging on the site this year, which is something I wanted to add to get that other perspective out there to the fans. I have the articles, pictures, videos, and radio show to sort of promote these guys in every way possible, but nothing from the first person perspective. So who are the players who will be doing
User Comments
No comments currently. Be the first to comment!