Weglarz Promoted To Columbus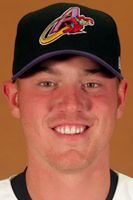 The Aeros made a roster move today as OF Nick Weglarz was transferred to Class AAA Columbus and OF Jerad Head was received from Columbus.
Weglarz was batting .285 on the season for the Aeros with a team-leading seven home runs and 27 RBI. He had appeared in 37 games and also played 105 games last season for Akron. The 22-year-old slugger was the Indians third-round draft pick in June 2005 out of Lakeshore Catholic High School (ON).
Head returns to Akron where he spent all of last season. Thus far this year with the Clippers he played in six games while batting .350 with one home run and six RBI. In 2009, the 27-year-old native of Topeka, KS appeared in 98 games for the defending Eastern League champions and batted .282.
User Comments
No comments currently. Be the first to comment!