Weglarz struggles through another season of injuries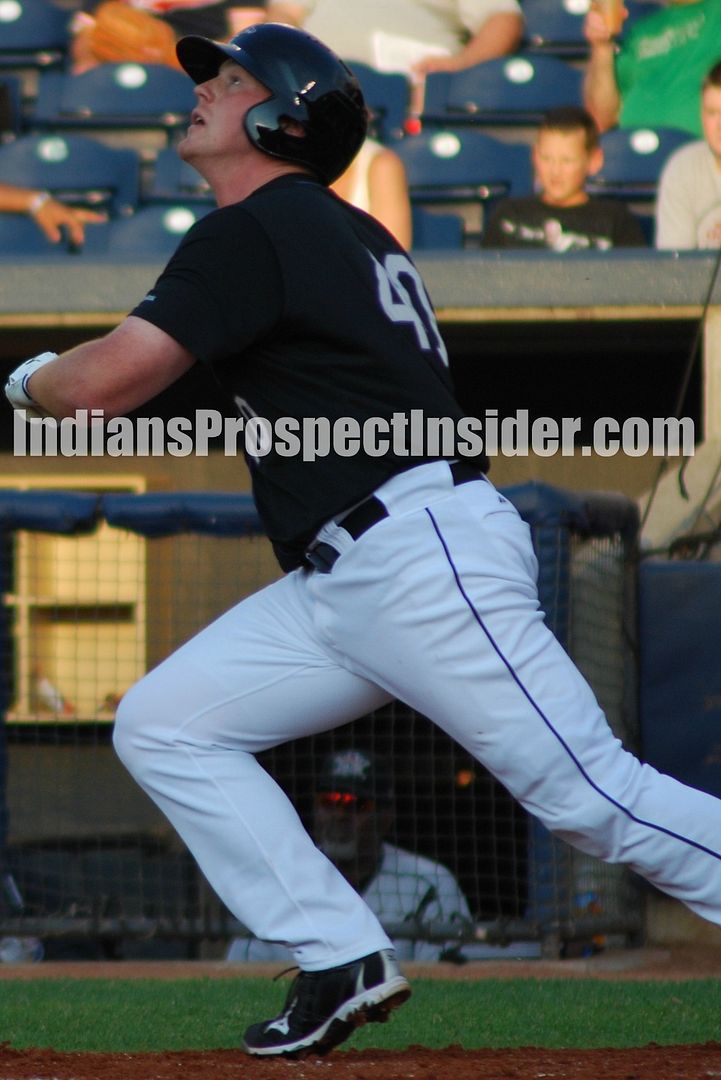 Nick Weglarz (Photo: IPI)
Now that third baseman Lonnie Chisenhall and second baseman Jason Kipnis have been called up to Cleveland, Double-A Akron outfielder Nick Weglarz is arguably the best hitting prospect in the entire Indians organization.
Weglarz, 23, has a ton of strength and power as well as a good approach at the plate where he draws a lot of walks. Over the past few years he has consistently been ranked in the Indians' Top 10 prospect rankings because of that potential.
Unfortunately for Weglarz he has not been able to realize that potential because of a myriad of injuries throughout his career. He was a third round pick out of high school back in 2005, and in the first game with the rookie level Gulf Coast League team the next season he broke the hamate bone in his right hand which resulted in him missing the rest of that season.
Weglarz managed to stay healthy in 2007 and showed what he could do if he played regularly. With Low-A Lake County that year he hit .274 with 24 HR, 83 RBI and a .891 OPS in 127 games, and drew 83 walks and had 131 strikeouts. It was a big breakout year, especially for a 19-year old in that league.
Weglarz came back in 2008 and had another relatively injury free season at High-A Kinston (.272, 10 HR, 41 RBI, .828 OPS), though he missed a lot of time in July and August that year because he was playing for Team Canada in the Olympics out in Beijing.
Since then the injuries have mounted up for Weglarz. He was off to a great start the first three months of the season at Double-A Akron in 2009, but a stress fracture in his shin area nagged him for a month and his numbers plummeted before he was finally shut down the last six weeks or so of the season. He ended up hitting .227 with 16 HR, 65 RBI, and a .808 OPS in 105 games. He had surgery in the offseason to insert a steel rod into his leg to speed up the recovery from the stress fracture to his tibia.
Last season Weglarz played well at Akron and Triple-A Columbus (.285, 13 HR, 47 RBI, .893 OPS), but missed time because of recurring tendonitis from the offseason surgery to his leg. His season came to a crashing halt when he sprained a ligament in his right thumb while diving for a ball at the end of July.
Weglarz tore the meniscus in his left knee back in spring training in mid-March and opened the season on the disabled list. He made his 2011 season debut at Akron on June 5th, but he has frequently been in and out of the lineup because of tendonitis with the knee, an eye bruise from being hit with a bat, and a left elbow issue.
Weglarz is currently on the disabled list with a left elbow strain, and with only two weeks left in the season is in danger of finishing the season on the disabled list for the fourth time in the last six years.
"It is unlucky, but it is a lot of stuff that could not be prevented," Weglarz said in a recent interview for the IPI.
The knee injury in the spring was just another fluke injury for Weglarz. He stepped on first base and his knee buckled and he went down.
"I was running the bases as we were doing a baserunning program," Weglarz recalled. "I hit first and my knee gave out and tore it. It wasn't like I hit the bag wrong, and I wasn't even running that hard. But as soon as I hit the bag I tore it."
Since returning from the disabled list in June, it is painfully clear that Weglarz is still not 100%. He has struggled worse than at anytime in his career and his power numbers have evaporated as in 41 games with Akron he is hitting .179 with 3 HR, 12 RBI and a .666 OPS.
"I am still working through some stuff trying to strengthen the quad," Weglarz said. "The doctor thinks that the knee was tearing and when I hit the base that was kind of the thing that put it over the top and tore it. It has been slower [to recover from] than we thought, but I have been able to play through it. I won't hurt it by playing on it."
Weglarz is still drawing a lot of walks as he has 36 walks in his 41 games this year, but it is apparent that the knee injury has sapped his ability to drive the ball. He has a very low batting average for balls in play of .239 which shows he has been unlucky, but he is also rolling over a significant number of pitches which is showing he is not getting much drive in his swing.
"I have had to make adjustments as my swing is not yet what it was, but I think that will come with time," Weglarz said. "I think once my leg gets stronger I will be able to use my legs a little better and get back to where I was. My approach has been good; it is just mechanical things with my swing that has changed due to the injuries. Once I can strengthen my leg it will come back, I know it will. I have had moments where it felt good, so it is just a matter of time."
With all of the injuries it is possible that Weglarz could return to first base down the road to help keep him on the field. He says that has not been discussed, but considering he played first base in high school and was converted into an outfielder as a pro he believes he could quickly make the position change if need be.
"Everything is still in the outfield and there has been no talk of first base," Weglarz said. "I have played first base all my life, but I feel better and I feel like I can move faster in the outfield and my first step has gotten better."
With the big league club in Cleveland being hit hard with injuries all season, Weglarz's own injury issues may have prevented him from getting a chance with the Indians this season. Considering outfielder Shin-Soo Choo went down in June with a broken thumb and designated hitter Travis Hafner misses about five weeks from mid-May to mid-June and is likely done for the season after suffering a foot injury on Sunday, Weglarz may have gotten a significant opportunity with the Indians this season.
"That crossed through my mind, and it crossed through my mind last year when I hurt my thumb as there was a pretty good chance I would have got my shot then," Weglarz said. "You can't look at it like that though. If it is meant to happen there is nothing you can really change. You can't sit here and ask questions why it happened and feel sorry for yourself because you are so unlucky. You just have to go with what you are given."
With the season wrapping up the focus now and this offseason will be to get Weglarz healthy and ready for next season. It may mean he does not play anywhere this offseason in order to give his body a rest and time to heal.
"I am just enjoying my time here and going day to day," Weglarz said. "My goal is to find that swing and get back to where I was and be in the big leagues. That was my goal before I got hurt. I am not going to settle for something less, but there are still some things I have to do."
Follow Tony and the Indians Prospect Insider on Twitter @TonyIPI. Also, his latest book the 2011 Cleveland Indians Top 100 Prospects & More is available for purchase for $20.95 to customers in the US (shipping and handling extra). Use discount code 2Z6F362B to receive 40% off the book through the site store!
User Comments
No comments currently. Be the first to comment!