Westbrook Traded, Brown Called Up to Cleveland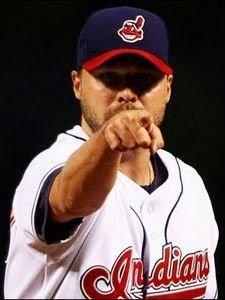 The Cleveland Indians have traded right-handed pitcher Jake Westbrook and cash to the St. Louis Cardinals as part of a three-team trade between the Indians, Cardinals and San Diego Padres. In the deal the Indians have acquired right-handed pitcher Corey Kluber from the Padres. No word if the Indians are receiving any cash or another player in the deal.
Kluber, 24, has spent the entire season to date at AA San Antonio going 6-6 with a 3.45 ERA (122.2IP, 121H, 59R/47ER, 40BB, 136K, .259 avg) in 22 games/21 starts. He currently leads the Texas League in strikeouts (136), strikeouts per 9.0IP (9.98K/9.0IP) and is 2nd in innings pitched (122.2IP). Over his last 4 starts he is 3-0 with a 1.73 ERA (26.0IP, 18H, 5R/ER, 8BB, 30K) and the Texas League recently named him the player of the week.
The Padres selected Kluber, a 6-4, 215-pound right-hander, in the 4th round of the 2007 June draft out of Stetson University (FL). In 2009 between A Lake Elsinore and AA San Antonio he went a combined 9-13 with a 4.56 ERA (154.0IP, 155H, 90R/78ER, 70BB, 159K) in 28 starts. He tied for seventh in strikeouts among all of minor league baseball with 159 in 2009. Kluber will report to AA Akron in the coming days.
Westbrook went 6-7 w/a 4.65 ERA in 21 starts (127.2IP, 133H, 66ER, 44BB, 73K) this year with the Indians after missing the entire 2009 season due to right elbow surgery. The 2004 American League All-Star had a record of 69-69 with a 4.29 ERA in 218 games/179 starts with the Indians (1191.1IP, 1269H, 568ER) from 2001-2010 after being acquired from the NY Yankees on June 29, 2000.
With Westbrook leaving the active roster, the Indians have recalled outfielder Jordan Brown from Triple-A Columbus. Brown, 26, has spent the entire year at AAA Columbus, batting .309 (84-272) with 25 doubles, one triple, six home runs and 63RBI. His average is the third highest in the International League, while his RBI total is tied for fifth despite not beginning his season until April 29 after right knee surgery in early March. Since June 14, he's hit .339 (59-174) with 17 doubles, four home runs and 40RBI in 42 games to raise his average from .255.
The 6-0, 205-pound left-handed outfielder was originally selected by the Indians in the fourth round of the 2006 First-Year Player Draft from the University of Arizona. He spent the entire 2009 season at Triple-A Columbus leading the International League with a .336 average (140-417) and was named a mid-season and post-season All-Star selection. He will make his Major League debut when he appears in a game and will wear #35 and be making his debut at the Major League level.
User Comments
No comments currently. Be the first to comment!