What's new in 2013: The bench
This is the final installment of this article series, which will break down the bench and utility players of 2013 compared to 2012. Parts one through three of this series dealt with the lineup, starting rotation, and bullpen.
The Indians' signing of Michael Bourn threw us all for a loop this week, and sidetracked this series a little. But spring training is now upon us and it seems appropriate that we conclude this series now with a breakdown of the 2013 projected Tribe bench players compared to last year. Bourn adds a new dynamic to this team which allows a lot more versatility both with the starting lineup and the bench since Swisher will now be moving to first base and Reynolds will be slotted as the primary designated hitter.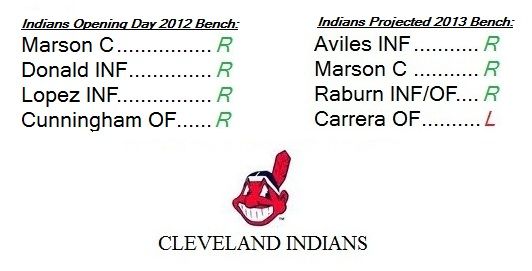 The bench last season hit only .219 combined and had various players come and go throughout the course of the year due to poor major and minor league signings last offseason. Only backup catcher Lou Marson survived on the Tribe bench for the whole season. This offseason, the Indians signed a much better group of non-roster invitees as well as added super-utility infielder Mike Aviles. Inconsistent playing time for the utility players last season also led to their poor offensive output. Some blame former Tribe skipper Manny Acta for poor player management, others blame lack of talent. Who knows, maybe it was a combination of both. However, the Indians have been on a mission this offseason to improve this roster as much as they possibly can and the bench hasn't been immune to these upgrades.
Lou Marson 2012 vs. Lou Marson 2013:
Lou Marson 2012 Stats
Games
AB's
Runs
Hits
HR's
RBI's
AVG
OBP
SLG
OPS
70
195
27
44
0
13
.226
.348
.287
.635
Going into 2013, Lou Marson is still projected to be the primary backup catcher come opening day. He does have some mild competition this year in the form of newly acquired catching prospect and utility player Yan Gomes, whom the Indians acquired from the Blue Jays along with infielder Mike Aviles for relief pitcher Esmil Rogers early in the offseason. Gomes doesn't pose a huge threat to Marson, however and will more than likely be slotted as the third catcher and play at Triple-A Columbus or possibly make the bench as an alternate utility infielder/outfielder.
Going back to Marson, though, the catcher has established himself on the roster after being traded to the Tribe by the Phillies in the Cliff Lee deal in 2009. Since then, Marson has served mainly as the Indians' backup catcher to Carlos Santana. Although he's not a great offensive player overall, he has had hot streaks here and there including June of last season where in place of the concussed Santana, Marson hit .383 over the span of 14 games. That said, Marson's defense is his most valuable asset. In 2011, Lou caught 30 potential base-stealers, one of the tops in the big leagues that year. Marson struggled last season only catching 11 base-runners. Look for Marson behind the dish again this season relieving Santana of his catching duties from time to time in order for him to DH or play first base.
Jason Donald/Brent Lillibridge 2012 vs. Mike Aviles 2013:
Jason Donald 2012 Stats
Games
AB's
Runs
Hits
HR's
RBI's
AVG
OBP
SLG
OPS
43
124
18
25
2
11
.202
.246
.282
.529
Brent Lillibridge 2012 Stats (Indians)
Games
AB's
Runs
Hits
HR's
RBI's
AVG
OBP
SLG
OPS
43
111
15
24
3
8
.216
.276
.342
.619
Mike Aviles 2012 Stats (Red Sox)
Games
AB's
Runs
Hits
HR's
RBI's
AVG
OBP
SLG
OPS
136
512
57
128
13
60
.250
.282
.381
.663
Asdrubal Cabrera is beyond a doubt one of the top shortstops in the game today; however, his lack of consistent offensive output (particularly in the second halves of the past couple seasons) has left Cleveland grasping for answers. Some suggest a change in conditioning regimen, which has been a problem for the two-time all-star, but it could also be that Cabrera has never had a legitimate backup on the bench to give him a break on occasion. The Indians have attempted to give Cabrera some relief by way of Jason Donald, Brent Lillibridge, and even bringing up prospect Juan Diaz last season, but inconsistent offense and defensive shortcomings from all players forced the Tribe to keep Cabrera at short as much as possible just to keep the team somewhat competitive. Donald was traded to Cincinnati this offseason in the Trevor Bauer deal and Lillibridge elected free agency after the 2012 season and signed with the Cubs.
As a first order of business this offseason, new Tribe manager Terry Francona worked with general manager Chris Antonetti to reel in former Red Sox shortstop and utility infielder Mike Aviles from Toronto. Aviles, being a starting-caliber player, can finally give the Indians and Cabrera some flexibility at shortstop and also provide some cushion for second baseman Jason Kipnis and third baseman Lonnie Chisenhall. Aviles and the Tribe avoided arbitration this offseason with a two-year, $6 million deal with a club option for 2015. Some speculate as to whether this indicates a looming trade of Cabrera in the near future since Aviles's contract lines up with the projected arrival date for prized shortstop prospect Francisco Lindor, who spent last season at single-A Lake County. For the time being, though, Cabrera will be the Indians' starting shortstop for the foreseeable future and Aviles will serve as the uber-utility man on the bench.
Jose Lopez 2012 vs. Ryan Raburn 2013:
Jose Lopez 2012 Stats (Indians)
Games
AB's
Runs
Hits
HR's
RBI's
AVG
OBP
SLG
OPS
66
213
16
53
4
28
.249
.272
.366
.639
Ryan Raburn 2012 Stats (Tigers)
Games
AB's
Runs
Hits
HR's
RBI's
AVG
OBP
SLG
OPS
66
205
14
35
1
12
.171
.226
.254
.480
Back in the dog days of summer 2012, Indians fans should be familiar with the term "Lopey Time", coined by WTAM 1100's Nick Camino. That phrase became a regular hashtag on Twitter as former Mariners all-star infielder Jose Lopez took his place on the bench as the Tribe's alternate utility infielder. Lopez had a decent start with the Tribe after a slow start to April and being called up again in the middle of May hitting .269 with three homers and 23 RBI. His game slowed down in July, however, hitting only .220 with no homers and only two RBI. Cleveland designated Lopez for assignment in early August and was eventually signed by the White Sox to finish the season. This offseason, Lopez signed a deal with the Yomiuri Giants of Nippon Professional Baseball in Japan.
Despite a brutal performance in 2012, utility player Ryan Raburn offers a lot of upside to the Indians this season as a minor league signing and has a very good chance of making the bench this season if he rebounds and has a good showing this spring. A career Detroit Tiger, Raburn has been known to offer versatility and some power off the bench. Minus the two off-years he had in 2004 and 2012, Raburn is a career .273 hitter who averages between 10-15 home runs a year. Raburn was Detroit's starting second baseman for a while, but was the odd-man out after the Tigers traded for Omar Infante and starting pitcher Anibal Sanchez from the Miami Marlins. Barring any better utility player acquisitions, Raburn has a leg-up to make the bench in my opinion.
Duncan/Cunningham 2012 vs. Ezequiel Carrera 2013:
Shelley Duncan 2012 Stats
Games
AB's
Runs
Hits
HR's
RBI's
AVG
OBP
SLG
OPS
81
232
29
47
11
31
.203
.288
.388
.676
Aaron Cunningham 2012 Stats
Games
AB's
Runs
Hits
HR's
RBI's
AVG
OBP
SLG
OPS
72
97
5
17
1
7
.175
.245
.247
.493
Ezequiel Carrera 2012 Stats
Games
AB's
Runs
Hits
HR's
RBI's
AVG
OBP
SLG
OPS
48
147
20
40
2
11
.272
.312
.395
.707
With the additions of Nick Swisher, Drew Stubbs, and Michael Bourn, the Indians' Left Field Crisis of 2012 seems like nothing more than a bad dream at this point. But it was indeed real and very much a problem for the Tribe last season. Shelley Duncan and Aaron Cunningham served as the left field platoon along with veteran outfielder Johnny Damon as well as the main backup outfielders for much of 2012. The Duncan, Cunningham, and Damon trio only hit a mere .200 last season, which in part, led to the team's eventual collapse in August. All of the players are no longer with the Tribe as the team released Damon last season, Duncan signed with Tampa Bay, and Cunningham is now with the Rangers organization.
Ezequiel Carrera, or "Zeke" as he has become known, has been waiting for his break in the majors for a few seasons now. Last season, I believe he finally made a decent case for himself. Carrera's offensive success from the minors finally started translating into the majors as he hit .272 over 48 games after being called up in early August. Despite being a left-handed hitter, Carrera has actually had more success against southpaws hitting .333 last season compared to his .245 average against right-handed pitching. Zeke's ability to play all three outfield positions and good speed off the bench should also help him in his campaign for the fourth outfielder spot in 2013.
Utility Depth 2012 vs. Utility Depth 2013:
The quality of the utility depth for the Tribe in 2013 is directly proportional to the quality of the non-roster invitees. And might I say that in addition to that success that the Indians have signed several major league deals this offseason. The minor league signings have been commendable and far superior to the ones they assembled before spring training last season. Andy LaRoche, Felix Pie, and Cristian Guzman have been replaced by Jason Giambi, Ben Francisco, Scott Kazmir, and Daisuke Matsuzaka. All the non-roster invitees this season will have the opportunity to make the team this season, but unlike last year, they will be evaluated in spring training on whether or not they can actually contribute rather than trying to fill various major roles on the roster since many of those roles this season are already filled.
This year's projected starting roster is one that is more versatile and potentially much more productive than what we were looking at this time last year. All four areas of the roster (the lineup, rotation, bullpen, and bench) have all been vastly improved this offseason. With the nice mixture of veterans, and young players as well as their versatility, the possible combinations and scenarios for the roster this season are endless. And who better to decide the roster than Terry Francona?
On paper, it looks like a perfect storm that could break at any moment, so brace yourselves Cleveland!
Jake Dungan is a communications student at Stark State College and an intern with the Akron RubberDucks. Follow him on Twitter @MajorLeagueJake.
User Comments
Andy
February 17, 2013 - 12:19 PM EST
@ Jwahoo

I agree about Huff. I'd like to see him take that long relief spot, but if he doesn't have a good showing in spring, then yeah he would make sense for Texas too.

@ Seth

What I like about McGuiness is his left handed power, decent glove, and the fact that he sees a lot of pitches. I just have a love for players that walk a lot and offer some pop, but that's just me. I don't think he's great, but I'd like to see what he can do at AAA. We won't be able to see what he can do unless the Indians work out a trade with Texas. Since Zeke and Huff are out of options anyway, if they have a bad spring, I have no problem with letting them go. And since Albers is only here one year and Cleveland has the depth to replace him with possibly better pitchers, I have no problem letting him go either. McGuiness may not be great, but he's worth taking a look at if you can get him for one of those three players mentioned.
Discollama
February 17, 2013 - 10:41 AM EST
Since Zeke is out of options, he's pretty much a lock to be with the Tribe off of the bench in 2013, but the team already has four OF's, three who can play CF, two that can play RF and three that can play LF. Between Bourn, Brantley, Stubbs and Swisher we have four starting OF's playing everyday. Toss in Reynolds as a second first baseman and we really don't need another OF off of the bench, this team has that much starting quality to it.
Seth
February 17, 2013 - 9:04 AM EST
I feel like McGuiness is being overrated quite a bit. Last year he had an .840 OPS in AA as a 24-year-old. For a guy who's considered a 1b/DH, that's not very good. When Ryan Garko was 24, he had an .882 OPS in AAA.
Jwahoo
February 17, 2013 - 1:26 AM EST
@ Andy.

Yeah I think that makes sense as it gives McGuiness a chance to really earn a spot. We should have some trade ammo by the end of spring training. Having him for real gives us more options with our bench and gives him time to develop. That way we can maybe start the season with a guy like Jason Giambi. I know alot of people thinks hes done but what if he isn't? Hit what 13 Homers in only like 200 bats in 2011. Thats pretty good for a bench player. He does not only bring his skills on the field but off as well. With Francona, Swisher, Aviles, Reynolds, Meyers and Giambi that gives us ALOT more vet leadership then we have in a long time. Plus, you always need one vet proff hitter on your bench.

I think the bullpen is the obvious area to trade from I could see Zeke, Albers, and Huff as the most obvious trade bait. I would have to think all three of those players would be attractive to Texas in a trade.

On the other hand I wish there was a way to keep Huff and start to develop him as a bullpen arm. I think he could really shine in the position. With Hill, Hagadone, Barnes and Kazmir all as options he is not going to just be handed the spot though.
Andy
February 17, 2013 - 12:37 AM EST
I really like McGuiness. But I like him in the sense that I would love to have him in the Indians minor league system. Play first/left everyday at Triple A and maybe be ready to take over next year in a DH/1B role when Reynolds is gone. In order to keep him an Indian but not have to keep him on the ML roster all season, a trade would have to be worked out with Texas. What do you guys think of sending Texas either Zeke or Matt Albers in exchange for McGuiness? Texas needs both outfield depth and bullpen help this season. Especially the latter. Now since Zeke is out of options, I don't know if he'd be much help to Texas. Unless they felt that Leonys Martin was not ready to be an everyday starter so they wanted to send him to Triple A for more seasoning - then Zeke would make sense as a 4th OF there. Albers makes sense because in my mind, he's the weakest link of the righties in the pen and the Indians have depth there. But the Rangers badly need some pen help. As a lot of their pen is either hurt or being transitioned into the rotation. So they take Albers, and then either Capps or Cody Allen can fill his spot in Cleveland. What do you think?
Tony
February 16, 2013 - 11:23 PM EST
Fedroff is in the mix, but not an option at the outset of the season. He will be a guy that is more of the first or second option for an outfield need if someone gets hurt later in the year.
Jake Dungan
February 16, 2013 - 10:23 PM EST
I cannot believe I forgot Fedroff. Guess he just got lost in the shuffle when Swisher and Bourn arrived. He is most definitely an option for the bench, though. He can hit (.316 average last season) and has begun to develop a power stroke (career-high 12 home runs last season between AA and AAA). He also hits both lefties and righties pretty well (.333 average vs. RHP and .291 average vs. LHP).

Again, I can't believe I overlooked him, but he could definitely be a suitable bench option. Only thing weighing against him is his lack of MLB experience. He's yet to have an at-bat in the big leagues, but we'll see what happens this spring.
MT88 in WI
February 16, 2013 - 8:36 PM EST
I think Tim Fedroff has more of a future with the Indians than Zeke. Remember, Zeke is out of options this year. Tim was just added to the roster so he has 3 option years left (counting this one). After this year I could see Tim being a bench player that plays corner outfield and spells Stubbs in certain matchups (as Swisher stays at 1b/DH.
dick
February 16, 2013 - 6:04 PM EST
I watched Carrera play last year. Dude looked absolutely lost in the outfield and did not look much better at the plate.

All this waiing and gnashing of teeth for Zeke and not a word about poor Timmy (Fedroff)

Poor Timmy is stuck in that damned well and there is no Lassie to rescue him.
MT88 in WI
February 16, 2013 - 5:00 PM EST
The international pool money is something I would be very interested in (with the losses to the normal draft pool).

That's why I like this site: out of the box thinking. Nice job Homer.
Jake Dungan
February 16, 2013 - 4:45 PM EST
I did bring up Gomes when I discussed Lou Marson. He'll more than likely start in Columbus with Lou and Raburn seniority over him. It'll all depend on their spring training performance, though.

With Giambi and McGuinness, I agree they both have a decent shot at the roster. Francona has spoken highly of both saying how much he'd like to have Giambi's leadership in the clubhouse and that McGuinness will get a lot of at-bats this spring given his Rule 5 draft pick status. I'd probably give the edge to Giambi if the team chose to forgo Zeke since it would be better to start the season with his veteran presence rather than a kid like McGuinness who's never played in the majors to this point.

Again, these roles will more than likely be decided by spring training performance.
Homer
February 16, 2013 - 4:19 PM EST
I think they get the best value in return for a guy like Carrera by trading him with someone, and looking for a lower level (Rookie / A-ball) prospect. Something, worth noting a cash deal doesn't necessary have to be a simple cash deal, it could be a small chunk of a teams International FA spending pool, which are now tradeable under the new CBA. This would be a creative opportunity to add lower level talent, and potentially maximize the Tribes capability.
MT88 in WI
February 16, 2013 - 3:57 PM EST
Homer,
That's what I was thinking but I hope it isn't a cash deal. Cash makes it seem like the Tribe is needing money, the wrong message after this season. Take a flyer on a deep prospect (preffered) or get another filler for this season at AAA. As it is, the 40 man slot Zeke has will likely be needed for someone else (either. Giambi, DiceK, Hill or Kazmir)
Homer
February 16, 2013 - 2:56 PM EST
Carrera could have a little trade value / maybe one of those PTBNL / cash deals towards the end of ST. They could also pkg him with say an extra pen arm for a decent prospect from a team like the Mets, IMHO.
Lisa
February 16, 2013 - 2:52 PM EST
I'm no big fan of Carrera either - I think we have enough versatility and can use more pop rather than speed and light hitting.

I hope Giambi makes it an easy decision this spring.
Jwahoo
February 16, 2013 - 2:41 PM EST
I want to say one more thing.

I think the final bench spot is a pretty big deal. If we are assuming Aviles, Marson and Raburn make the bench we still need a lefty bat off the bench. We need this bat not only to pinch hit but also to spell Stubbs and Reynolds. Both are good players but I think both would also be much better off if we had a left handed option to compliment them. Although, I am all for Drew Stubbs in right and Mark Reynolds at DH I think getting a productive lefty bat to back them up is very important and will be used more then sparingly
Jwahoo
February 16, 2013 - 2:35 PM EST
The whole time was reading this article I kept saying to myself "Zeke" is going to have to have a hard time making this team.

I guess I was not alone.

Although, he is left handed, you mentioned he hits lefties better the righties which is not what we want. His speed off the bench is very nice and the one reason I might want him on the bench but we have bigger concerns then speed off the bench.

We need his bench spot to go to someone who can spell Stubbs vs tough right handers and kind of platoon with Reynolds. Chirs McGuiness, Jason Giambi and Jermey Hermida make much more sense in this role if you ask me. They bring power and can spend some time at DH.

I think the question really comes down to McGuiness vs Giambi. I really prefer McGuiness because he can play the outfield, had great numbers in the minors last year and has nice pop. It would be a huge steal if he could come in and do well as he could help take over the DH spot for the next 3-4 years since he is so young. On the other hand he might not be ready for the majors and need more time in AAA. So, I am hoping the Indians can maybe work out a trade to get his full rights and have him as a real prospect going forward for this season and beyond.

Jason Giambi is almost the exact opposite although they have or had similar skill sets. Giambi is near the end of his rope and is looking not to prove what he can do in the majors but what he still can do. He does bring a character to the clubhouse a great leader and nice experience for a young team trying to come into its own. He can play First moving Swisher back to Righ Field, DH or even just pinch hit. His leadership and character give him a nice leg up on the competition. If he can show he still has some power this spring I think he has a good chance to earn the spot. I think Francona wants some vets to help him lead this team. Its also always nice to have a real proffesional hitter on your bench. He also could create a nice semi platoon with Reynolds giving our offense even more depth. He has alot of tools that make him a good fit for our bench. The leadership, ability to take a walk, power from the left side, experience. He has not had a good last two years in Colorado so we still need to see him do well this spring.

The next two guys probably will not start the season with the Tribe but could come into play at some point for this role.

Jermey Hermidea is interesting because he is a former top prospect. He also bats lefty (just like we need) and is an athletic player. We have seen Luke Scott, Brandon Phillips and Jeremy Guthrie run out of time here and move on to find success with other teams so it would be nice to turn the tables. He is also an outfield guy by trade so spelling Stubbs and Reynolds should be no problem. I am not sure if he can play First Base all all.

The last guy should be familiar to all tribe fans. The guy who once was in a battle with Jason Kipnis for second base. Phelps has his advatages as well. He is young so he could be a part of the team for the next 3 years and is also a switch hitter. This should not be overlooked. Having a guy on the bench like Phelps with a little pop from both sides of the plate could be very nice. He also is a guy who I could see pinch running for Reynolds or Swisher late in the game. The question with Phelps is what can he play other then Second Base and DH? I think his key to the majors will be if he can learn to fill in at 1st, 3rd and Left Field. This would make him a very nice utilty player able to play Second Base and the corners.

Anyway, those are my thoughts on the issue. I think the article is very good but I also think you leave out alot of possible options. Was very surprised to not even see McGuiness, Giambi or Yan. Neither of us mentioned Benny Cisco as well.


As you can see its going to be a viscious battle for the final roster spots on the 2013 Cleveland Indians. I think the depth we have added to the bench will make a major difference this year. Guys like Ascab and Kipnis can expect to get more time off and hopefully thrive in the second half of the season. Having a possible starter like Aviles and a nice solid utility man like Ryan Raburn should be a huge help making sure we can run out a solid team 162 days of the season.


MT88 in WI
February 16, 2013 - 1:18 PM EST
I wonder if the showing in winter ball has marginally improved Zeke's value on the trade market? Maybe the Mets would have an interest on the cheap.
jim
February 16, 2013 - 1:17 PM EST
unless stubbs is traded, i don't see carrera making this team.
Tony
February 16, 2013 - 12:33 PM EST
Yeah, I believe that because of the versatility the Indians have in the outfield with Brantley, Bourn and Stubbs and then having Swisher and Rayburn who can also play the outfield, that Carrera or any other outfielder has little shot to make the team unless injuries occur. That final bench spot very well may go to McGuiness or Giambi as the Indians could just have them as a left-handed power bat option off the bench and used sparingly.
Jake Dungan
February 16, 2013 - 11:58 AM EST
I would like to see Zeke finally catch a break, but this roster is so much more flexible with the addition of Bourn, I could see someone like Giambi taking that final bench spot as a backup DH/1B, which to be honest, is likely to happen after Francona spoke so highly of him.
Seth
February 16, 2013 - 11:41 AM EST
I would think Carrera would have a tough time making it, as "has speed and plays all 3 positions" also defines the three starters, and with Raburn and Swisher they already would have 2 outfield subs. It would make more sense to have another infielder/DH in that final spot.