What's new in 2013: The bullpen
Here's part three of my four-part series that compares the 2012 and 2013 Indians. Parts one and two dealt with the lineup and the rotation.
Well now we get to the fun stuff. That's right, today we will discuss the "The Bullpen Mafia" as Clevelanders have so affectionately branded the Indians relief corps. Outside of maybe Brian Wilson and Sergio Romo in San Francisco, the Tribe probably has the most unique, fun-loving bunch of characters to ever occupy a major league bullpen.
Oh by the way, they can pitch, too. Anchored by arguably baseball's best trio of back-end relievers in Chris Perez, Vinnie Pestano, and Joe Smith, the Indians bullpen plans to go out in 2013 and continue what they've done over the last few seasons, which has been going out and locking down games for the Tribe as one of the top groups of relievers in the league.
Here is the opening day bullpen last year and the projected opening day bullpen this year: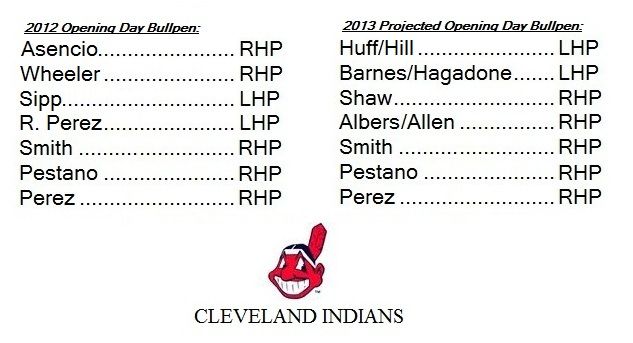 Jairo Asencio 2012 vs. David Huff/Rich Hill 2013:
Jairo Asencio 2012 Stats (Indians)
Games
W-L
ERA
IP
Hits
Runs
ER's
HR's
BB's
K's
18
1-1
5.96
25.2
27
17
17
4
8
21
David Huff 2012 Stats
Games
W-L
ERA
IP
Hits
Runs
ER's
HR's
BB's
K's
6
3-1
3.38
26.2
30
14
10
5
5
19
Rich Hill 2012 Stats (Red Sox)
Games
W-L
ERA
IP
Hits
Runs
ER's
HR's
BB's
K's
25
1-0
1.83
19.2
17
4
4
0
11
21
Even though, the bullpen has been the Tribe's strength, one major flaw last season was the lack of a true long reliever (a reliever who can come in when a starter is struggling and pitch multiple innings). Last season they tried Jairo Asencio, whom the Indians purchased from the Braves last offseason. Asencio struggled out of the gates as he ended up being the losing pitcher of the 16-inning Opening Day battle with the Blue Jays. Blue Jays catcher J.P. Arencibia hit a 3-run home run off Asencio in the top of the 16th inning to break the tie and win the game for the Jays. Unfortunately, things didn't get much better for Asencio as he struggled over his next 17 appearances with the Tribe and was eventually designated for assignment and claimed by the Cubs. Asencio was granted free agency this offseason and was signed by the Brewers in November.
Although David Huff was originally projected to be a starting pitching prospect, he is more likely to be competing for a spot in the bullpen next season as one of two left-handed pitching options and as the primary long-relief man. Huff was called up late last season and was inserted into the rotation where he made four starts going 2-1 with a 4.35 ERA. However, as a reliever, Huff didn't allow an earned run in two appearances from the bullpen. Huff is not being given much consideration for the rotation because of Zach McAllister, Carlos Carrasco, Trevor Bauer, and Corey Kluber all ahead of him, so he more than likely will end up in the bullpen.
This week, the Indians signed former Red Sox reliever Rich Hill to a minor league deal with an invite to spring training. It's likely that Hill will be thrown into the mix with Huff, Nick Hagadone, and Scott Barnes as left-handed relief options, of whom I believe two will make the opening day bullpen. Right now, the left-hander is working his way back from Tommy John Surgery, which he underwent in 2011. Hill made appearances with the Red Sox in April, May and June last season, but had some hiccups with his health in his return from surgery and was sent down to the minors and didn't return to the Red Sox until September. As a former starter, Hill can work in long-relief and possibly be an emergency option for the rotation. However, Hill hasn't pitched as a starter since 2009 when he was with the Orioles. Hill and Huff could compete for the left-handed long relief role in the bullpen this spring.
Dan Wheeler/Jeremy Accardo 2012 vs. Bryan Shaw 2013:
Dan Wheeler 2012 Stats
Games
W-L
ERA
IP
Hits
Runs
ER's
HR's
BB's
K's
12
0-0
8.76
12.1
17
12
12
3
7
2
Jeremy Accardo 2012 Stats (Indians)
Games
W-L
ERA
IP
Hits
Runs
ER's
HR's
BB's
K's
26
0-0
4.58
35.1
38
19
18
3
16
28
Bryan Shaw 2012 Stats (Diamondbacks)
Games
W-L
ERA
IP
Hits
Runs
ER's
HR's
BB's
K's
64
1-6
3.49
59.1
60
29
23
4
24
41
How Dan Wheeler made the 2012 Opening Day roster is still a mystery to me. The veteran reliever was signed by the Tribe last offseason and despite his struggles in spring training, was selected for the bullpen to start the season. While Wheeler did have success in the past with the Astros and the Rays, his struggles with the Tribe were apparent before the season started. In exhibition play last spring, Wheeler went 2-2 with a 10.64 ERA in 11 appearances, which included a 1-inning appearance against the Reds in late March where he gave up five runs on five hits and three home runs. Wheeler only appeared in 12 games with the Tribe during the regular season before being designated for assignment in May. This offseason, Wheeler signed a minor league deal with the Royals.
Jeremy Accardo, who also signed with the Indians last offseason, was brought up to replace Wheeler in May. At first, it appeared that Accardo would work out as he posted a 2.16 ERA over his first six appearances. The next few months were rougher for Accardo as he compiled a 7.63 ERA over his next 21 games with the Tribe. Accardo, too, was designated for assignment by the Indians in early August and was eventually signed by the Oakland A's where he appeared in one more game on September 27th. This offseason, Accardo inked a minor league deal with the Nationals.
As part of the three-team, seven-player mega trade this offseason, young relief pitcher Bryan Shaw was shipped to Cleveland by the Diamondbacks along with fellow reliever Matt Albers, starting pitching prospect Trevor Bauer, and outfielder Drew Stubbs from Cincinnati. The 25-year-old right hander completed his sophomore campaign in the major leagues last season with a commendable 3.49 ERA over 64 appearances. In fact, Shaw has adjusted well to the majors compiling a 3.18 ERA over his first two seasons combined. Shaw will likely be a middle reliever for the Tribe at the outset of the season, and he has options so he adds versatility where he could be easily sent to the minors if he struggles.
Tony Sipp 2012 vs. Scott Barnes/Nick Hagadone 2013
Tony Sipp 2012 Stats
Games
W-L
ERA
IP
Hits
Runs
ER's
HR's
BB's
K's
63
1-2
4.42
55.0
47
29
27
9
23
51
Scott Barnes 2012 Stats
Games
W-L
ERA
IP
Hits
Runs
ER's
HR's
BB's
K's
16
0-0
4.26
19.0
17
9
9
1
7
16
Nick Hagadone 2012 Stats
Games
W-L
ERA
IP
Hits
Runs
ER's
HR's
BB's
K's
27
1-0
6.39
25.1
26
18
18
4
15
26
Aside from Ubaldo Jimenez, Tony Sipp probably had the most unexplainable struggles last season. The left-hander started the season with a 7.71 ERA over his first nine outings of the season. Sipp's struggles continued through the month of June posting a 6.62 ERA over that time period. In July, however, he did a complete 180 turnaround and dominated his next 12 appearances with a 1.93 ERA. Overall, though, it was an off year for Sipp and this offseason, Sipp was traded to Arizona along with first base prospect Lars Anderson.
I don't think anyone made more trips between Cleveland and Columbus last year than pitching prospect Scott Barnes. Over the course of the season, the left-hander was called up to the majors three different times to pitch in the bullpen. Although Barnes has served primarily as a starter during his minor league career, the Indians elected to use him more in the bullpen last season both in the majors and at AAA Columbus posting 4.26 and 3.98 ERA's at the levels, respectively. I expect Barnes to compete with fellow south-paw Nick Hagadone for a bullpen spot this spring.
The story of Nick Hagadone is one of frustration, disappointment, and hope for the hard-throwing left-hander acquired by the Tribe in 2009 from Boston in the Victor Martinez trade. Last season, Hagadone started the year in AAA briefly before being called up in mid-April. Over the first month and a half, Hagadone was one of the Tribe's top relievers recording a save and a 2.14 ERA over his first 16 appearances. Then in June everything spiraled out of control for Hagadone as he struggled in outing after outing over a three week period until a fateful night on July 6th in a bout against the Rays when he gave up two walks, two hits, and two earned runs in two-thirds of an inning. Angry and frustrated, the rookie suffered a season-ending, self-inflicted injury to his wrist. The Indians promptly optioned him to AAA where he was put on the minor league disqualified list for the duration of the year. Major League Baseball is still investigating the matter and is yet to decide whether or not the team reacted poorly to Hagadone's situation.
Hagadone is now back on the roster and fully recovered from his injury. He also says he regrets his actions that night and has matured during his recovery period. That's all well and good, but the young pitcher will still have to prove it on the field to earn respect back. There are a lot of 'Nick Hagadone punching bag' jokes floating around out there in the Tribe fan base; however, everyone makes mistakes and I, for one, will not hold it against him and will be rooting for him this upcoming season.
Raffy Perez/E. Rogers 2012 vs. Matt Albers/Cody Allen 2013:
Rafael Perez 2012 Stats
Games
W-L
ERA
IP
Hits
Runs
ER's
HR's
BB's
K's
8
1-0
3.52
7.2
5
3
3
1
4
4
Esmil Rogers 2012 Stats (Indians)
Games
W-L
ERA
IP
Hits
Runs
ER's
HR's
BB's
K's
44
3-1
3.06
53.0
47
19
18
5
12
54
Matt Albers 2012 Stats (Red Sox/Diamondbacks)
Games
W-L
ERA
IP
Hits
Runs
ER's
HR's
BB's
K's
63
3-1
2.39
60.1
46
21
16
9
22
44
Cody Allen 2012 Stats
Games
W-L
ERA
IP
Hits
Runs
ER's
HR's
BB's
K's
27
0-1
3.72
29.0
29
12
12
2
15
27
If you just started following the Indians this season, you may be asking 'Who is Rafael Perez?' Good question, the veteran lefty has been a staple in the Tribe bullpen for the last six years. Unfortunately, injuries sidelined Perez for much of the 2012 season as he battled issues with his left latissiumus dorsi muscle, which caused a serious decline in his velocity. Perez was granted free agency last November after multiple setbacks in his recovery kept him on the disabled list for most of the season. A sad way for him to end his tenure in Cleveland as he was once one of the top relievers in the league posting a 1.78 ERA in the Tribe's 2007 American League Central Division Championship run. Perez is still recovering from his injuries, and has yet to sign with anyone this offseason.
Matt Albers is the other aforementioned reliever whom the Tribe received in the three-team trade in December. Albers, a veteran right-hander who's been with the Astros, Orioles, Red Sox, and Diamondbacks over his career dominated in 2012 going 3-1 with a 2.39 ERA between Boston and Arizona. Indians skipper Terry Francona spoke highly of Albers and could have been the reason he was included in the trade. With Sipp and Rafael Perez gone, the Indians' bullpen is now much younger and in need of veteran leadership. Albers can come in and help lead this young group of pitchers this season and hopefully be effective on the mound himself.
I have become one of Cody Allen's biggest fans over the last year or so. The fledgling flame-thrower was drafted by the Tribe in the 23rd round of the 2011 amateur draft and quickly rocketed through the farm system until he was already making his major league debut in mid-July of last season against the Orioles, a game I was at, by the way. If Allen was intimidated by the major leagues, he sure didn't show it. Over his first 12 appearances, Allen didn't allow an earned run. Despite starting the year at the single-A level last season, Allen has proved he's ready to pitch in the majors and could very well be there come opening day. However, it is possible Allen could also start the year in AAA with veterans such as Albers, Frank Herrmann, and newly-acquired Matt Capps also vying for a spot and offering more experience. Regardless, Allen will be a permanent factor in the Indians bullpen at some point now or in the near future.
Joe Smith 2012 vs. Joe Smith 2013:
Joe Smith 2012 Stats
Games
W-L
ERA
IP
Hits
Runs
ER's
HR's
BB's
K's
72
7-4
2.96
67.0
53
27
22
4
25
53
While he has one of the most generic names in baseball, Joe Smith has established himself as one of the most consistent relievers in the league. The submarine-style right-hander is expected to return to the same role he held in 2012 as the 7th inning setup man for Vinnie Pestano and Chris Perez. As a fun fact, Smith actually emerged as one of the team leaders in wins with seven, which was better than half the Indians' starting pitchers last season. Smith racked up 21 holds last season and kept 37 of 47 inherited runners from scoring. Expect Smith to continue on this season as a part of the back-end bullpen trio that locked down so many games for the Tribe last season.
Vinnie Pestano 2012 vs. Vinnie Pestano 2013:
Vinnie Pestano 2012 Stats
Games
W-L
ERA
IP
Hits
Runs
ER's
HR's
BB's
K's
70
3-3
2.57
70.0
53
20
20
7
24
76
In one season, Vinnie Pestano went from being just another young reliever to becoming one of the premier setup men in all of Major League Baseball. He set franchise records in holds (36) and most consecutive appearances with at least one strikeout (23). At one point in the season, Pestano boasted a 1.24 ERA, one of the best in the majors. Unfortunately, Pestano showed his human side late in the season going 0-3 with a 6.46 ERA. The right-hander blamed conditioning issues and lack of command on his slider for his slump. Despite his late-season problems, Pestano is fully expected to return to his role as setup man this season. He'll also be the backup closer and maybe even full-time closer if Chris Perez is traded. As a closer, Pestano has 5 saves in 12 opportunities in his career. However, Perez is still with the Tribe and will likely be the team's closer for the foreseeable future, so for the time being, Pestano will remain the man in the 8th inning.
Chris Perez 2012 vs. Chris Perez 2013:
Chris Perez 2012 Stats
Games
W-L
ERA
IP
Hits
Runs
ER's
HR's
BB's
K's
61
0-4
3.59
57.2
49
25
23
6
16
59
Like shortstop Asdrubal Cabrera, just about everyone expected all-star closer Chris Perez to be dealt by the Tribe this offseason. But less than a week from spring training, both Cabrera and Perez are still on the roster and are fully expected to start the season with the team. Between the two of them, Perez was more likely to be traded after controversial comments the closer made against the fans, management, and front office on multiple occasions last season and appeared to punch his ticket out of Cleveland. However, a slow free agent and trade market this offseason limited interest in both Perez and Cabrera. Despite blowing the save on Opening Day last year, Perez was very effective as a closer locking down a career-high 39 saves in 43 opportunities leading to his second consecutive all-star selection. Until the trade deadline at the very least, look for "Pure Rage" to be taking the mound to lock down wins for the Tribe.
The Indians bullpen has been the strength of this team for the past few seasons now. Last season, however, even the bullpen was infected by the inconsistency that plagued most of the team. Outside of the trio of Smith, Pestano, and Perez, the relief corps was actually among the most inconsistent in baseball. The back end combo posted a dominant 3.03 ERA while the rest of the bullpen only mustered a combined 5.51 ERA. This year, however, through trades, free-agent signings, and bringing up minor league talent last season, the Indians not only have a solid projected bullpen, but also have substantial depth behind it.
From young rookies such as Cody Allen to veterans like Matt Capps, the Bullpen Mafia has some depth and is locked and loaded for 2013.
Jake Dungan is a communications student at Stark State College and an intern with the Akron RubberDucks. Follow him on Twitter @MajorLeagueJake.
User Comments
Tony
February 10, 2013 - 2:15 PM EST
Chip, I had to delete your one comment simply because the link you inserted was doing funky things to the page lol (by the way, I saw that link, amazing how much other sites copy my stuff lol). I like Barnes in either role. I like him as a starter, but I also think he has a better career in store for him as a reliever, and think he could be a dominant reliever. His stuff is good enough to start, but I just have concerns about that delivery over 5-7 innings. It is awkward and it lacks consistency. The Indians have always been high on him as a starter, and they may go down that road with him again in the future, but I happen to agree with using him now in the bullpen rather than being the 8th or 9th starting option and spending a whole year buried in Columbus.
Chip
February 10, 2013 - 6:48 AM EST
Sorry, should have known you can't post links in the comment section. I was refering to The Diatribe's scouting report on Barnes.
Jake
February 9, 2013 - 7:17 PM EST
I'm not saying Hagadone will rebound, but writing him off now is unfair. His strong start last season is definitely something you can't ignore. He just struggled to make adjustments down the stretch as many young pitchers do and he reacted poorly because of it.

Again, I'm not saying for sure we will get the good Hagadone back, but I do think the odds of him making a comeback are pretty good. Like I said, I'll be rooting for him this year.
Matthew
February 9, 2013 - 6:49 PM EST
In his first 17 appearances, Hagadone went 17.2 innings, 16 K, 7 BB, and a 2.04 ERA. Then, something obviously went wrong, as he went 7.2 innings over 10 appearances with 8 walks, 10 K, and a 16.43 ERA before going Bruce Banner and breaking his hand.

I think Hagadone will put it back together this year as long as he's healthy and be more like the guy he was in his first 2 months.
Mike
February 9, 2013 - 6:32 PM EST
I don't think Hagadone was very good last season. Not sure he sticks.
Jwahoo
February 9, 2013 - 4:26 PM EST
My hope for the pitching staff this year.

Rotation starts off as..... Masterson-Ubaldo-Meyers-McCalister-Kluber.

Once Kazmir shows he is able to pitch again he moves into Klubers rotation spot.

Hopefully Masterson-Ubaldo-Meyers all pitch like middle of the rotation starters.

When Carrasco comes back then McClaister can move into the bullpen. Maybe we even go with a 6 man rotation for awhile to help keep the inngings down for Carrasco, Kazmir and Meyers all guys who did not pitch a full starters workload last season.

McCalister joins the bullpen.

With.......

Closer: Perez

Set up: Joe Smith, Hagadone and Vinny Pestano

Middle Innings Bryan Shaw and Matt Capps.

Utilty: Huff or McCalister.

Thats one pitcher too many but thats better then one pitcher too few.

In Reserve: Cody Allen, Rich Hill, Shawn Armstrong, Matt Langwell, Frank Hermann and Scott Barnes.

Keep in mind we also have Matt Albers who is a vet and pitcher very well last season.
Jwahoo
February 9, 2013 - 2:25 PM EST
@ Agree with Jake. As starters both Huff and Barnes probably are fringe 5th starters maybe 4th starters on bad teams. They have a much better chance of sticking with a major league team. I think the job is Huffs with Hill and Barnes going to the minors unless Huff struggles enough. Getting Huff to find himself as lefty in the pen could be very good for the future of the franchise with all these righties.

Hagadone should really be the late inngings lefty guy as long as shows he belongs. Perez, Smith, Pestano and Shaw are all probably on the team.

That leaves one open position. Albers, Allen, Capps, Langwell, Hermann and others can fight for the spot this spring. Depending on what happens with the rotation both Kazmir and McCalister could move to the bullpen at some point this season. We also have Brett Meyers who can be a starter or backend bullpen guy. Overall a very solid group of players. I hope Capps makes it as I think he could add another very solid set up guy to go with Smith Perez and Pestano.

Having such a strong pen should help a questionable rotation that will need to watch the inngings of guys like Carrasco and maybe Kazmir and Meyers.
Matthew
February 9, 2013 - 1:39 PM EST
Tony has noted before that Barnes will be in the bullpen this year due to organizational need. He may be stretched back out in 2014 to see if he can make a run as a starter.

As talented as he is, I would have no problem with Cody Allen opening in AAA. I think he could use some more time to fine tune his stuff. He walked way too many guys in his short stint with the Tribe last year. some extra development can do him some good.

My guess is that we open with Shaw, Albers, Huff, Smith, Hagadone, Pestano, and Perez. This leaves Allen, Barnes, and Herrmann in Columbus, ready for a call.
Jake
February 9, 2013 - 10:38 AM EST
Chip, it makes sense to have our long reliever be a lefty since our projected rotation will be all right-handed, unless Kazmir dazzles in spring training. Right now, I'd give the edge to Hill (if healthy) over Huff since he's had more success against left-handed hitters.

I'd hate to see Herrmann go since he showed improvement at the end of last season having added more offspeed pitches to his repertoire. However, you may be right about him being the odd man out.

Barnes has put up inconsistent numbers as a starter in the minors and right now is very low on the depth chart for the starting rotation. I wouldn't expect to see him as a starter at the major league level unless in the event of emergency (injuries, etc.)
Chip
February 9, 2013 - 10:01 AM EST
I would like to see Barnes in Columbus as a starter to begin the season. He has too much potential value as a starter to be relegated to the bullpen. Hermann is the likely odd man out if Huff shows the ability to get people out. I don't know if I'm mistaken, but didn't Huff(as a starter) typically struggle out of the gate and settle in better after an inning or two? If that is accurate it doesn't seem the bullpen would be his calling.
Give me Perez, Pestano, Smith, Albers, Allen, Shaw, and Hagadone. Can the lefty specialist and long man be the same guy? I wouldn't think so, but that seems to be the direction the team is going with Huff or Hill.