What's new in 2013: The starting lineup
The Indians' corner of the Hot Stove has been blazing this offseason as high profile players and free agents such as Nick Swisher, Trevor Bauer, Mark Reynolds, and Brett Myers all will be wearing Chief Wahoo ball caps this upcoming season.
I believe it's safe to say that the overwhelming majority of Tribe fans are both surprised and pleased with the work general manager Chris Antonetti and the Indians front office has done this offseason. But exactly how much has the Tribe improved? In this four-part series I will break down and compare this season's projected lineup, bullpen, rotation, and bench with last year's opening day roster.
To kick this series off, I thought it would be interesting to compare the projected starting lineup of this year's Indians team with the 2012 Indians opening day lineup. (Bear in mind that this lineup is not official and is solely based on my own personal predictions.)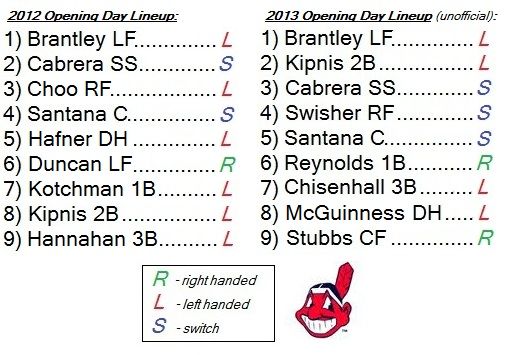 Big difference, right? Well, that's no optical illusion. The difference between the two lineups is indeed staggering. For starters, the overwhelming presence of left-handed hitters in 2012's lineup is one of the factors which led the team to its ultimate collapse in the month of August. Looking at the projected 2013 lineup, the balance is much more even with the three switch hitters Cabrera, Swisher, and Santana making up the middle of the lineup and Reynolds and Stubbs adding some right-handed variety.
Michael Brantley 2012 vs. Michael Brantley 2013:
Michael Brantley 2012 Stats
Games
At-bats
Hits
Runs
HR's
RBI's
AVG
OBP
SLG
OPS
149
552
159
63
6
60
.288
.348
.402
.750
Starting at the top of the lineup, there's no difference with outfielder Michael Brantley most likely assuming leadoff duties again to start this season. Brantley struggled at the beginning of last season, but caught fire later in the year outside of the leadoff spot and eventually became the team's most consistent hitter. Former Indians right fielder Shin-Soo Choo was inserted into the leadoff spot shortly after the season started and responded with a will hitting .310 compared to the .230 average he compiled elsewhere in the lineup. Unfortunately, Choo is now with the Cincinnati Reds after being traded earlier this offseason. Brantley has the tools to be a decent leadoff hitter as he hits for average, doesn't strike out a lot, and has good speed on the base paths allowing him to steal a few bases. However, he has struggled batting leadoff in the past hitting only .227 in that spot last season. If he can take the success he had last season hitting lower in the order and apply it to the leadoff spot, he'll be the permanent leadoff hitter, no question.
2012 Jason Kipnis vs. 2013 Jason Kipnis:
Jason Kipnis 2012 Stats
Games
At-bats
Hits
Runs
HR's
RBI's
AVG
OBP
SLG
OPS
152
591
152
86
14
76
.257
.335
.379
.714
Second baseman Jason Kipnis has quickly become a fan-favorite in Cleveland after his first full season at the major league level last year. Kipnis has proven he has the tools to hit for average, hit for power, drive in runs, and steal bases. He's also taken the second base position and made it his own putting together numerous highlight reel plays last season. Consistency at the plate is still an issue for the young infielder, but that's to be expected from a player still developing his skills and adjusting to the pace of the major leagues. The first half of his season last year was as close to all-star worthy as you can get without actually being selected to play in the Midsummer Classic. Kipnis hit .277 with 11 home runs, 49 RBI's and 20 stolen bases before the All-Star Break compared to the .233 average, 3 homers, 27 RBI's and 11 steals he put up in the second half. Of all the spots that he hit in the lineup last season, the #2 and #3 spots seemed to be where he had the most success hitting a combined .268.
2012 Asdrubal Cabrera vs. 2013 Asdrubal Cabrera:
Asdrubal Cabrera 2012 Stats
Games
At-bats
Hits
Runs
HR's
RBI's
AVG
OBP
SLG
OPS
143
555
150
70
16
68
.270
.338
.423
.762
Just about every fan and analyst thought it was a foregone conclusion that two-time All Star shortstop Asdrubal Cabrera would be dealt by the Indians during the Winter Meetings or sometime later this offseason. Well, January's almost over and Cabrera is still expected to be wearing an Indians uniform this season. Cabrera saw a bit of regression from his Silver Slugger campaign in 2011 when he hit .273 with 25 homers and 92 RBI's. Again, he put up decent numbers in the first half last year (.286/11 HR/42 RBI), thus explaining his second consecutive All Star selection, but like the previous season Cabrera hit multiple slumps in the second half hitting only .251 with 5 home runs and 26 RBI. He did, however, finish the year with a respectable .270 batting average with 16 homers and 68 RBI. Hopefully with a new manager and coaching staff to help with his conditioning and some more heavy hitters in the lineup, some of the pressure will be taken off of him to where he can put up more consistent numbers throughout the year.
2012 Shin-Soo Choo vs. 2013 Nick Swisher:
Shin-Soo Choo 2012 Stats
Games
At-bats
Hits
Runs
HR's
RBI's
AVG
OBP
SLG
OPS
155
598
169
88
16
67
.283
.373
.441
.815
Nick Swisher 2012 Stats (Yankees)
Games
At-bats
Hits
Runs
HR's
RBI's
AVG
OBP
SLG
OPS
148
537
146
75
24
93
.272
.364
.473
.837
Nick Swisher has by far been the most exciting acquisition of the offseason for both the fans and the team. Finally, the Indians get the legitimate cleanup hitter they've lacked for the last few years. Swisher signed as the Tribe's new right fielder for the next four seasons adding up to $56 million. Although the Indians lost Choo, they'll get much more consistency and durability from Swisher. Spending the last four years with the Yankees, including the 2009 World Series championship team, Swisher's stats are almost identical year-to-year hitting between 20-30 home runs with 80-95 RBI in each given season. It's also worth noting that Swisher is a career .304 hitter at Progressive Field. He has struggled in the postseason, but let's just say we'll cross that bridge when we come to it.
2012 Carlos Santana vs. 2013 Carlos Santana:
Carlos Santana 2012 Stats
Games
At-bats
Hits
Runs
HR's
RBI's
AVG
OBP
SLG
OPS
143
507
128
72
18
76
.252
.365
.420
.785
In the first half of the 2012 season, no one knew whether Carlos Santana was in the lineup or not, but in the second half he was - in a way - all the lineup had to offer. The post-All Star portion of the Indians catcher's season was exciting and one of the few bright spots of those nightmarish late summer months for the team. Santana hit .281 in the second half of last season with 13 homers and 46 RBI whereas he only hit .221 with 5 home runs and 30 RBI in the first half of the campaign. Santana was one of the batters to hit back-to-back home runs off Tigers ace Justin Verlander in late July - the other being Travis Hafner – before they went into an all-time great tailspin. The Indians tried to force Santana into the cleanup spot on numerous occasions last season, but he only hit .236 at best in that spot. He was better in the fifth or sixth slot where he hit .294 combined.
2012 Casey Kotchman vs. 2013 Mark Reynolds:
Casey Kotchman 2012 Stats
Games
At-bats
Hits
Runs
HR's
RBI's
AVG
OBP
SLG
OPS
142
463
106
46
12
55
.228
.280
.333
.612
Mark Reynolds 2012 Stats (Orioles)
Games
At-bats
Hits
Runs
HR's
RBI's
AVG
OBP
SLG
OPS
135
457
101
65
23
69
.221
.335
.429
.763
Newly acquired first baseman Mark Reynolds comes in as a bona-fide right-handed power hitter capable of hitting 30-40 home runs and racking up 85-100 RBI in a season, which is something the Indians really could have used last season. Reynolds replaces Casey Kotchman, a player the Indians signed as their only major free agent pickup of the 2011-12 offseason and wound up being a bust hitting a lowly .229 with 12 home runs and 55 RBI. Kotchman's defense was Gold Glove-worthy, but it nearly got to the point where he could field his own groundouts. While it's true Reynolds will strike out more than many would care to see, his power and his defense should be enough to make up for it and he should fit right into the fifth or sixth spot in the lineup.
2012 Jack Hannahan vs. 2013 Lonnie Chisenhall:
Jack Hannahan 2012 Stats
Games
At-bats
Hits
Runs
HR's
RBI's
AVG
OBP
SLG
OPS
105
287
70
23
4
29
.244
.312
.341
.654
Lonnie Chisenhall 2012 Stats
Games
At-bats
Hits
Runs
HR's
RBI's
AVG
OBP
SLG
OPS
43
142
38
16
5
16
.268
.311
.430
.741
It looks like Lonnie Chisenhall will finally get his chance. The Indians' prime third base prospect is now fully expected to be the man at the hot corner come opening day following Jack Hannahan's release from the Tribe and his signing with Cincinnati earlier this offseason. Hannahan was loved in Cleveland among the fans and the organization and was fun to watch at third base, but his weak offensive output made it hard to keep him around any longer with Chisenhall waiting in the wings. Chisenhall started the 2012 campaign in AAA Columbus after struggling in spring training, but was called up in May and in his first at-bat back in the big leagues he hit a home run. His run with the Tribe was short-lived, though, as in late June a pitch from Orioles reliever Troy Patton found his forearm and fractured it. Chisenhall was placed on the disabled list and didn't return until September. His potential in all areas of play remains sky high, however, and the team looks forward to seeing how he does in his first full season. If his bat proves to be what so many thought it could be when he was in the minors, he will make a significant on the lineup.
2012 Duncan/Damon/Cunningham vs. 2013 Drew Stubbs:
Shelley Duncan 2012 Stats
Games
At-bats
Hits
Runs
HR's
RBI's
AVG
OBP
SLG
OPS
81
232
47
29
11
31
.203
.288
.388
.676
Johnny Damon 2012 Stats
Games
At-bats
Hits
Runs
HR's
RBI's
AVG
OBP
SLG
OPS
64
207
46
25
4
19
.222
.281
.329
.610
Aaron Cunningham 2012 Stats
Games
At-bats
Hits
Runs
HR's
RBI's
AVG
OBP
SLG
OPS
72
97
17
5
1
7
.175
.245
.247
.493
Drew Stubbs 2012 Stats (Reds)
Games
At-bats
Hits
Runs
HR's
RBI's
AVG
OBP
SLG
OPS
136
493
105
75
14
40
.213
.277
.333
.610
Drew Stubbs was acquired in the three-team deal that sent Choo and Jason Donald to Cincinnati and Tony Sipp and Lars Anderson to Arizona for Trevor Bauer, and he is expected to be the starting center fielder this season. Although he and Brantley will compete for everyday center field duties this spring, it is hard to see him starting in a corner outfield spot since he is a better center fielder than Brantley. Offensively, Stubbs has not panned out as the Reds hoped and has managed to only hit .241 in his career with them, but perhaps a change of scenery will help tap into that potential that Cincinnati originally saw in him. He should still be better than what the Indians had in left field last year as between the combination of Shelley Duncan, Johnny Damon, and Aaron Cunningham they only generated a .200 average with 16 homers and 57 RBI's. Even if he only manages to put up those some numbers, he still provides more value as he at the very least will provide frequent stolen bases and play good defense. The bottom of the lineup is a suitable spot for him at least until the Tribe can gauge his offensive output.
2012 Travis Hafner vs. 2013 Designated Hitters:
Travis Hafner 2012 Stats
Games
At-bats
Hits
Runs
HR's
RBI's
AVG
OBP
SLG
OPS
66
219
50
23
12
34
.228
.346
.438
.784
Chris McGuiness 2012 Stats (AA Frisco)
Games
At-bats
Hits
Runs
HR's
RBI's
AVG
OBP
SLG
OPS
123
456
122
65
23
77
.268
.366
.474
.840
I only put Chris McGuiness in the lineup at designated hitter because he, in my opinion, is the most qualified of all our internal options, but I'm not limiting it to him alone. Fellow prospects Mike McDade, Yan Gomes, and even Tim Fedroff or some others may also be considered for the role. There has also been buzz about the Tribe possibly signing veteran hitter and former Indians great Jim Thome as well as other veterans such as Carlos Lee, Luke Scott, or even re-signing Travis Hafner. However, with the Indians' payroll for the 2013 season mostly spent, bringing in any more free agents other than via minor league contracts seems unlikely. Personally, I wouldn't want to bring any of those guys in and would rather go with some of the younger, more versatile options at DH and make the role rotational.
On paper, the lineup appears as if it will be more successful this season. More balance, more legitimate power threats, and less dead weight (i.e. Shelley Duncan, Casey Kotchman, etc.). However, anyone who knows baseball knows that what looks good on paper doesn't always look good on the field. The opposite is true as well. If someone has not been known to put up All Star numbers, it does not mean they will not be a major contributor. But looking at the lineup compared to last year, I do believe fans have a lot more to look forward to this season.
Jake Dungan is a communications student at Stark State College and an intern with the Akron RubberDucks. Follow him on Twitter @MajorLeagueJake.
User Comments
Jake
February 2, 2013 - 10:41 PM EST
Thank you, Anonymous! Yes, I think all the fuss and worry about the DH role is a little unnecessary. Unless the Indians find another impact hitter like Swisher or Reynolds, they're better off using the DH to rest position players and develop younger talent.

I'm glad you pointed out how the Tribe has improved the bench this season. That's something that kinda got lost in the shuffle this offseason. Adding Aviles, Gomes, and Raburn helps, like you said. But also having players like Carrera and Fedroff, who have thrived in the minors and either have or are on the brink of breaking into the majors.

Stay tuned because in Part 4 of this series, I'll analyze and compare last year's bench and this year's in more detail.
anonymous
February 2, 2013 - 2:17 PM EST
Nice article. Even with uncertainty about DH, I feel much better about 2013 lineup vs 2012. DH I feel will settle it self, the Tribe worked on having a bench this year, Aviles, Gomes and of course Minor League signings of Franscio and Rayburn. I believe, myself included , worry to much about who DHs. I am glad Pronk signed with Yanks, I wish him well, but time to move on. If Tribe spends any Major League money, it should be on pitching. I have to admit, I agree with Peter Gammons, most excitement around Tribe since 2007. Of course they have to play the games and we will find out.
Jake
February 1, 2013 - 1:43 PM EST
Haha, can't believe I missed that! Guess that's why they're paying Francona to make the lineup card and not me.
Jim
January 31, 2013 - 4:22 PM EST
You have two left fielders and no one playing CF in your 2012 lineup!! Good thing you don't make out the card.
Tony
January 30, 2013 - 2:35 PM EST
Here it the thing about Stubbs. If he hits .220 or whatever with an OBO a little north of .300, pounds out 13-15 homers, and steals 30 bases from the 9-hole in the lineup.....I'll take it. His overall offensive production may be wash as far as an improvement over the Duncan/Damon/Cunningham/Canzler nightmare last year in LF, but the difference to me is the intangibles he brings that neither of those players did: excellent defense and speed on the bases. Those players only had the ability to impact the game with their bats, but Stubbs can do it with his bat, glove and legs. And, I really think getting him out of the leadoff spot and taking the pressure off him there will help him. We will see.....but even though the numbers aren't much better than last year's OF quartet, I think it is a considerable improvement overall.
Jake
January 30, 2013 - 1:57 PM EST
With Stubbs in Cincinnati, the pressure was on him to become the 5-tool player he was predicted to be. In Cleveland, he'll get a clean slate with much lower expectations. I think the chances of him improving on offense are better than him repeating or doing worse than the numbers he put up with the Reds.

As far as the DH is concerned, more AL teams are using the role to rest their position players and develop younger talent. I believe the Indians would be best off doing the same, especially with interleague play now taking place year-round. It would be nice heading into a National League venue with the ability to use all the players on the roster rather than sitting a permanent DH on the bench for nothing more than a pinch-hit at-bat here and there.
Matthew
January 30, 2013 - 10:42 AM EST
Great piece.

I expect our offense will be significantly better, as Brantley, Kipnis, Asdrubal, and Santana are all young enough that they shouldn't see any drop off in production, and hopefully will improve. Swisher should be comparable to Choo, Reynolds should be a solid upgrade over Kotchman, Chisenhall likewise over Hannahan, and Stubbs over Damon, etc.

Rich--

I agree, Stubbs is definitely not going to be a big piece of the offense, but as a #9 hitter who will steal 30+ bases and play outstanding defense, he's a big, big upgrade over Duncan/Damon/Cunningham. Another thing to keep in mind is that last year may have been the product of some very bad luck. His BABIP from 2009-2011 was .340. Last season, it was all the way down at .290, so we can expect at least a small uptick from him.

Again, I'm not saying Stubbs is going to be an impact bat by any means, but he should be a solid upgrade.

The DH situation still concerns me. I don't believe there needs to be an "everyday DH," but I do think we need another solid bat if we're going to compete. Aviles' splits against lefties would suggest he can be an effective DH against LHP, but it's likely he'll need to replace Chiz or Kip in the lineup against tough LHP, so that's not a lot of games at DH. As of today, there is not a 9th professional bat on the roster to put in the lineup against RHP.

All of this is to say that we should be significantly better on offense this year, but we were 13th in the AL in runs last year, so improvement does not mean we will be contending. We'll be lucky to approach league-average in offense.
Rich
January 30, 2013 - 9:17 AM EST
Looking at Jake's projected batting order, the top 6 look pretty decent. At least they all have track records. The bottom 3, however, are pretty iffy.

Chisenhall is the key, IMO. He needs to stay healthy and have a breakout season, otherwise the pitchers will pitch around Reynolds. They're already going to pitch around Santana to get to Reynolds. I'll say this - Reynolds should get some opportunities hitting behind Swisher and Santana.

They need to sign Jim Thome, period. Gomes? McGuiness? Phelps? You gotta be kidding.

Stubbs' numbers last year were no better than the combined numbers of Cunningham, Damon, and Duncan. Shelly was actually a much more productive hitter than Stubbs if you look at the number of at-bats. And Stubbs' offensive numbers have declined four consecutive years. I really think this guy might be a black hole in the lineup, but he'll save a few runs with his glove and arm.
Tony
January 29, 2013 - 9:11 PM EST
Andy, yeah, Cord Phelps may be a dark horse for the roster. Especially if they try him out in LF this spring. He'd be another switch hitter to boot.

In any case, this team may fail or succeed, but I am VERY curious to see how the changes to the lineup work with the additions of Swisher, Reynolds and Stubbs (and maybe McGuiness), and also a full year (hopefully) of Chisenhall. That's four significant pieces that changed....maybe five....from last year's lineup.
Andy
January 29, 2013 - 7:53 PM EST
I'm pulling for Cord Phelps to get a legit shot at DH duties. He's limited to 2B as an everyday position player, but for DH I think he fits the bill as a switch hitter that has crushed the ball in AAA to the tune of a 0.186 ISO and 0.851 OPS in almost 1300 PAs.
Jake
January 29, 2013 - 7:27 PM EST
Thank you, Clarence! I agree this upcoming Indians season could hold a lot of excitement for fans young and old.
clarence
January 29, 2013 - 4:53 PM EST
Great stuff Jake. Must admit I ''Can't Wait''....and that's coming from a 66 year old tribe fan.