White Lightning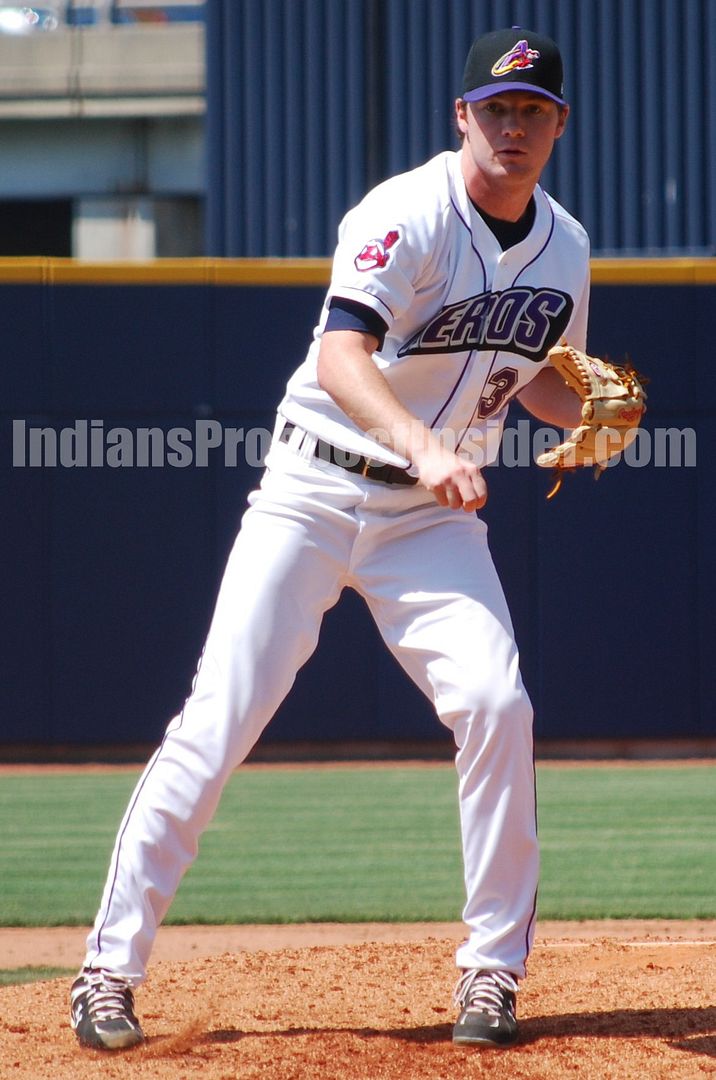 Alex White has had a nice little start to his pro career.
Drafted 13
th
overall in 2009 by the Indians out of North Carolina, White was projected by many to be a top-10 pick in the draft. He was a late sign, right at the August deadline, so he didn't pitch as a professional until the 2010 season.
White began 2010 in the K-Tribe rotation, where he went 2-3 with a 2.86 ERA and 41 K's in 44 innings pitched. After his solid start in
Kinston
, White was moved up to AA Akron in mid-May and has not
disappointed
. White has actually been better at Akron then he was in
Kinston
, sporting a 3-4 record and 1.70 ERA. His strikeout rate has been down (28 in 53 innings), but his
groundball
/
flyball
ratio has gone up. This falls right in line with the organizational
philosophy
of getting as many
groundball
outs as possible, as well as the Crash Davis philosophy that strikeouts are boring and fascist.
Recently, in their
midseason

prospects report
,
Baseball America
listed White as one of the top-50 prospects in all of baseball. Tony recently had a chance to catch up with the fast moving prospect back when he was with
Kinston
, and had a chance to talk to him about his transition to pro baseball, his slider, and his goals for 2010 and beyond.
The first pro season for a pitcher can be the most difficult. Pitching more often, working out with a professional training staff, bus trips...it can be a lot for a young player to handle. In college, White started every seven days as the Friday starter for his
Tarheel
squad. One of the first things he had to adjust to was the idea that he would have to pitch every five days instead of just once a week. White has had no problem with that adjustment.
"It's actually been a lot better for me," said White. "I had too much time between starts. A week is a long time...out here, as soon as your start is over you're getting ready for the next one. Its been really easy transition...my arm feels a lot better."
White was seen by some scouts as a power reliever coming out of college because he basically abandoned his breaking ball and went primarily with a fastball/split mix.
"It was here and there...it was really kind of a show pitch, especially to
righties," said White. "I
n college the slider was 'here it is'. It's a different eye level on the hitter where I could come back with a fastball or split to be more effective."
White re-
introduced
his slider to his arsenal in spring training this year, as pitchers without three or more solid pitches in the majors are exclusively in the bullpen and he wants to start. He has a lot of confidence in his slider now, which was a plus pitch for him in high school. He has a lot of confidence in the pitch, and his feel for it will go a long way towards how fast he moves through the minor league system.
When asked about his feel for the pitch, White said, "My last start was really the first time since high school that I've had a good breaking ball, one that I can throw in any count. I went 3-0 on a guy, fastball for 3-1, breaking ball on a 3-1 pitch and another breaking ball 3-2 for a strikeout."
White had the luxury of living at home in
Ashville
, NC when he was playing in
Kinston
. This surely helped ease the move to professional baseball.
"It's been better than what I expected," said White. "You hear all these horror stories about minor league baseball, but we have a great group of guys...its been really comforting being at home, and being with the people that you know so well; its been a really easy transition for me."
White doesn't have any set goals for the 2010 season as far as what level he expects to pitch at, or when he wants to be in the big leagues.
"Every player has to show what they can do, what they're capable of," said White. "My goal is to show them what kind of mentality I have, what I do every 5
th
day, how I pitch and how I compose myself. I feel that I'm learning a lot, and I think I'm a much better pitcher right now than I was going into spring training."
Tony and I got to see
White pitch for both the big league club
and for the minor league affiliates this spring, as White got an invite to major league spring training. His limited exposure to the big club benefited him, as he got a chance to see how guys who have pitched in the majors for a long time do things.
"I got to be around some very good veterans like Jake Westbrook and Kerry Wood, as well as some younger guys like Justin
Masterson," said White
. "They are all great guys, and I loved every minute of it. It was one of those situations where I knew going in that I'd be lucky to get an
inning
or two, and I should just be quiet, listen and learn as much as I could. I took quite a bit out of it on how to be a professional baseball player at the highest level."
White is doing everything he can to put himself in the mix for at least a bullpen job with the Indians at some point in 2011. He will likely pitch the rest of this season in Akron, as it is his first professional season and there's no reason to rush him to AAA. But if he keeps pitching like he has, expect to see him at major league spring training for more than just a few innings next year, and in the Columbus rotation right off the bat.
White's ability to throw his slider for strikes at any time in an at bat is really helping him move quickly through the system, as it was the biggest question mark for him coming out of college. He's a confident, talented young pitcher who has the ability to lead the next "wave of arms" in the Indians organization as soon as next season.
User Comments
No comments currently. Be the first to comment!