Winter Haven Update 3/20
Undrafted Stiller Now An Established Prospect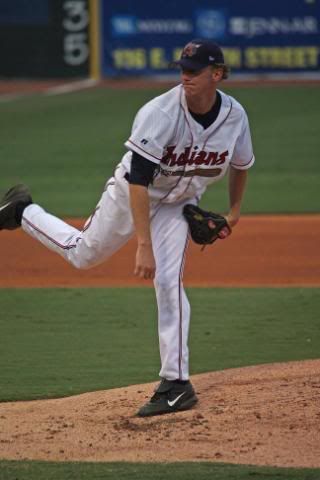 What a difference a year makes.

At this time last year, right-hander Erik Stiller was doing everything he could in spring training to stick with the organization and had no idea what his baseball future had in store for him. Being an undrafted free agent signing in June 2006, the Indians had little invested in him so Stiller had to work twice as hard as just about anyone to extend his stay in the Indians organization.

Stiller had a good camp last year, remained in extended spring training and waited for an opportunity, and finally got it when he was called up to Kinston at the end of May last year. Stiller ended up having a very good season in Kinston, pitching the first few months out of the bullpen and the last month or so in the starting rotation going 3-6 with a 2.89 ERA with a 7.08 K/9 and 1.88 BB/9. After his strong showing, the Indians sent him to their Fall Development Program for more instruction and then out to the Hawaii Winter League to get more innings and work in as a starter.

His hard work has paid off, and he is now firmly established as one of the Indians better pitching prospects in their farm system. As a result, camp has been a lot more fun and much less nerve-wracking compared to what he went through last year.

"I feel good and strong, and it has been a fun spring training so far," said Stiller after practice on Wednesday. "[I am a lot more] comfortable with what is happening here and familiar with everything."

Stiller has spent a lot of time trying to improve his overall physical strength, and came to camp about ten pounds bigger this year even though he is listed as 6'5" and 200 pounds in the media guide but looks a lot bigger than that. Stiller throws a fastball that clocks in the low 90s and tops out at 94 MPH, and he also throws a cutter, curveball, and changeup.

Stiller's best secondary pitch is actually his changeup, but he rarely used it last year because he pitched out of the bullpen most of the season. He went to the Hawaii Winter League in the offseason to dust the cobwebs off it and to refine the pitch as well as get more work in as a starter.

Stiller knows he has really no control over where the Indians assign him, so he knows all he can control is how hard he works to improve in some of the areas where he has lacked consistency. One of the biggest things he is working on is consistently getting his fastball down in the zone.

"I'm still focusing on fastball command down in the zone and working on my changeup," said Stiller. "Those came along pretty well in Hawaii and I feel pretty well about the progress out there. But I am still trying to feel comfortable with that, as it always helps to work on getting your fastball down.

With his height at 6'5" it helps him get on top of hitters and his ball moving on a downward plane, but his over the top delivery can leave very little room for error with his release point.

"I throw very over the top and so I do not get a ton of left and right movement on my fastball, my movement has to be downhill," said Stiller. "So, when you are coming up from the top trying to get it downhill it is all on the release point as far as where it ends up going. You don't have the same room for error as when you sling it from the side where the error can be left to right but the height difference is not changing much. Mine comes straight over the top so the margin for error is pretty small."

Based on the routine he is on right now in camp, it looks like he will start the season in the bullpen. The only question is where. The Indians have accumulated so many starting pitchers in the upper levels of their farm system that many pitchers in Akron and Kinston will be pitching out of the bullpen when they otherwise would be a starter. Right now, it really is a flip of the coin when trying to figure out if Stiller will start the season at Double-A Akron or advanced Single-A Kinston.

Notebook

- The GCL pitching staff looks like it will mostly be comprised of the following pitchers who were all working out together yesterday: Chris Jones (LHP), T.J. McFarland (LHP), Joey Mahalic (RHP), P.J. Zocchi (RHP), Danny Salazar (RHP), Franklin Soto (RHP), Mark Rodrigues (LHP), Sandy Mendes (RHP), Anillins Martinez (RHP), Wilfredo Ramirez (LHP), Jose Urena (LHP), Alexander Perez (RHP), and Jose Jimenez (RHP).

- It rained early yesterday morning, which resulted in all the games with the Detroit farm teams being cancelled. Also, all morning minor league practices were cancelled except for the pitchers going out to stretch and get some throwing in, and several pitchers like Chuck Lofgren, Reid Santos, Paolo Espino, Kelvin De La Cruz and others had bullpen sessions. Later in the afternoon, the Indians held several intrasquad games. In the Buffalo and Akron game, right-hander Adam Miller made his spring debut and pitched two scoreless innings while giving up one hit and striking out one. Some other highlights on the day had outfielder Trevor Crowe going 2-for-4 with two RBI for Buffalo and right-hander Jeanmar Gomez threw four shutout innings and allowed only two hits while striking out four for Kinston.

- There was some excitement and buzz around camp yesterday on the Triple-A field about two hours before the Indians game against Tampa. All of the Indians top brass in scouting were on hand as Director of Scouting John Mirabelli, Director of Latin Operations Lino Diaz, guest catching instructor Einar Diaz, minor league catching coordinator Tim Laker and others were all on hand as they worked out 17-year old free agent catcher Orlando Petit. Petit is working out for several teams, and worked out for the Indians for about 20 minutes yesterday in taking about five minutes worth of cuts in the cages and then another 10-15 minutes in the outfield throwing long toss. Petit looked very old for his age and had good size, and he hit left-handed.

- Second baseman Jared Goedert has been out of action the past few days. Today, I saw him working out with a trainer, so it appears he is being limited with an unknown injury. I'll try to confirm what and how serious it is (does not appear to be), but it is possible his chronic left shoulder problems may have resurfaced some in camp. Goedert looks strong and is one of the best hitters in the system.

- I have a ton of great pictures I have taken over the last week, and will be posting them soon. I plan to do an update with just pictures over the weekend. If there is a player you specifically would like to see pictures of, e-mail me at tlastoria@gmail.com and I will see what I can do. Chances are I already have them, and would be more than happy to forward them to you. I have already done this for a ton of family members of players, so don't be afraid to ask.

Today, regular games should pick back up again as the weather should be a lot better. The Triple-A and Double-A squads will be in Winter Haven while the Single-A squads will hit the road and play the Houston farm teams in Kissimmee. I'll be down there all day again today with another full report tomorrow with news and notes as well as more player interviews.
User Comments
No comments currently. Be the first to comment!