With Draft Over, Indians Focused On Signing Players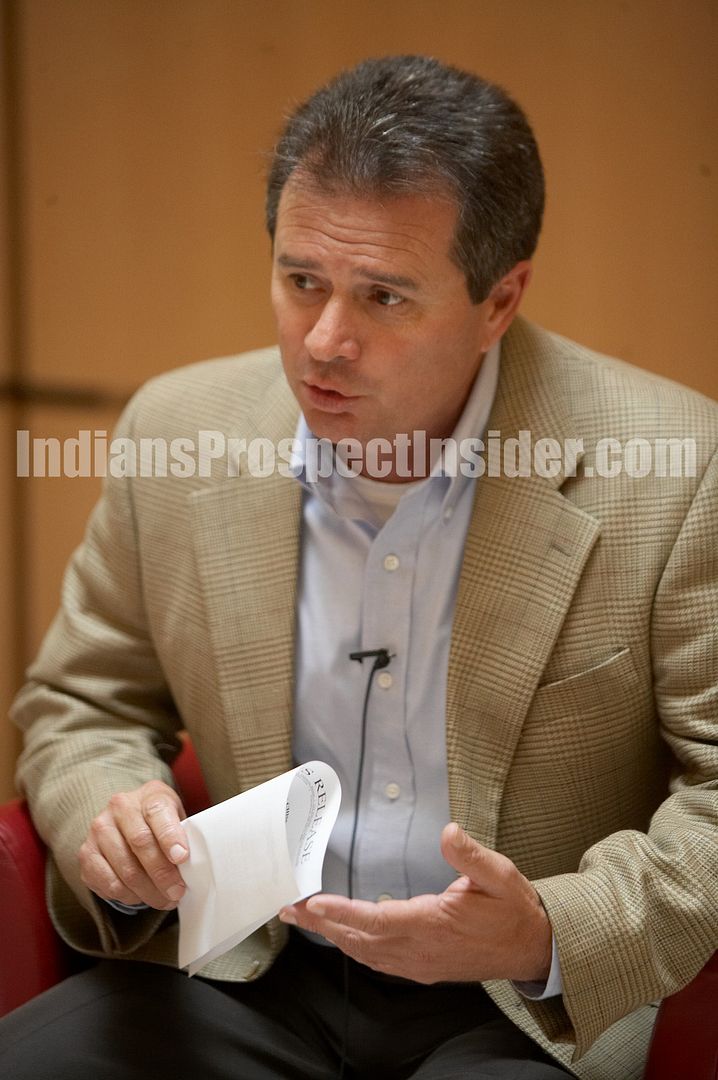 Editor's note: This is another reminder that there will be no Minor Happenings this week due to the heavy amount of draft coverage this week. It will be back next week.
The Indians had a very good draft this past week as they took a lot of good, young talent with upside.
But all those pats on the back about their very good draft will mean nothing if they don't sign some of these risky, upside picks. The Indians know this and plan to be just as aggressive in their signing process as they were with their selection process.
"On paper we feel like it [was a good draft]," said Indians Scouting Director and Assistant GM John Mirabelli in a phone conversation last evening. "But you have to get them signed to make it stand for anything. But we did the first part."
Going into the draft the Indians stacked their top 150 players in order on their draft board and pulled from that listing through the first eight to ten rounds. Since there is no time for discussion when their pick comes up each round due to the fast pace of the draft, the Indians pull from that top 150 listing until it is exhausted and then move onto another listing where they stack the remaining players at each position.
Most if not all discussions happen prior to the start of the draft, so they have to be prepared going in with what they want to do, and this year it was about going the extra step and adding some upside talent to the organization.
"I would say upside is a good word to describe our draft," said Mirabelli. "We put our draft board in order of talent and ability and worked off it from there. We didn't base it on signability. We looked at our values and how we valued the player and the upside and we thought we put our board in its natural order from top to bottom. When it was our time to pick, that's the guy that we took."
What helps the Indians and all other clubs is the first three rounds of the draft are protected where if the Indians were unable to sign any of their picks in the first three rounds this year, they would get a compensation pick next year. This is a good fallback and gives Major League clubs some leverage in the signing process, but the Indians' first choice is to sign these players.
"The first three rounds are protected, so that is part of your strategy going in to take the best guys and worry about the other stuff later," said Mirabelli. "We are going to take the best player and try to sign them, and if not we will get something for them next year. We know the players have leverage. We recognize that and respect that. This is a baseball draft and they have options, especially high school players. We understand that, but at the same time we needed some talent in the organization and we are pretty determined to take a shot."
The Indians have built up a lot of "inventory" in the system the past few years as last year they signed 28 of their draft picks including all of their first 20 picks. In the 2008 Draft they signed 30 of their picks, including 25 of their first 28 picks. In 2007 they signed 26 picks and in 2006 they signed 37 picks.
But this year with so much inventory already in place and a lot of organizational filler already in the system, they really targeted upside right through the end of the draft. In previous years they may have spent a lot of last day picks on guys to sign so they could fill out the short-season Single-A Mahoning Valley and rookie level Arizona rosters. This year there will be more of a quality over quantity approach to the signings as in the end maybe at most 20 players in total are signed.
"I think this will be a substantially smaller group than what we traditionally sign, certainly smaller than what we signed last year," said Mirabelli. "We have a lot of inventory of guys still in the system. We are in pretty good shape in terms of filling organizational spots, so we didn't have to do that [in the draft]. I think that was the goal all along as we were taking upside late in the draft as opposed to organizational filler, so I think those [signing] numbers will just naturally come down."
As for the signings themselves, a few will be announced in the next week as Mahoning Valley starts up play in less than a week on June 18th and Arizona starts up a few days later on June 21st. But because of the questionable signability of so many of the players they took, the Indians expect the signing process to carry throughout the summer with most of the "big splashes" coming at the August 16th signing deadline.
"Yes, historically if you look back at what has happened in the last three or fours years it is a pretty safe bet that a majority of these signings will be near or at the deadline," said Mirabelli. "As I told you before we would be aggressive selecting them, and we are going to be aggressive trying to sign them. We are not going to be foolish, but we want to get players signed for what we think is the appropriate value. Hopefully the players and our values are close enough aligned and we can make it happen, and I am confident we will."
User Comments
No comments currently. Be the first to comment!