Yan Gomes' thoroughly unexpected season
Why Gomes' 2013 season was so unpredictable
There is no doubt that Yan Gomes has come out of nowhere to be one of the best players on the team.
The big question is whether or not Gomes can sustain it going forward. Because no one has come out of where quite like him.
What we know is that Gomes owns a .313/.358/.534 line, a 148 wRC+, and a 2.6 fWAR in 54 games (all stats as of this writing, which was before Friday's game), marks that only leave him behind Jason Kipnis on the team.
What we also know is that Toronto Blue Jays general manager Alex Anthopoulos is considered one of the best in the business. Yet, he traded Gomes and Mike Aviles for Esmil Rogers this past offseason.
Acquiring Aviles for Rogers would have been a good trade for Cleveland, as Aviles seems to be a better player than Rogers. But Anthopoulos also threw Gomes into this trade.
Anthopoulos' biggest problem in 2013 is his big trade with the Miami Marlins not working out. This smaller deal, however, is also not looking so good for the Blue Jays.
Leaving aside the question of whether or not Anthopoulos is a good general manager, Gomes' value in the offseason was less than Rogers'. Now Gomes is playing at a pace that would give him around 8.0 WAR over a full season.
Gomes hit quite well in his minor league career -- posting a .287/.345/.484 line in 1225 plate appearances, though some of that was spent in the hitter's paradise that is Las Vegas. He debuted last year with the Blue Jays at 24-years-old and stumbled to a .204/.264/.367 line and 69 OPS+ in 111 plate appearances.
Debuting at 24 years old is a normal age on the regular development curve. His results, however, are not all that common.
Only 12 players in the history of major league baseball have ever posted an OPS+ between 60 and 70 in their age-24 season with between 100 and 200 plate appearances like Gomes.
The list is not very pretty: Frenchy Uhalt, Rene Tosoni, Frank Torre, Logan Forsythe, Henry Rodriguez, Gabe Gross, Tracy Woodson, Brad Wilkerson, Jorge Fabregas, Eric Tipton, Dave Sappelt, and Queenie O'Rourke.
Three of those players -- Uhalt, Tosoni, and O'Rourke -- did not play in the majors again. A fourth -- Tipton -- only played in two games. The rest had middling careers, with Wilkerson's 117 OPS+ in his second year and 10.9 rWAR ranking as the highest.
Players getting that many plate appearances in their first season are being given a legitimate chance to show that they can stick at the major league level. While those exact parameters are arbitrary and do not tell us anything definitive, they do tell us is that no one with Gomes' past has found sustained success.
But just because a bunch of players with similar features failed in the past does not mean Gomes is doomed to fail. In particular, I find his background quite interesting to this debate.
Much ado was made earlier in the season when Gomes faced Andre Rienzo, as it was the first Brazilian hitter in the major leagues facing the first Brazilian pitcher. Baseball is not a huge sport in Brazil, limiting Gomes' exposure to top competition while he was young.
Also interesting is how few games Gomes played in the minor leagues. He only played in roughly two full seasons-worth of games, leaving him without as many reps as the typical player his age.
Despite this, Gomes still made his way to the major leagues. Even though he struggled last year in his first exposure to the major leagues, he got there without much experience.
For reference, Gomes spent essentially the same number of games in the minor leagues as Mike Trout. Yes, Gomes spent time at Barry University and the University of Tennessee, but his ascent was still quick.
As one would expect from someone who is still pretty raw, Gomes does not have perfect plate discipline. So far this year, Gomes is swinging at pitches outside of the zone higher than others, indicating he is chasing pitches.
The funny thing about Gomes chasing pitches outside of the zone, however, is that he is hitting them.
The average player makes contact with around 63.5 percent of pitches outside of the zone. So far in 2013, Gomes is blowing that mark away at 78.1 percent.
That contact on pitches outside of the zone is how Gomes is making up for average rates on contact inside of the zone. Gomes' approach does not seem like it would work, but it is.
Look at all those swings outside the zone. And he's making contact on a bunch of them!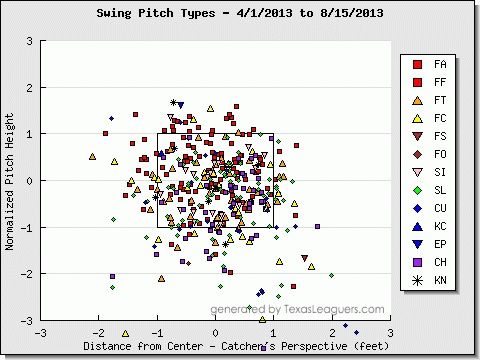 (Photo courtesy of Texas Leaguers)
The next question is whether or not Gomes can sustain this kind of approach. Pitchers tend to pick up on such things as a young player who likes to swing at a lot of pitches outside of the zone and take advantage of it.
A look at how well players sustain this kind of approach yields inconclusive results. Players with an approach similar to Gomes in 2012 range from stars like Adrian Beltre, Ryan Braun, and Albert Pujols to scrubs like Jesus Montero and Alcides Escobar.
The correlations in those players' plate discipline stats are also not all that strong compared to this year, nor is their overall performance. This leaves us with inconclusive results, though one stat does correlate pretty well.
Each of these players are still making contact outside of the zone, with only two falling below-average in that department. Those two, Montero and Hanley Ramirez, also have not played nearly enough to yield a definitive sample size. Either way, it appears that there is a good chance that Gomes has an innate ability to make contact on pitches outside of the zone.
Vladimir Guerrero made a career out of chasing -- and hitting -- pitches outside of the zone. Expecting Gomes to sustain a Guerrero-like approach is not a given, though as long as Gomes adjusts to the way pitchers are attacking him, he can probably continue to hit.
Gomes likely still has some regression left in him. He has a .343 BABIP this year, and even though he had a .346 BABIP in the minors, once again, Las Vegas is a hitter's paradise and just inflates stats. His .197 ISO in the minors -- with the Las Vegas effect -- is still lower than his .222 mark in Cleveland this year.
Either way, I keep expecting Gomes to regress throughout the season. While he is probably not a star, he just might be a league-average catcher, or better. We still do not have a large enough sample to say anything definitive about Gomes, but 97 games into his career, his outlook is looking quite rosy.
If you want to follow Jim on Twitter, he's @JimPiascik. If you want to e-mail him, you can do so at jpiasci1@gmail.com. If you want to read his Master's thesis on college athletes and Twitter, you can do so here.
User Comments
Rick
August 18, 2013 - 1:18 PM EDT
Well presented Jim. So I will take the Harold Reynolds perspective for a bit of Devils advocate.

First, I discount what Gomes did or rather failed to do in his debut in Toronto. Just as I discount your assertion that the GM up north is widely considered among 'the best' in the biz.

That sample size has to be taken in context. Toronto was a messy place to get a call up to. They weren't expected to be contenders, but, they were expected to be decent - the kind of club you didn't want to face down the stretch. Instead THEY WERE EXACTLY THE KIND OF CLUB TO FEAST ON - Demoralized push overs. They were a world of suck.

Not only that, Gomes was NEVER GIVEN A SHOT TO BE AN EVERY DAY CATCHER WITH TORONTO. They love Arancebia and they believe he can be their Molina - and thus they were pushing Yan to play out of position - 1B - maybe even 3B - maybe even the outfield.

As an Indian Gomes has put up monster defensive #'s - frankly not only dressing down Santana but likewise dressing down Arancebia.

Reason #2 we stole Yan is because Toronto was seen as transforming themselves into an instant East Beast contender by swallowing whole the Marlins experiment gone off the rails.

So Gomes is a throw in by a team preoccupied with BUYING A TITLE - after having never really giving this stud a proper role to make a debut in.

It makes a difference if people believe in you. When you are telling an untested rookie they have to become something new to be valuable - you likewise are telling them that what they are isn't good enough.

Toronto devalued a great catching prospect. We got lucky twice - we grabbed him for next to nothing - and - Wally Pip-like the defensive specialist blocking him wound up on the 60-day DL - thus giving Gomes the chance of lifetime he never had in Toronto.

Baseball is also about serendipity. Serendipity, plus the WTW that Hawk Harelson talks about in Chi-town - the WILL TO WIN - which Gomes has flashed in spades - that is what makes the excellent numbers spread you present mean something.

Oh, and I got to mention - the clubhouse and the dogout he is playing in now is far more superior to what has or might happen in Toronto. He is wanted and is getting schooled by a manager who has two rings - and a staff on the same page.

No, I don't count the Toronto GM among the best right now. Gomes is on the short list why. I think he is special and we are going to enjoy him for quite some time.
shy
August 17, 2013 - 4:25 PM EDT
Gomes is as athletic as anybody on the team, he is also as determined and intelligent as anybody on the team so he brings high levels of both hand/eye coordination and mental focus to whatever he's doing- calling a game, cutting down a runner, or grinding out an at bat. All this stuff was visible to me in Spring Training. How they missed it in Toronto, I don't know. He's a trifle shy, he's unassuming and he's Brazilian so I'm thinking he was simply overlooked in the sea of players going through the BlueJay org. After I saw him in camp I bet TL a case of dungeness crabs he'd make the opening day roster- he deserved it IMO but I lost. The crabs they're out of season now so we'll have to send them over the winter.